Velvety ricotta cheesecake mixed with crushed peppermint candy and topped with a layer of white chocolate ganache, Christmas candy and sprinkles.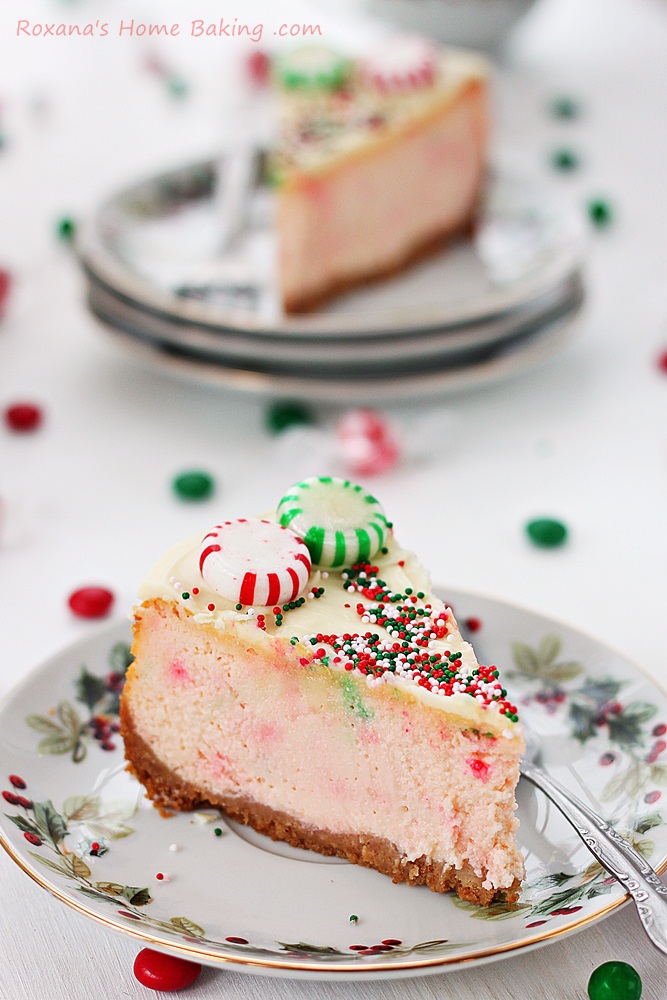 Years ago, before I had Tiffany you'd find me in the local bookstore with a book, a coffee and a sweet treat. It was a nice way to enjoy an afternoon, get out of the house, try new books, see other people and always willing to try the seasonal treats.
There's something about seasonal desserts. I think it's mostly because you only get to enjoy them few weeks a year. Of course you can get a candy-cane in July but it won't be the same. The same goes for cotton candy in December. No, ice-cream and chocolate are in season 52 weeks a year, let's make that clear!
If you're reading my blog for a while then you probably know my favorite dessert is chocolate cheesecake. I've baked and probably will lots of other desserts but I have a weakness for cheesecake. As you can guess it wasn't hard to decide what dessert to make for today.
At first I thought about making a peppermint bark cheesecake but by the time I got around to make it I was without peppermint bark and since candy is not my specialty i went with the next best thing : Christmas mints.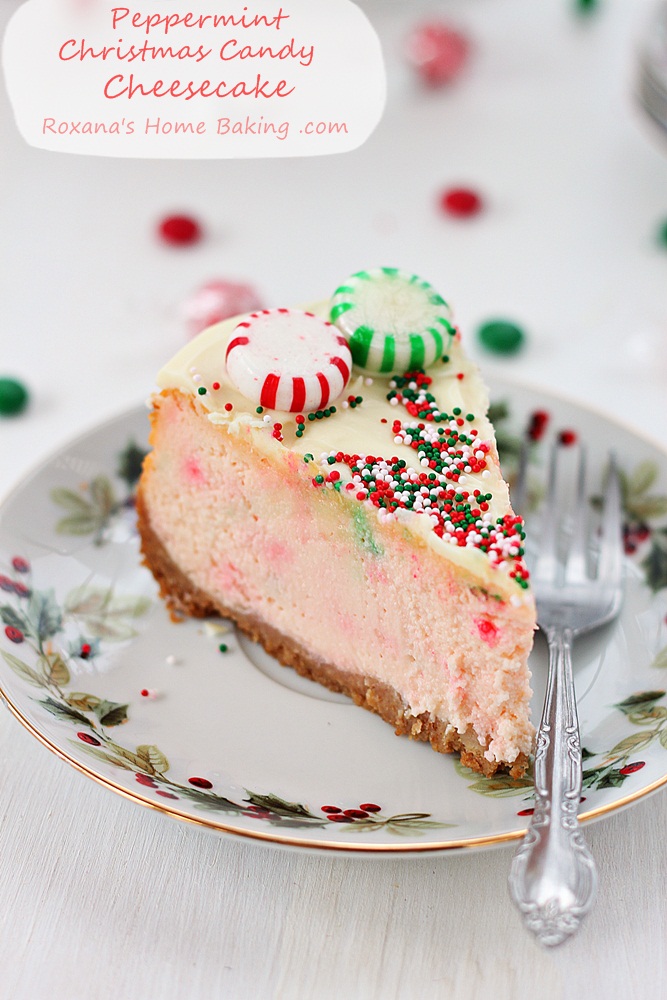 A simple peppermint cheesecake was all I wanted to make but we had to take the sprinkles out again. I have the feeling one day Tiffany will add sprinkles to one of my yeast bread. I don't want to hear I didn't warn you! Some girls like diamonds, my baby girl loves sprinkles.
I've found the peppermint cheesecake recipe on Sargento website and not only the peppermint got me but I was intrigued by the recipe itself. I usually make cheesecake with at least half cream cheese and ricotta or cottage cheese but have never made it completely with ricotta cheese. My first thought went to a ricotta cake I've made years ago that was so creamy and velvety I could not get enough of.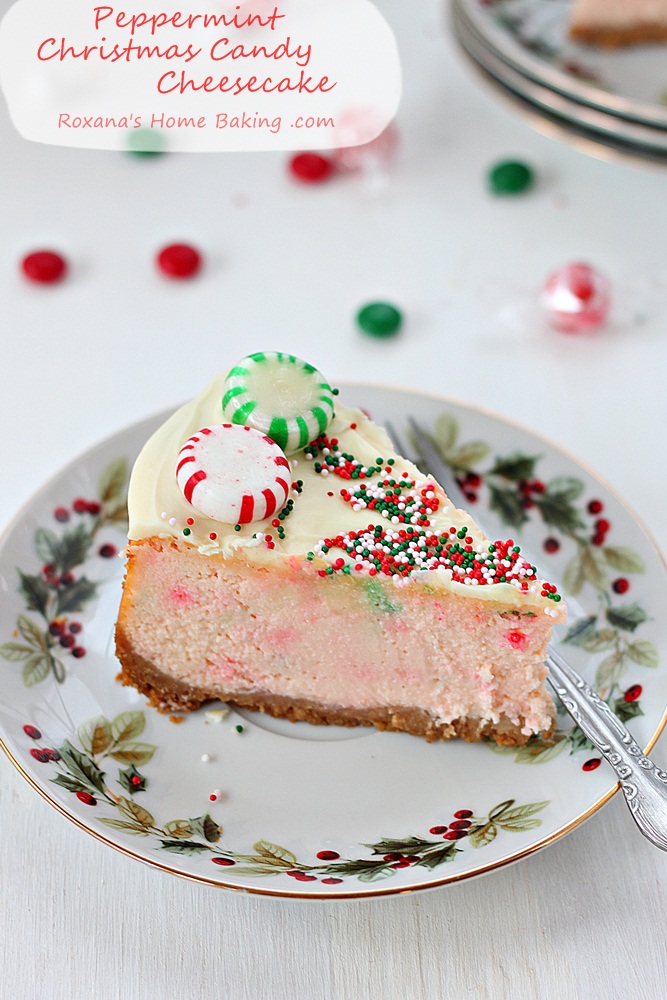 I had to try this peppermint cheesecake made with Sargento® Light Ricotta Cheese, there was no doubt about it! And I'm glad I did. It's unbelievable creamy, with just the right amount of peppermint. Half of it I had to take it to the neighbors for fear I eat the whole thing in one sitting.
I did a few changes to the original recipe : I've used heavy cream instead of half-and-half, added more chopped peppermint candy (and I'm glad I did) and covered it in white chocolate ganache (a sticky layer for the sprinkles).
There's just one minor thing I would change about the recipe (now that I know how it turns out) – instead of finely chop the mints I would break them in rough pieces and add the same amount of red and green ones for a more Christmas-y look
Peppermint Christmas candy cheesecake
---
20 minPrep Time
1 hr, 5 Cook Time
7 hrTotal Time
Ingredients
Crust

1 1/4 cups crumbled graham crackers
3 Tbsp. (42 grams) butter (soft to almost melted)

Filling

4 cups (840 grams) Sargento Light Ricotta Cheese
1/2 cup sugar (100 grams)
1/2 cup heavy cream
1/4 cup (30 grams) all-purpose flour
1 tsp. peppermint extract
1/4 tsp. salt
3 eggs
1/2 cup crushed peppermint candies

Topping

3 oz (84 grams) white chocolate
1 1/2 tbsp heavy cream
Christmas mints
sprinkles
Instructions
Grease the sides of an 8-inch springform pan.
In a small bowl combine the graham crackers crumbs with the soft butter. Press evenly over bottom of pan. Refrigerate for about 30 minutes.
Heat the oven to 350F.
When the oven has reached 350F combine ricotta cheese, sugar, heavy cream, flour and peppermint extract in large bowl and beat until smooth.
Add eggs, one at a time; blend until smooth.
Fold in the chopped mints.
Bake in preheated oven for about 1 hour (1 hour and 5 minutes took mine) or until center is just set. Cool in oven with the door slightly open for at least 30 minutes. Refrigerate for few hours.
When the cheesecake is completely chilled prepare the ganache.
In a microwave save bowl add the white chocolate and heavy cream and heat until the white chocolate in melted, stirring every 30 seconds. Pay attention, white chocolate easily burns.
With the back of a spoon spread the ganache on top of the cheesecake and immediately decorate with the mints and sprinkles.
Enjoy!
7.6.8
410
http://atreatsaffair.com/christmas-peppermint-candy-cheesecake-recipe/
Roxana Yawgel http://atreatsaffair.com/ All images and content are copyright protected. Please do not use my images without prior permission. If you want to republish this recipe, please re-write the recipe in your own words, or simply link back to this post for the recipe. Thank you.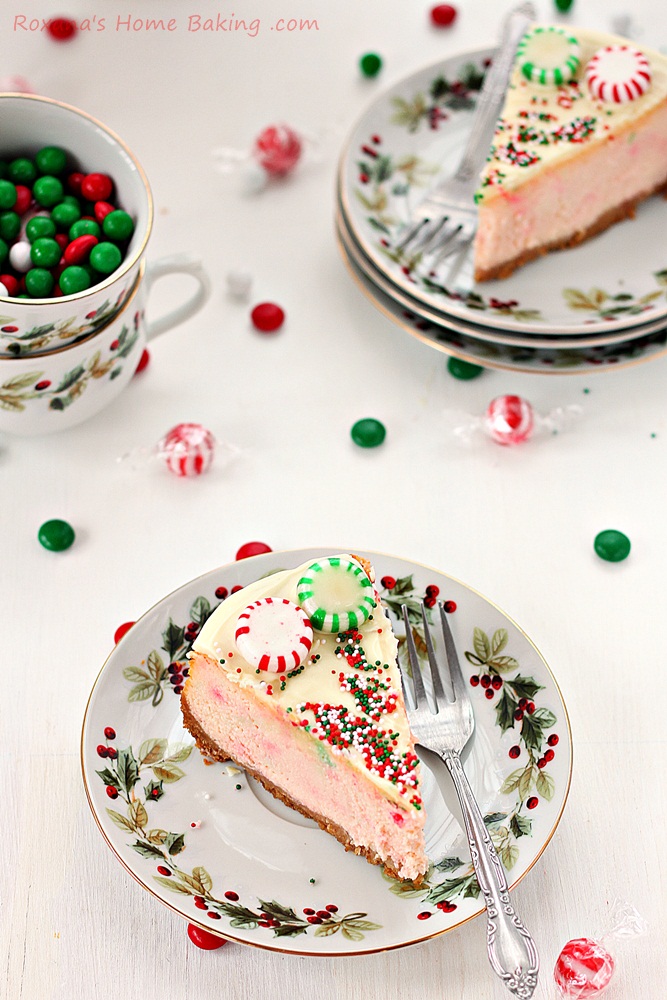 For other Christmas treats check out #25recipestoXmas. You can also see the gallery on Pinterest or on Google+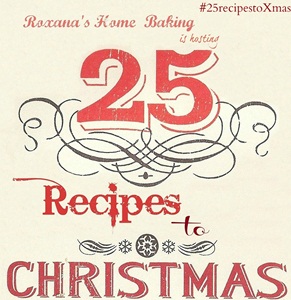 Sending love your way,
Roxana