Chock-full of tomatoes, creamy ricotta cheese, grated Parmesan and fresh basil this flagrant and flavorful tomato quiche is perfect for breakfast, lunch or dinner.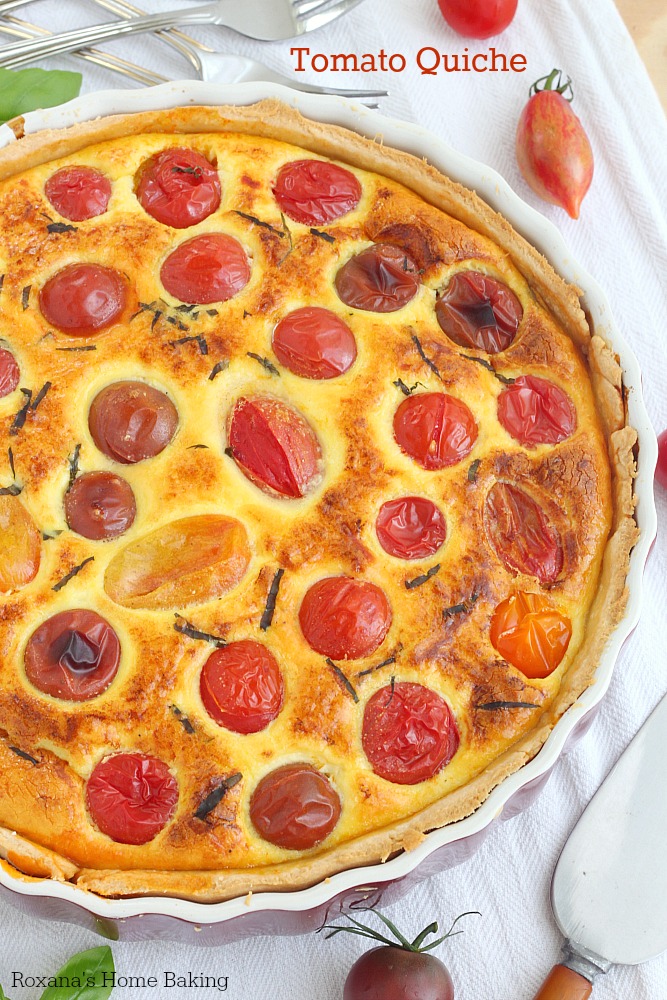 One of my absolute summer pairing fresh tomatoes, cheese and basil. May it be in a toss salad along with other garden vegetables or in an easy caprese salad (or even skewers). I can not get enough of it. It's like Italian comfort food.
Speaking of Italy, if everything goes according to plan I'll be spending next summer in Sicily. For almost 2 months I will be taking in as much Mediterranean air and sun as possible. Eat my weight in antipasti, pasta, fresh fish and of course, sweets! You guys, I'm so exited!
Quiche may not be a traditional Italian dish (and au contraire to what most people believe, its origin is in Germany not in France) but this recipe it's filled with Italian flavors. Easy to make and it tastes just as good cold as warm from the oven.
Not only do I love how easy this tomato quiche it is to make, but I'm in love with the rustic look the oven-blistered tomatoes give to this quiche.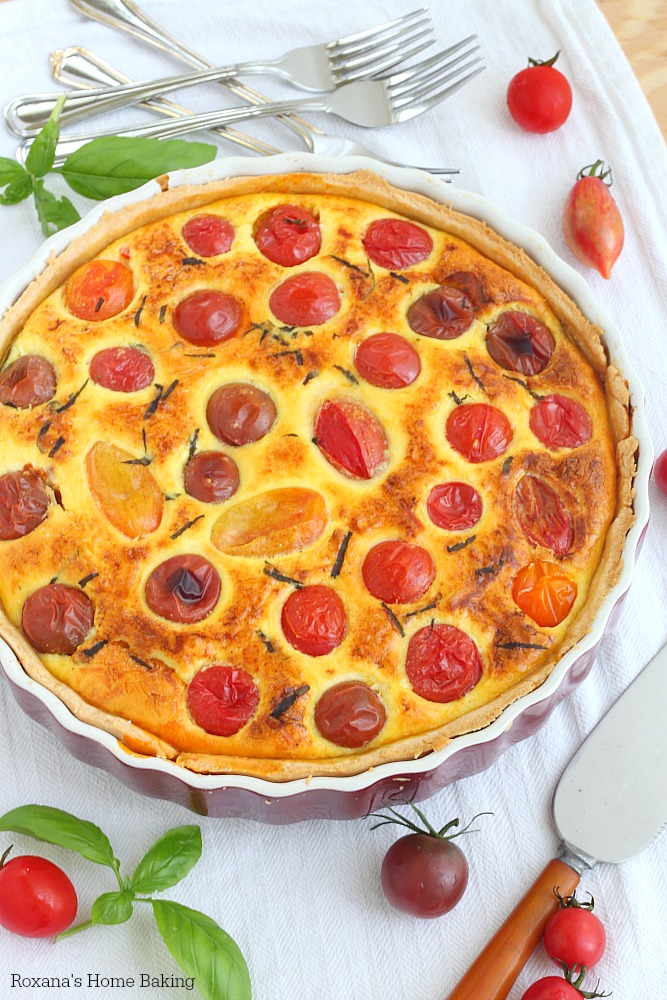 A quiche is similar to a baked custard. While baking, the eggs bind together the cream, cheese and the rest of the ingredients. As a basic rule, you have to cook a quiche until raised and set, otherwise it will lose its smooth consistency.
The crust is made from flour, butter and a few drops of iced water. You are probably familiar with this type of pastry from pies, but the quiche crust is not blind baked prior to adding the filling. Of course, there's absolutely no shame if you prefer to use store-bough pie crust. It speeds up the prep time and we all can agree that on some nights quick and easy meals are a life saver.
The filling is most of the time a mixture of eggs, cream and cheese and adds-in (may it be vegetables or meat)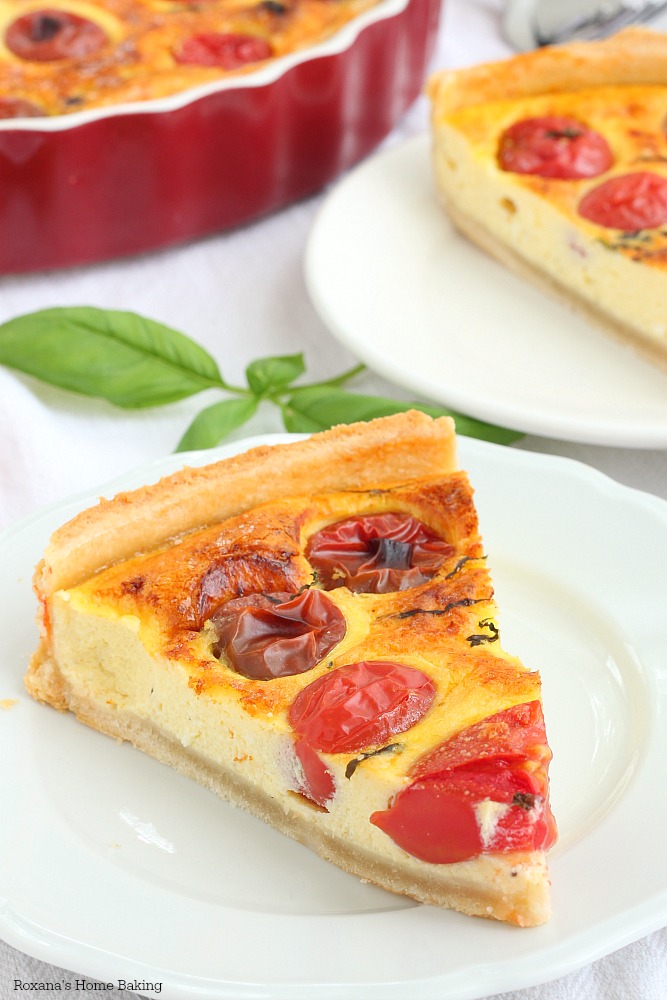 I usually make it the night before and just warm it for a few minutes in the morning if I want some for breakfast or brunch. No need to wake up at the wee hours and start cooking.
To make this tomato quiche you need to start with the crust. A mixture of flour, butter salt and iced water is pulsed a few times in the food processor until it resembles breadcrumbs. Once the dough is formed, you must chill it in the refrigerator for at least 30 minutes. If you're in a hurry, you can make the dough up to 3 days ahead of time, just keep it wrapped tightly in the fridge.
To make the filling I used a the classic quiche ingredients : eggs, cheese and cream plus a handful of juicy, sweet cherry tomatoes I picked from the farmers market. They are so much more flavorful than the store-bought ones, plus it's always best to support the local farmers who put so much love into their products.
 Craving more? Sign up for Roxana's Home Baking email newsletter and get all the recipes sent right to your inbox!
Be sure to follow me on social media, so you never miss an update!
Facebook |  Pinterest  |   Google +   |    Instagram   |     Bloglovin'
Save your favorite recipes to your personal recipe box with the 
 button on all my recipes! Create a Meal Plan with your "favorite" recipes and the ingredients will automatically be added to your own Grocery List!
[amd-zlrecipe-recipe:294]
If you enjoyed this cherry tomato quiche you may also like
Three cheese caramelized onion and bacon frittata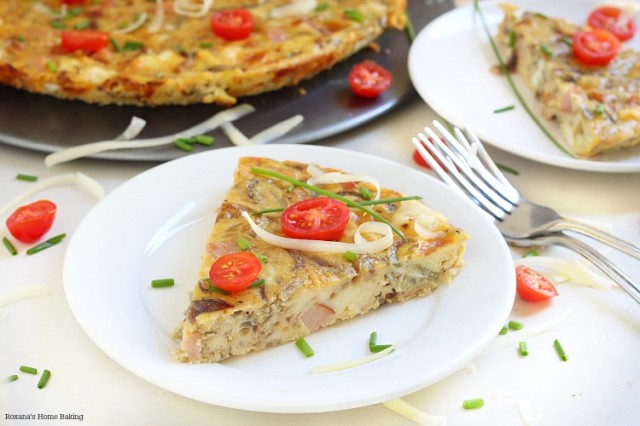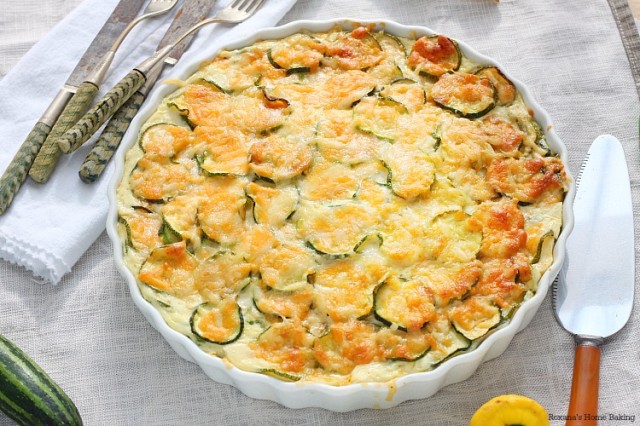 Loaded potato and cheese frittata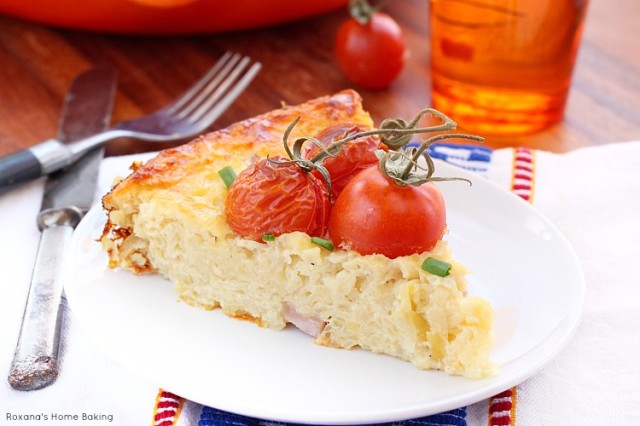 Happy baking,
Roxana
**Disclaimer: This post may contain affiliate links. If you purchase an item from Amazon using the affiliate link, Roxana's Home Baking receives a small commission. Your purchases support Roxana's Home Baking and help me bring this blog to you week after week. I appreciate it! **