Salty and sweet, soft and chewy these easy to make salted caramel blondies are oozing with sticky caramel goodness. The perfect treat for any caramel lover!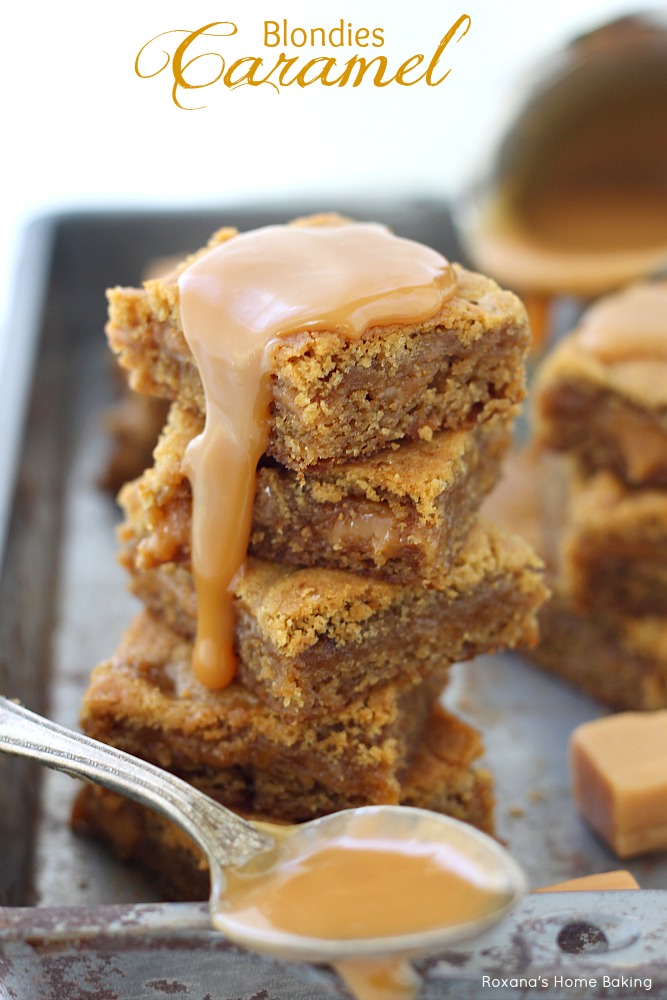 One could say I've been on a salted caramel kick lately, considering that yesterday I shared with you the recipe for salted caramel chocolate skillet brownie and as you probably know I'm all about chocolate, but these blondies, oh these blondies rocked my world! I've made these salted caramel blondies about two months ago it just took me like forever to edit the photos. The funny thing is that I had to stop editing and run to the kitchen and make another batch.  Good thing they are so easy to make!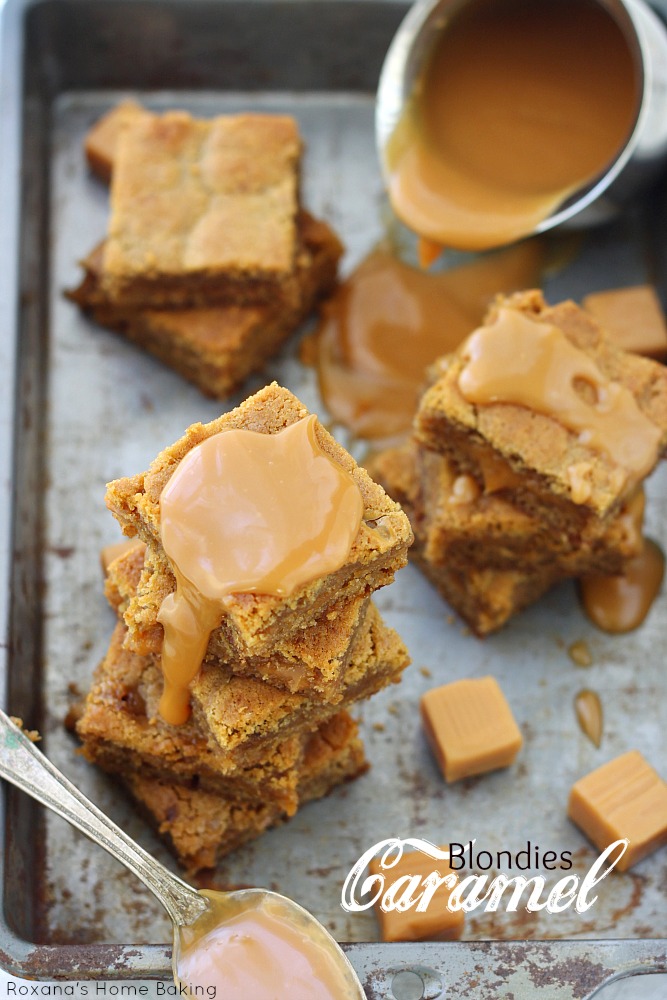 Yes, you do need a mixer, a food processor and a sauce pan but still, it takes around 15 minutes to make them and almost 30 minutes to bake. I think most of the time you spend unwrapping the caramel candies. You can use your favorite caramel sauce if you prefer, just please, don't use ice-cream caramel topping. Use a thick, rich caramel sauce or follow the recipe for my quick one : caramels and evaporated milk – heat and stir until melted. That's it!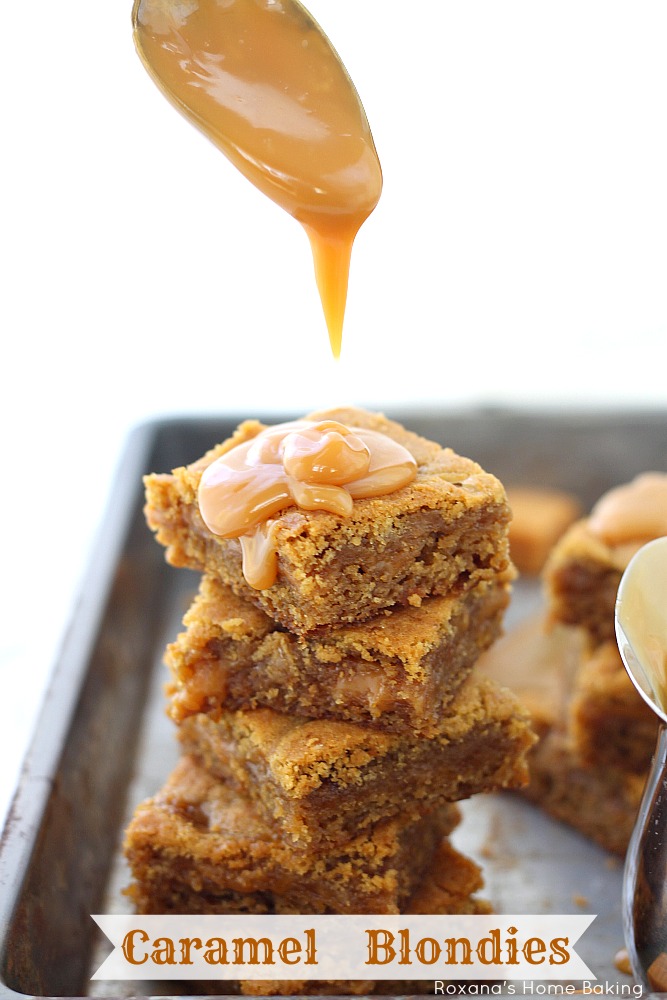 There are just a few variations to this salted caramel blondies recipe. If you're not a big on sweet and salty treats you can skip the sprinkle of sea salt, although I honestly do not recommend that, but I do advise you to add a pinch of salt over the caramel once they are out of the oven. They will take you on a salty roller coaster through the caramel kingdom! You can also add a few chocolate chips over the caramel layer if you feel like you can't live without chocolate. I totally understand you.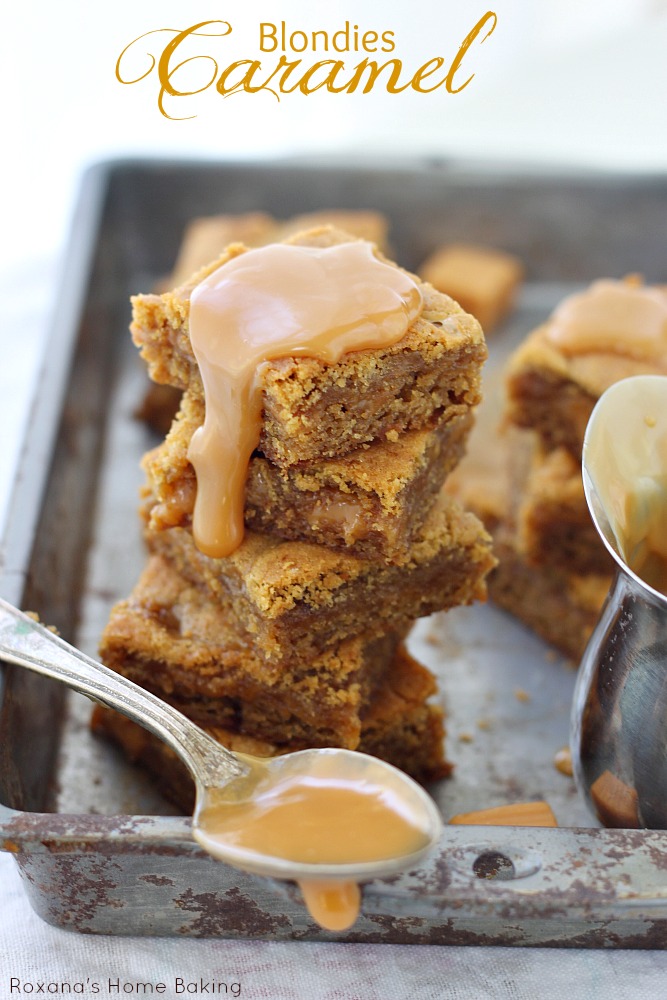 Salted caramel blondies
---
Yields one 11X7 baking pan
Salty and sweet, soft and chewy these easy to make salted caramel blondies are oozing with sticky caramel goodness. The perfect treat for any caramel lover!
20 minPrep Time
30 minCook Time
1 hr, 30 Total Time
Ingredients
1/2 cup (113 grams) room temperature butter
1/2 cup (100 grams) brown sugar
1 egg
1 tsp vanilla extract
1 cup (120 grams) all purpose flour
1/2 tsp baking soda
7 oz Kraft caramel, unwrapped
1/4 cup evaporated milk
pinch of sea salt
1/4 cup diced cold butter
1/4 cup (50 grams) brown sugar
1 egg
1/2 cup (60 grams) all purpose flour
sea salt (optional)
4 oz caramels + 2 tbsp evaporated milk (optional)
Instructions
Heat the oven to 350F. Line an 11x7" baking pan with parchment paper. Set aside
In a mixing bowl cream 1/2 cup butter with 1/2 cup sugar until light and fluffy. Add 1 egg and vanilla extract. Mix well, scraping the sides of the bowl with a spatula.
Add 1 cup of flour and baking soda. Mix until just combined.
Spread the mixture on the bottom of the prepared baking pan.
Bake in preheated oven for 8 minutes. Remove from the oven without turning it off.
Meanwhile make the filling.
In a small saucepan combine the 7 oz caramel and 1/4 cup evaporated milk. Melt over low heat, stirring constantly.
Pour over the half baked crust.
Sprinkle with sea salt.
To make the top blondie layer place 1/4 cup butter, 1/4 cup sugar, 1 egg and 1/2 cup flour in a food processor and pulse a couple of times.
Crumble it over the caramel layer. This part is a little tricky since the dough is wet and somehow sticky, but with a little patience it will work.
Return the pan to the oven and bake for 20 more minutes.
As soon as you take the blondies out of the oven, sprinkle a pinch of salt on top (optional).
Leave to cool completely in the pan before cutting into squares.
Serve with more caramel sauce, if preferred.
7.6.8
455
https://atreatsaffair.com/salted-caramel-blondies-recipe/
Roxana Yawgel http://atreatsaffair.com/ All images and content are copyright protected. Please do not use my images without prior permission. If you want to republish this recipe, please re-write the recipe in your own words, or simply link back to this post for the recipe. Thank you.
Happy Baking,
Roxana