A brioche like bread, rich from the butter and eggs with a soft crumb this dried fruit swirl bread baked around the holidays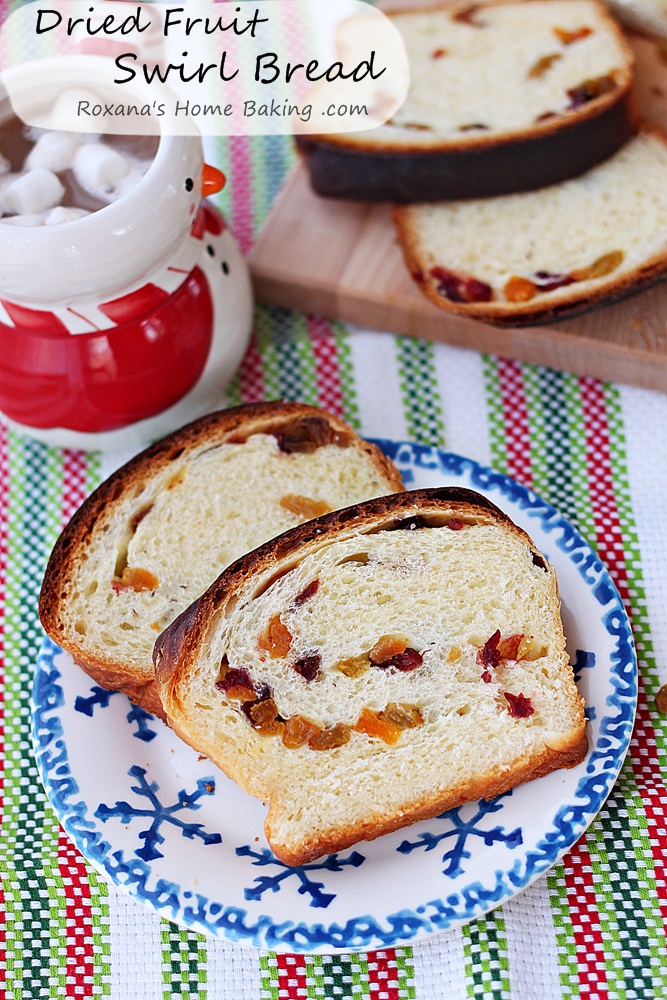 Today's post is hard to write. I've had a couple of attempts but after few short sentences the teary eyes forced me to think of something else.
I'm a very emotional person and around the holidays I'm even worse. Those of you that aren't spending holidays with your family might understand me better. As some of you know, I know live in Central Virginia with my beautiful daughter and amazing husband but the rest of my family is half way across the world and I haven't seen them in over a year and the last time we spent holidays together was years ago.
I have a ton of wonderful Christmas memories with my big family. We were that family of 20-25 that had dinner together at every holiday and did Sunday lunch as often as possible. Now, I'm lucky I get to video-chat with them.
One of the holidays memories is watching my mom make "cozonac" the Romanian swirl bread.
The bread is a brioche-like bread, rich from the butter and eggs with a soft crumb and filled with fruit. My mom used to make it with Turkish Delight but I haven't found it lately at the ethnic store. She also used to make a poppy-seed filling. No matter what you decide to fill the bread with you really should make it.
The technique is a little different, but I'm pretty sure it's also easy to follow and understand.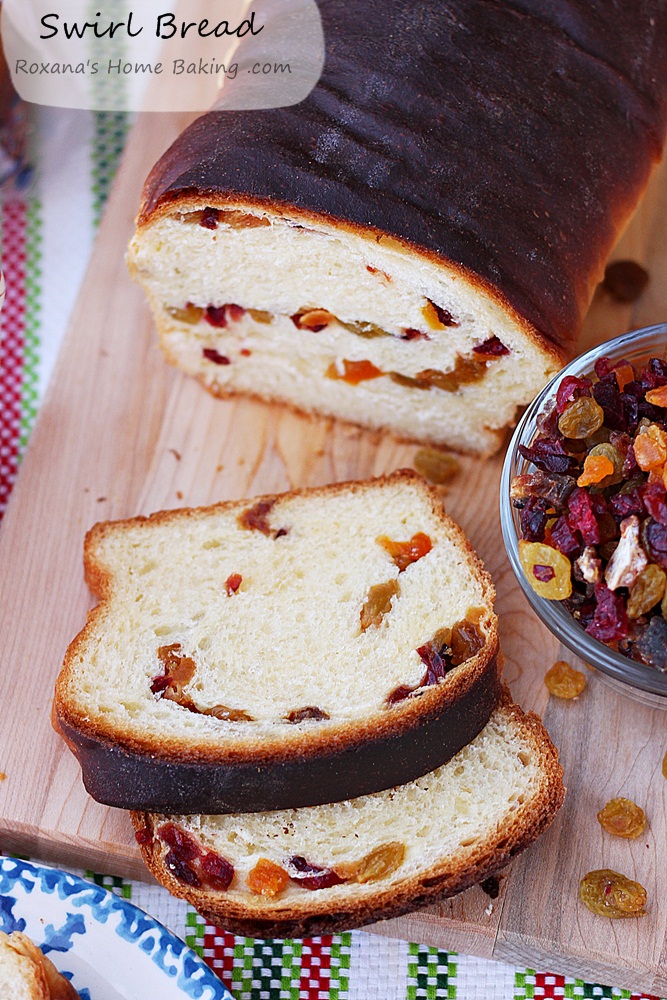 Craving more? Sign up for a trEATs affair email newsletter and get all the recipes sent right to your inbox!
Be sure to follow me on social media, so you never miss an update!
Facebook |  Pinterest   |    Instagram   |     Bloglovin'
Romanian dried fruit swirl bread
---
Roxana
Yields 3 loaves
A brioche like bread, rich from the butter and eggs with a soft crumb this dried fruit swirl bread baked around the holidays
1 hrPrep Time
45 minCook Time
1 hr, 45 Total Time
Ingredients
6 oz (168 grams) bread flour
1 cup (240 ml) boiling milk (I used 1%)
3 tsp dry yeast
6 egg yolks
1 tsp salt
1 cup (200 grams) sugar
3/4 cup (180 ml) lukewarm milk
1/2 cup (113 grams) melted and cooled butter
5 cups (600 grams) bread flour
1/4 cup (60 ml) grapeseed oil
1 1/2 cups dried fruit/chocolate chips/Turkish delight/nuts – whatever you want to fill the bread with
Instructions
In a mixing bowl add the 6 oz bread flour. Pour the boiling milk over it and whisk until well combined. Leave at room temperature for about 5-10 minutes until lukewarm.
Add the dry yeast and mix until combined. Cover and leave again at room temperature until it's almost doubled in volume (should take about 15-20 minutes)
In the meantime mix the egg yolks with the salt and sugar. Slowly pour the lukewarm milk and melted butter (make sure the milk nor the butter are hot or the egg yolks might scramble)
When the flour-yeast mixture has almost doubled, with the dough hook attachment on, start mixing slowly adding the wet ingredients mixture.
Now slowly, 1/2 cup at a time, add the remaining 5 cups of flour. When all the flour is incorporated increase the mixer speed and slowly pour the 1/4 cup grapeseed oil.
The dough might seem like a sticky mess at this point but keep mixing until the dough wraps around the hook and it slaps the sides of the mixing bowl.
The dough will still be slightly sticky and will not clean itself completely from the sides of the bowl.
With oiled hands, remove the dough from the mixing bowl and place it into a clean greased bowl. Cover with plastic foil and leave at room temperature until doubled in volume (about 1 hour or so). Punch down the dough and leave to rise again for another 35-40 minutes.
Divide the dough in 3 and onto a lightly floured surface roll each ball into a 15X9 inch rectangle. Sprinkle 1/2 cup of the filling and roll it on the short side. Place the swirled bread into a greased 9X5 inch loaf pan.
Do the same with the remaining 2 dough balls.
Cover the pans and leave to rise again for another 35-40 minutes.
In the meantime heat the oven to 375F.
Place the loaf pans in the oven and bake for 45 minutes or until the smell of fresh baked bread takes over your kitchen. As soon as you remove the bread from the oven brush it with melted butter (optional)
Leave to cool for 25-20 minutes in the pan before removing.
7.6.8
663
https://atreatsaffair.com/romanian-swirl-bread-recipe/
Roxana Yawgel http://atreatsaffair.com/ All images and content are copyright protected. Please do not use my images without prior permission. If you want to republish this recipe, please re-write the recipe in your own words, or simply link back to this post for the recipe. Thank you.