Chocolate strawberry roll cake – Chocolate sponge cake filled with lighter than air cream and diced fresh strawberries.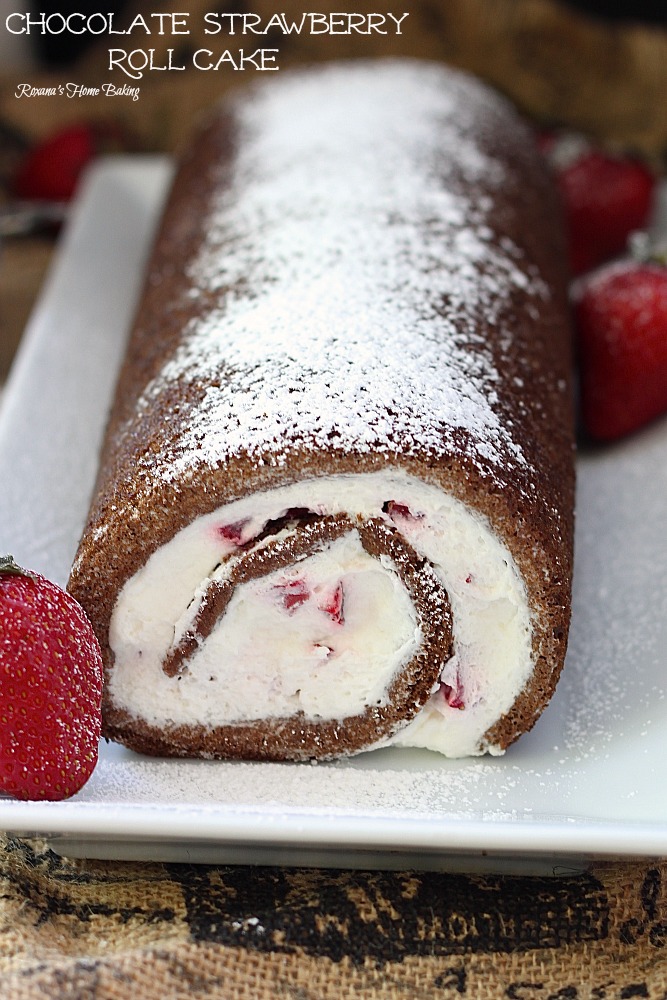 One would think that after 8 months of hosting the chocolate party I get my act together and post on time. Sorry to disappoint you but this month was so close to not having a party at all.
When we picked strawberries as the secret ingredient for this month challenge not in a million years I had though I have such a hard time baking something edible and pretty enough to take decent pictures of.
Three is a charm? I used to believe that. Not anymore. It took me 6 ruined cakes and almost 10 pounds of strawberries to complete this month's challenge.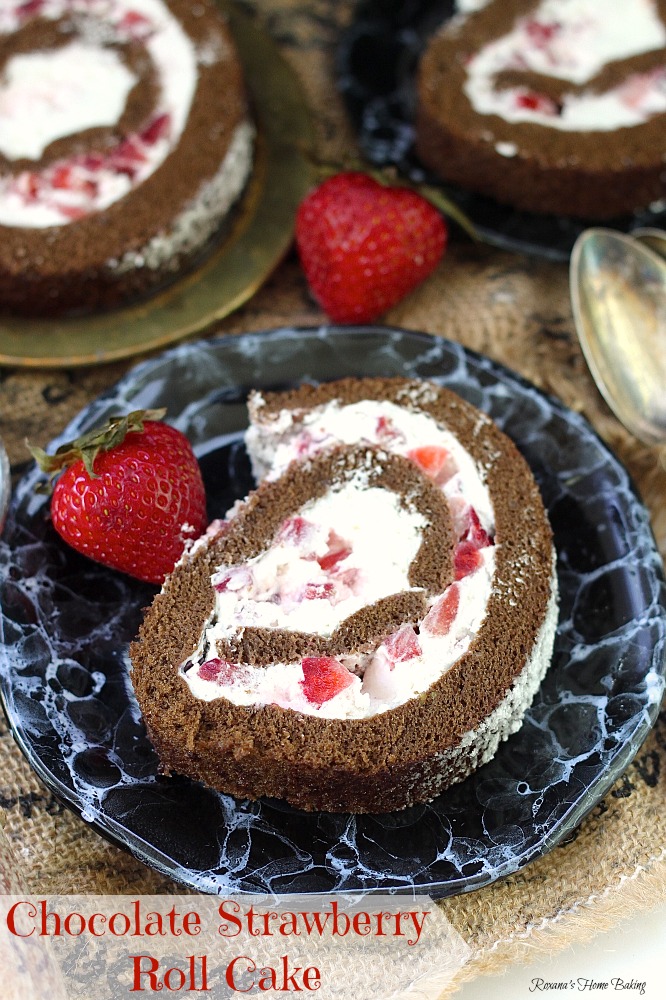 This would definitely go in history as my lowest baking point. I was so close to throw in the towel and looking at the pile of dirty dishes made me cry even more.
I had to take a couple of days away from the oven. I needed to clear my mind.
With one day left till the reveal day I got myself together, measured the ingredients a couple of times and turned the oven on.
Fingers crossed while walking back and forth in front of the oven. No one was allowed to enter the kitchen. No one was allowed to make a noise. I was being selfish.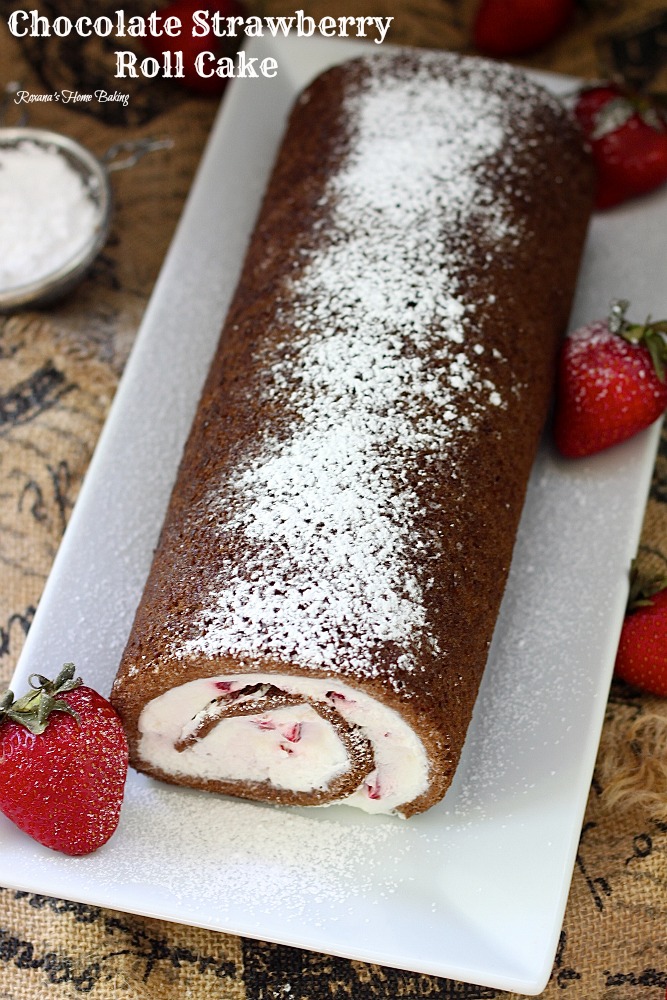 A few minutes later, the cake came out of the oven. Quickly rolled the sponge chocolate cake in a tea towel and prayed I would be able to unroll it in one piece.
Hours later, after the cake was completely cooled it was time to see if I call off the chocolate party or start decorating.
Yay! A happy dance was required. The cake was unrolled in one piece. Time to whip the filling, dice the strawberries and start partying like 1999.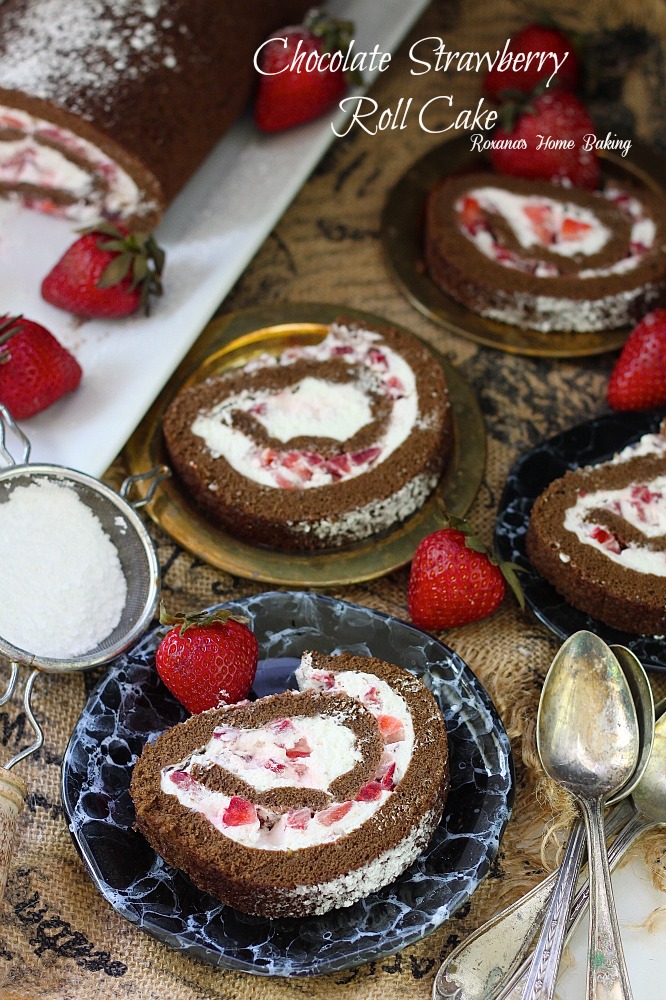 This chocolate roll cake is absolutely amazing! The addition of both cocoa powder and grated chocolate to the batter gives the cake a strong chocolate taste and the slightly sweet whipped cream filling is so light and balances well the richness of the cake. The fresh dices strawberries spread all over the cream just before rolling add not only color and texture but also sweetness.
This cake is perfect for that fancy dinner party you're going to throw or to impress your Mom on Mother's day or just because you love chocolate and strawberries as much as I do.
Chocolate strawberry roll cake recipe
---
Yields 1 roll cake
Chocolate sponge cake filled with lighter than air cream and diced fresh strawberries.
15 minPrep Time
7 minCook Time
2 hrTotal Time
Ingredients
1/2 cup (60 grams) all-purpose flour ( I used Pillsbury)
1/4 cup (20 grams) unsweetened cocoa powder ( I used Hershey's)
1 tsp baking powder
1 oz (28 grams) grated dark chocolate ( I used 99% scharffen berger chocolate)
4 eggs
1/3 cup sugar
1 cup cold heavy cream
2 tbsp sugar
3/4 to 1 cup diced fresh strawberries
powdered sugar
Instructions
Heat the oven to 400F. Line a 15X11" jelly roll pan with parchment paper. Grease the top with bakers spray. Set aside.
In a mixing bowl add the eggs and the sugar. Start on low speed and slowly increase to the highest speed and keep mixing for 3-4 minutes on high or until the eggs thicken and are pale in color.
With a spatula fold in the flour, cocoa, baking powder and grated chocolate.
Spread the batter evenly in the prepared baking pan and bake for 6-7 minutes.
Turn off the oven and let the pan cool for 1 minute.
In the meantime sprinkle powder sugar all over a clean tea towel.
Invert cake onto the clean towel and gently remove the parchment paper. Roll up the cake with towel starting from the short side.
Cool completely.
When the cake is cold, whip the heavy cream until soft peaks. Add the 2 tbsp of sugar and continue whipping until firm peaks.
Unroll the cake. Spread the cream evenly all over the cake. Sprinkle with the diced strawberries.
Roll the cake again, this time without the towel. Chill in the refrigerator for a couple of hours.
When ready to serve, sprinkle some powder sugar on top and cut in thin slices.
Enjoy!
7.6.8
452
https://atreatsaffair.com/chocolate-strawberry-roll-cake-recipe/
Roxana Yawgel http://atreatsaffair.com/ All images and content are copyright protected. Please do not use my images without prior permission. If you want to republish this recipe, please re-write the recipe in your own words, or simply link back to this post for the recipe. Thank you.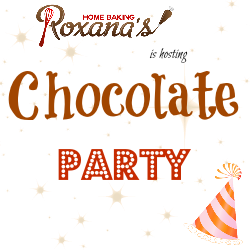 I'm pretty sure you guessed by now this month secret ingredient is strawberries. Fresh, frozen, dried or canned, pair with chocolate and come party with us!
Here are my wonderful hosts this month :
Erin of Dinners, Dishes and Desserts – Nutella strawberry shortcake
Sara of Pidge's Pantry – Dark chocolate shortcakes with balsamic roasted strawberries
Denise of From Brazil to You – Chocolate strawberry slump
Liz of That Skinny Chick can Bake – Strawberry topped chocolate tart
Anne of From my Sweet Heart – Chocolate strawberry slab pie
Emily of Life on Food – Strawberry chocolate chip muffins
Veronica of My Catholic Kitchen – Chocolate dipped strawberries
Kim of Ninja Baking – Strawberry chocolate bento
Karen of Karen's Kitchen Stories – Strawberry chocolate anniversary cake 
Suzanne of You Made That? – Double chocolate pancakes with strawberries
Laura of Tutti Dolci – Chocolate strawberries cupcakes
Laura of The Spiced Life – White chocolate mousse with strawberries
We'd love to have you join us! Make something featuring this month's ingredients :  chocolate and strawberries.
Also, if you'd like to know what are we up to and what ingredients we pick for the next parties, join our Facebook group.
All submitted posts will be pinned to the Chocolate party Pinterest board and will be promoted on other social media platforms using the #chocolateparty hashtag.
Our recipes will be shared on the first Monday of each month and you can submit your own recipes until the end of the month. You can submit up to 3 recipes each month.
To make sure everyone is having a fantastic time, here are some simple rules to follow
How to participate (the rules)

1.) Blog about your chocolate treat. Your recipe must include the two ingredients we choose. It can be a simple no bake treat or a sophisticated layer cake, the complexity level of the recipe is totally up to you.

2.) Include a link back to this post or the Chocolate party page.  Optionally, add the Chocolate Party logo in your blog post or on your sidebar.

3.) Your recipe must be published during the current month. Please do not link old recipes, they will be deleted.