Soft with a rich chocolate taste just like a brownie should be and a melted candy baked inside, these pumpkin kissed brownie surprise cookies are a family favorite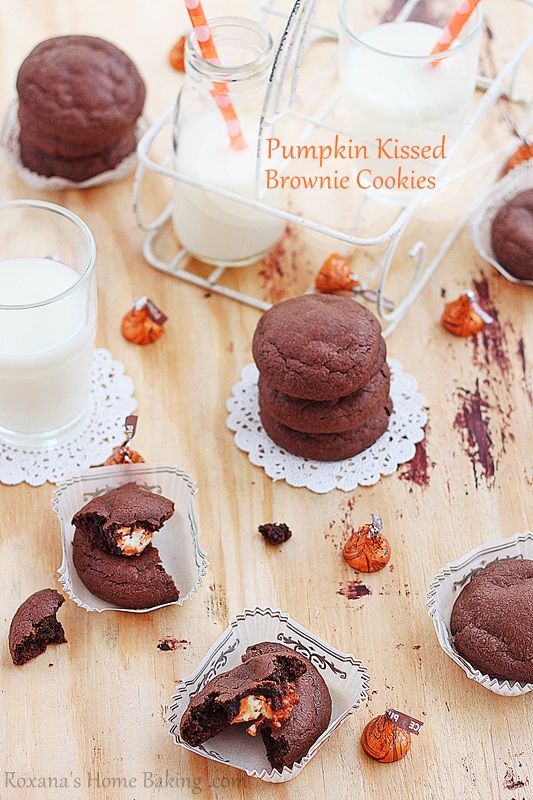 Halloween is probably my least favorite holiday. Maybe because I'm now a big fan of spider webs or maybe because I was born in Dracula's country (not too far from his castle).
The only part i like about Halloween is the candy.
On a regular basis if I buy more than 2-3 bags of candy at a time the cashier rise her eyebrow while scanning, starting mid September till actual Halloween day I can buy as many bags of candy as I like and she tells me "kids love candy"
If only she knew none of those 10 bags of candy I just bought are for kids.
I mean, c'mon, you can never have too many Hershey's kisses, especially the seasonal ones which one day are all over the store the next day there are nowhere to be found.
Two weeks I've checked my grocery store and they were out of the Pumpkin Spice kisses, of course I had to stock up when I found some more!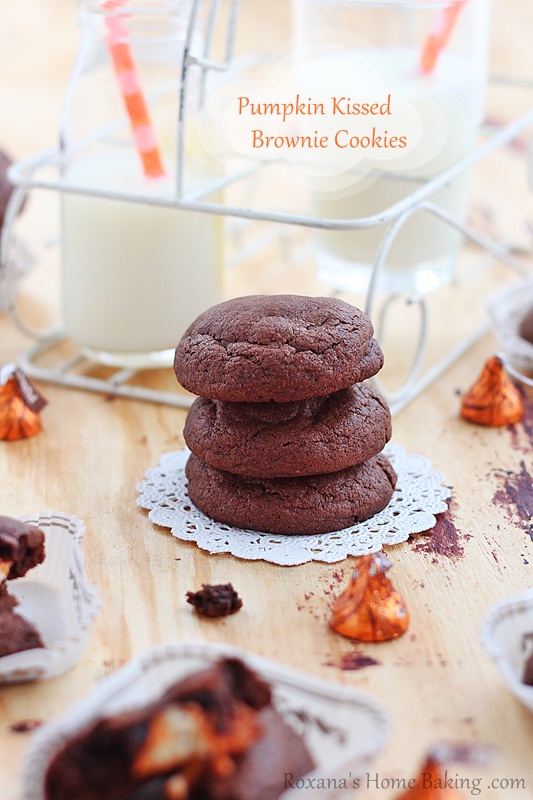 Last week, while putting together the 100 chocolate recipe list I stumbled upon lots of brownie cookies and there were kinda hard to take them out of my head.
I wanted brownie cookies but in the same time I wanted to use some of the candy.
Decisions, decisions.
Until it hit me, I can hide a candy inside the cookie dough.
It's not like I'm inventing the wheel or something, others have done it before.
So why can't I do it too? Of course I can!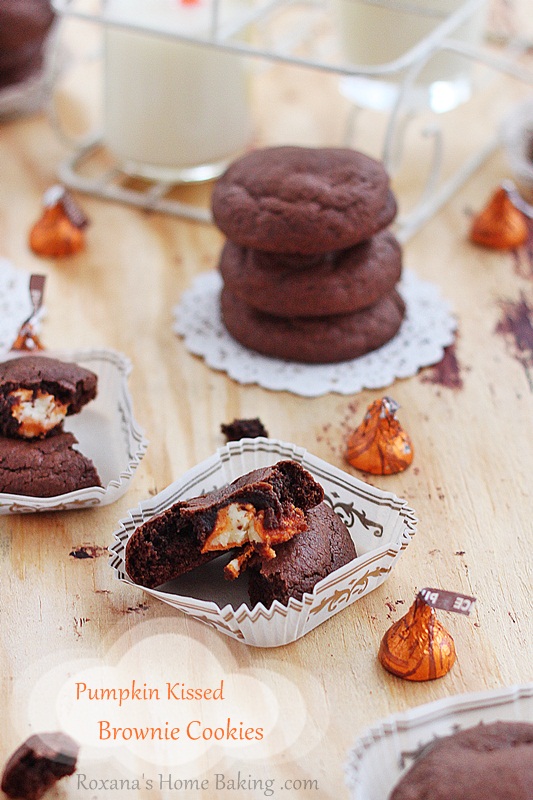 I've made these cookie over the weekend and there are all gone, some of them were gone before I even had the chance to take some pictures. (No wonder I don't blog about dinner meals, my family has sticky fingers).
The cookies are soft with a rich chocolate taste just like a brownie should be and when you bite into it you can a little bit of the melted candy, mmm, now this is what I'm talking about!
Pumpkin kissed brownie surprise cookies
---
Yields 27
A soft chocolaty brownie cookie with a pumpkin spice kiss inside.
10 minPrep Time
11 minCook Time
40 minTotal Time
Ingredients
1 cup (226 grams) room temperature butter
1 cup (200 grams) brown sugar
1/2 cup (100 grams) granulated sugar
2 eggs
2 cups (330 grams) all purpose flour
3/4 cup ( 60 grams) unsweetened cocoa powder
1/2 tsp baking soda
pinch of salt
27-28 Hershey's Kisses
Instructions
In a mixing bowl cream the butter and sugar until light and fluffy.
Beat in the eggs, one at a time, scraping the bowl down after each addition.
Slowly add the flour, cocoa, baking soda and salt and mix until just combined.
With an ice-cream/cookie dough scoop make 27-28 balls (don't make them smaller or you can;t completely hide the candy) and place them on cookie sheets.
Chill for 15-20 minutes or until firm enough to handle.
Meanwhile heat the oven to 375F and unwrap the candy.
Take the cookie balls out of the fridge and press one candy inside each one covering it completely.
Bake for 11 minutes or until tine cracks appear and the cookies are firm to the touch.
Leave to cool slightly on the cookie sheets before removing.
Enjoy!
7.6.8
380
https://atreatsaffair.com/pumpkin-kissed-brownie-surprise-cookies-recipe/
Roxana Yawgel http://atreatsaffair.com/ All images and content are copyright protected. Please do not use my images without prior permission. If you want to republish this recipe, please re-write the recipe in your own words, or simply link back to this post for the recipe. Thank you.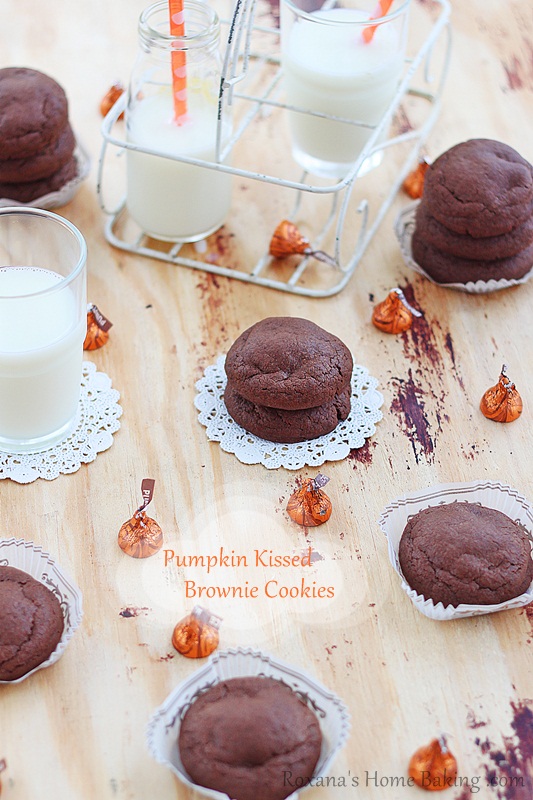 If you like these Pumpkin kissed brownie surprise cookies you may also like
Candy cane fudge brownie cookies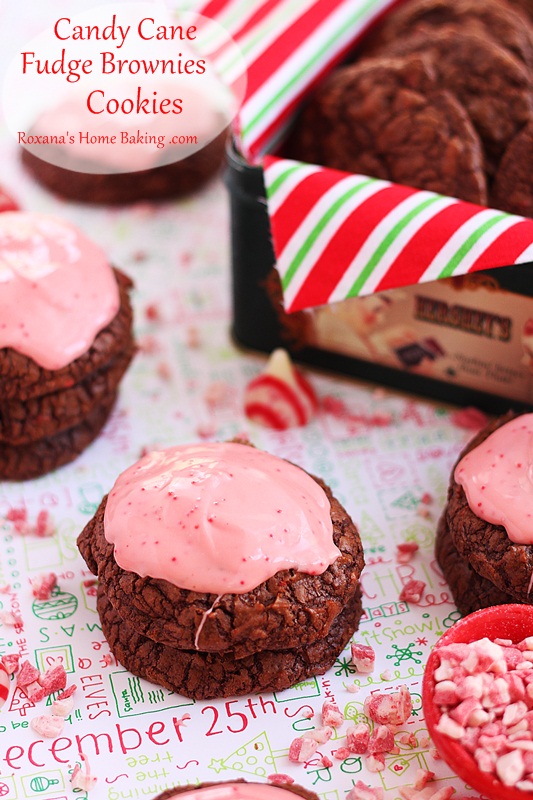 Triple chocolate brownie cookies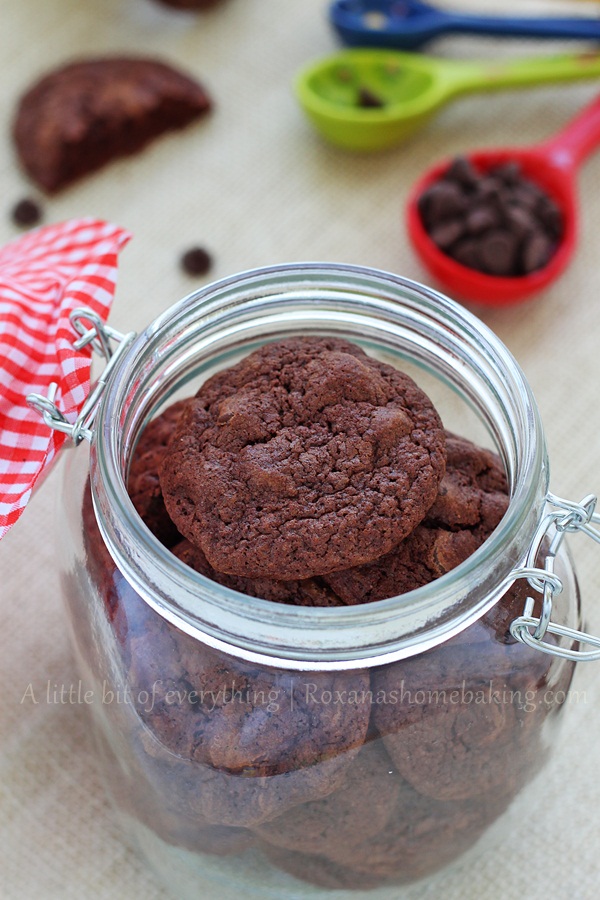 Sending love your way,
Roxana