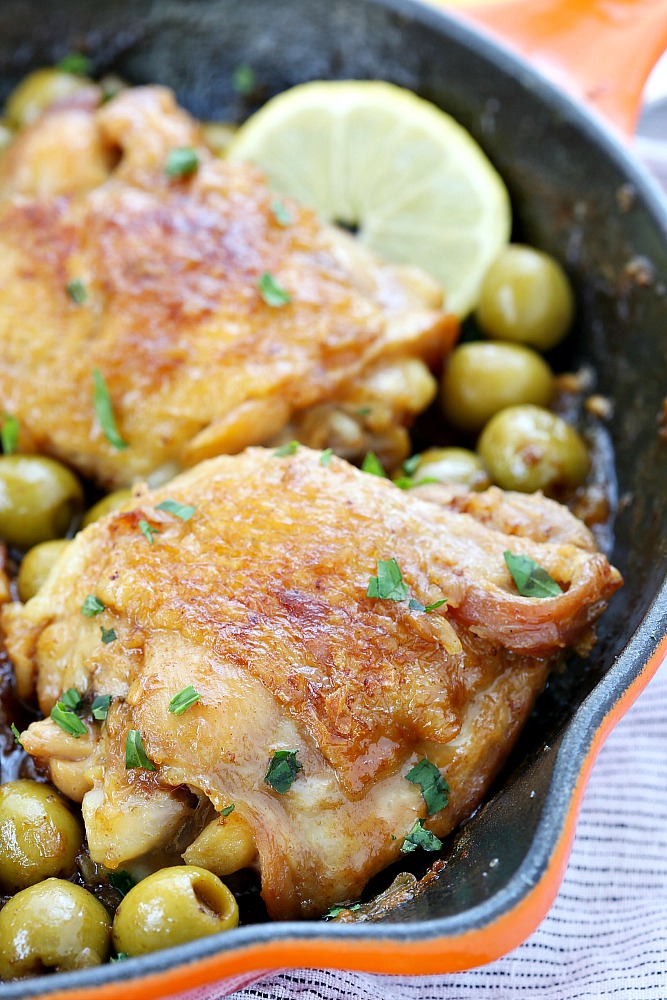 I wish I could tell you I reached for the crispy skin on the chicken thighs, or that I dipped a piece of crusty bread into the very little white wine sauce my husband left for me, but that would be a lie.
And I don't want to do that to you. It would not be fair. I would like you to remember me as Roxana not as Pinocchio's sister.
I want our relationship to be based on trust, not on a lie.
I just can't do it! I don't wanna do it!
No, the star of my dish was not the juicy chicken nor the flavorful white wine sauce with caramelized onions and minced garlic.
The stars of my one skillet chicken and olives in white wine sauce are the lemon stuffed olives!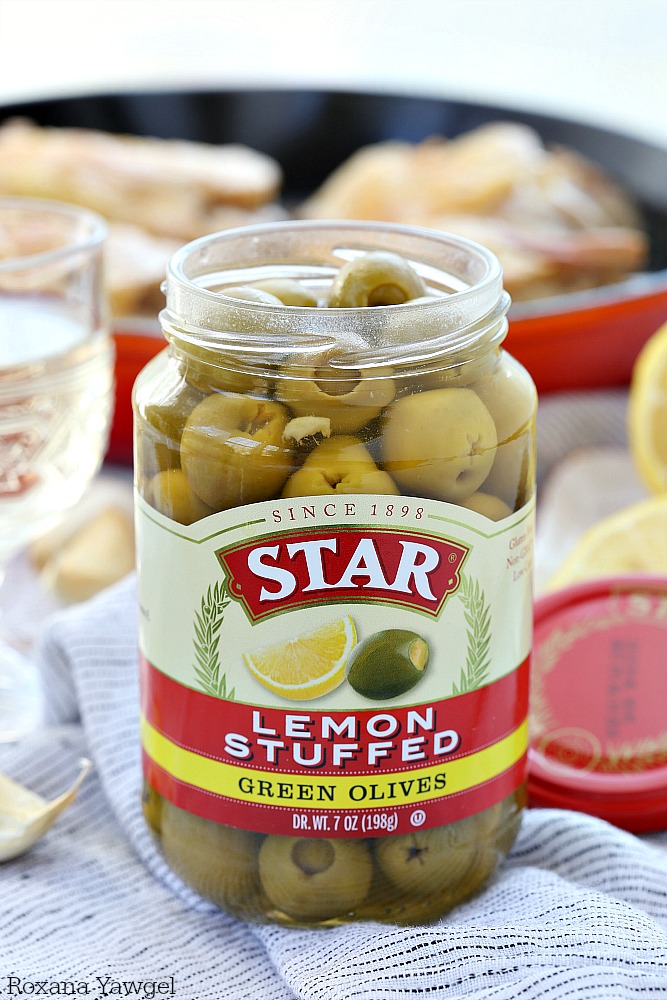 Of my stars!
You probably should not, because they are pretty addictive. Since we're good friends I highly suggest you leave me all the lemon stuffed olives to deal with. It will he hard to break the habit of not eating an entire jar in one sitting but I can take that!
You focus on the chicken and the sauce. OK?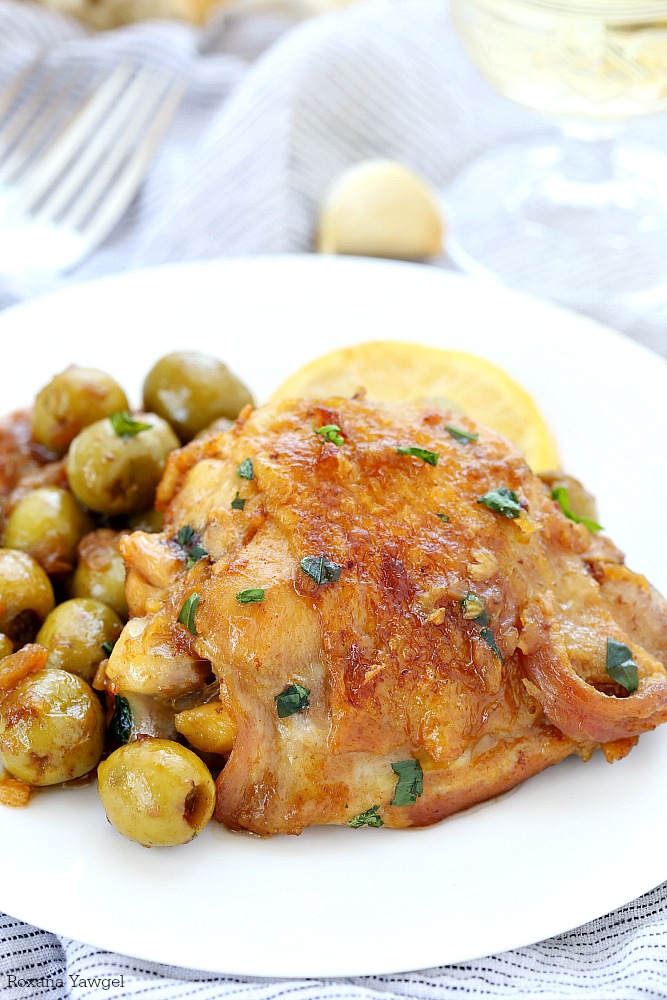 I used to be the only one in the house eating olives. And I was so happy with that.
I would open up a jar while preparing dinner and one by one, by the time dinner was done, the olives were gone too.
But that changed after Tiffany and I spent our summer in Sicily. With olive trees everywhere in sight. And olives in so many dishes. And on the appetizer plate, the antipasto.
One by one, Tiffany started to enjoy olives like candy.
I wasn't surprised at all when she reached out for more olives few days ago when I made this chicken and olives with white wine sauce.
Let's talk about this dish for a second!
You only need 5 ingredients – chicken, onion, garlic, white wine and obviously, lemon stuffed olives.
You start by searing the chicken thighs. I prefer using chicken thighs with skin on. Gives the dish so much flavor!
Once the chicken thighs are seared, you take them out and cook the onions in all that fat from the chicken! YUM!!
The minced garlic is added and the white wine scraping all the chicken bits from the bottom of the pan.
Return the chicken to the pan, stir in the lemon stuffed olives and cook until the chicken thighs are fully cooked.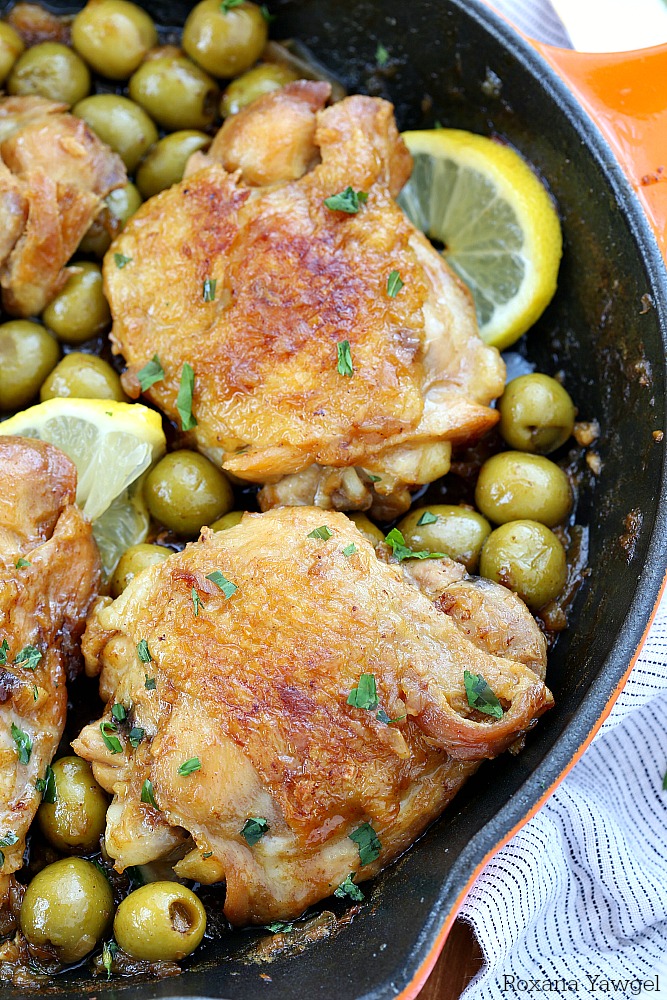 There are a few substitutions you can make to this dish.
If you prefer, you can use skinless chicken thighs. Or drumsticks.
The white wine can be partial or fully replaced with chicken stock. I only used 1 1/2 cups and after cooking it, it wasn't that much sauce left. If you want a more sauce, add more wine or stock.
Please do not replace the lemon stuffed olives! They make the dish! They give the chicken a bright and briny flavor.
Please be careful with the amount of salt you're using. The olives are pretty salty. I only used salt on the chicken. No other salt was added when cooking the onion (like a usually do) or to the white wine sauce.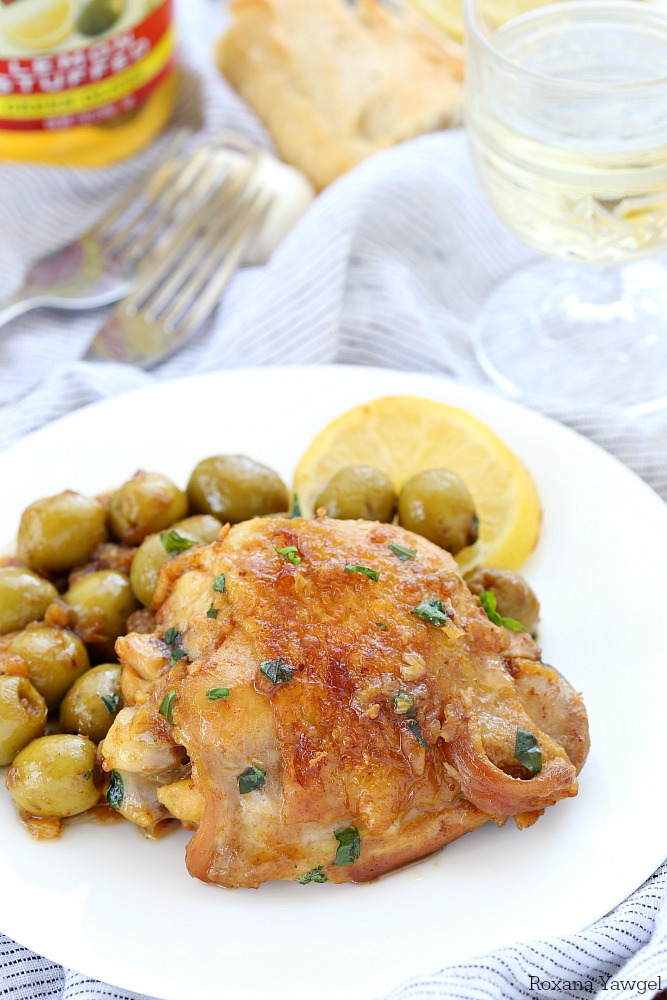 Craving more? Sign up for a trEATs affair email newsletter and get all the recipes sent right to your inbox!
Be sure to follow me on social media, so you never miss an update!
Facebook |  Pinterest   |    Instagram   |     Bloglovin'
One skillet chicken and olives in white wine sauce recipe
---
Roxana
Yields 4 servings
5 ingredients are all you need to make this bright and briny chicken and olives in white wine sauce. Good taste does not always depend on a lot of ingredients.
10 minPrep Time
30 minCook Time
40 minTotal Time
Ingredients
4 chicken thighs, skin and bone on
1 onion, julienne cut
2-4 garlic cloves, minced
1 1/2 to 2 cups dry white wine or chicken stock
Pinch of salt
1 tablespoon olive oil to grease the skillet
*see recipe story for substitutions and amount of salt
Instructions
Heat the olive oil into a cast iron skillet over medium flame. Season the chicken with salt.
Add the chicken thighs, skin down and sear until golden and crisp, about 5 minute.
Turn the chicken and cook 5 more minutes on the other side.
Remove the chicken from the pan.
Add the onion and cook until softened.
Stir in the minced garlic and white wine, scraping any pieces of chicken from the bottom of the pan.
Bring the sauce to boil. Lower the flame to low.
Return the chicken to the pan. Stir in the lemon stuffed olives.
Cook over low flame until the chicken in fully cooked.
Remove from the heat and serve warm with crusty bread.
7.6.8
645
https://atreatsaffair.com/one-skillet-chicken-and-olives-white-wine-sauce-recipe/
Roxana Yawgel http://atreatsaffair.com/ All images and content are copyright protected. Please do not use my images without prior permission. If you want to republish this recipe, please re-write the recipe in your own words, or simply link back to this post for the recipe. Thank you.