An elegant summer treat, these dreamy no bake blackberry bars are infused with fresh berry sweetness swirled with a velvety creamy filling.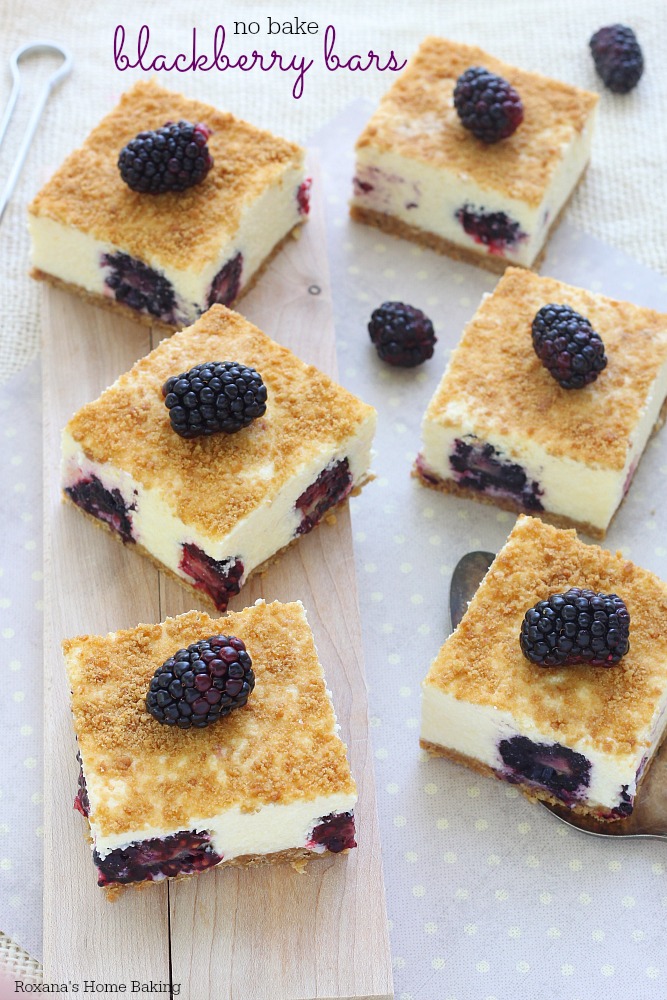 I love watching TV while folding clothes. Since our dryer broke and we had to wait for a new one to be delivered and installed, I had quite a few loads to go through. I needed to find a movie to keep my mind away from the clothes.
Browsing the channels I found a romantic movie. Two people met online and later decided to meet in real life. At first he didn't seem the guy she thought he might be, but just like in other romantic movies the longer they spend together the more they started to enjoy each other's company. She was an amazing cook, he was a photographer.
Somehow, I don't know how, while watching the movie my mind traveled in time, years ago when I met Mr.R  for the first time. The overcrowded hotel we both stayed at, the little Egyptian restaurant at the end of the street and the Starbucks I stopped daily to get my coffee intake.
My mind skipped a few years until the summer Mr. R came to visit me in Romania. One evening we stopped at a local coffee shop and enjoyed one of the classic Romanian desserts – no bake fruit cake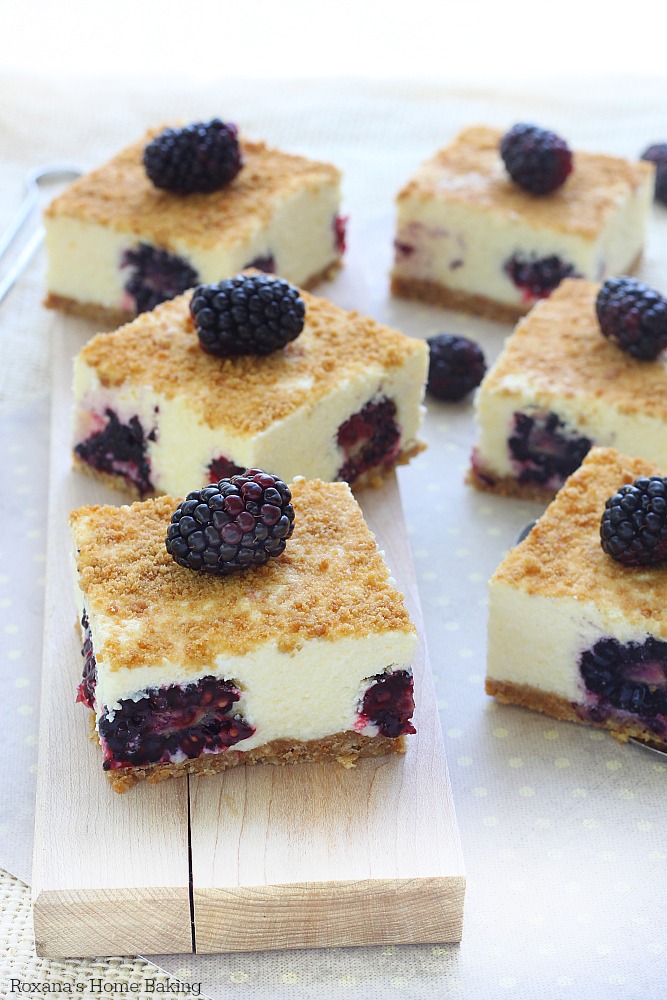 The following day I gathered all the ingredients and made the classic cake in a bar form with a very little adaptation from my mom's recipe.
To make these no bake blackberry bars, you need just a handful of ingredients.
Since I didn't have any lady fingers on hand, I made the crust from graham crackers crumbs and melted butter.
For the filling, you'll need milk, sugar, gelatin, heavy cream and egg yolks and of course fresh blackberries. If you do not have any blackberries on hand, you can use any fresh berries you have. I made them again for 4th of July using strawberries
Since these blackberries bars require no baking and yet, eggs are listed as an ingredient, it's very important to use pasteurized eggs. I love Safest Choice™ Pasteurized Eggs and I highly recommend them for this recipe.
Check their store locator feature on the website to see what grocery stores in your area carry them.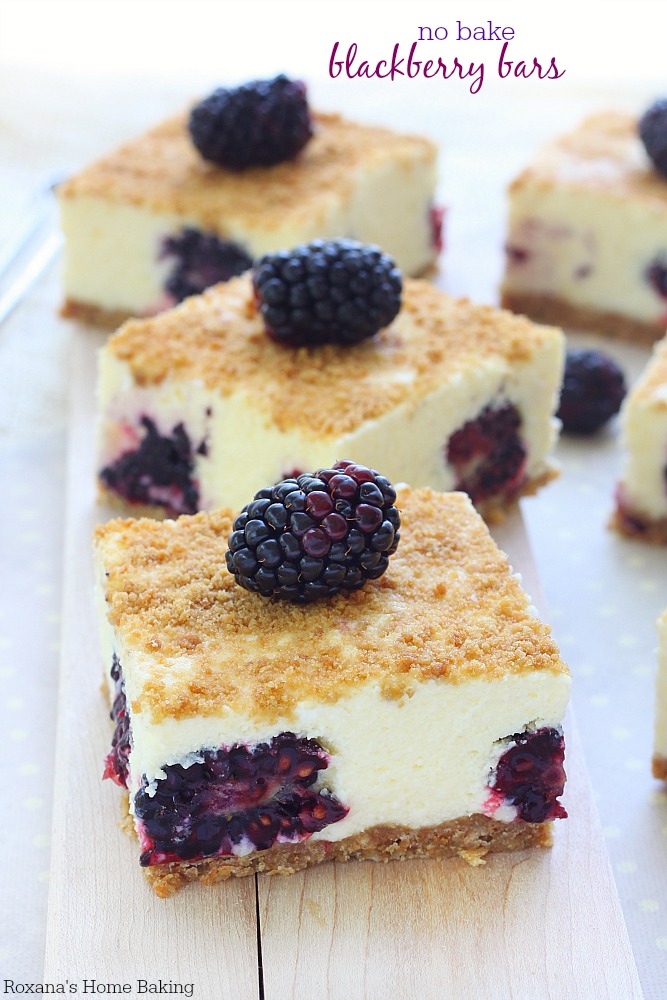 To make the filling you'll need a candy thermometer, just like for these lemon bars. In a small saucepan mix milk, sugar and eggs and cook over low heat until the mixture reaches 180F.
Keep on eye on the mixture, it only takes about 3-5 minutes to foam and increase in volume and reach the 180F. Remove from the heat and let cool while the gelatin dissolves.
In a clean bowl, whip the cream until firm peaks form.
Stir the gelatin, and heavy cream in the egg mixture and pour in the prepared pan. Refrigerate for few hours and enjoy.
Yes, these no bake bars need a little bit of patience and you'll end up with a couple of dirty dishes, but they are worth it.
No bake blackberry bars recipe
---
Yields 15 bars
An elegant summer treat, these dreamy no bake blackberry bars are infused with fresh berry sweetness swirled with a velvety creamy filling.
30 minPrep Time
5 minCook Time
5 hrTotal Time
Ingredients
Crust

1 cup graham crumbs
6 tablespoons butter, melted

Filling

1/2 cup milk
1/2 cup sugar
3 egg yolks ( I recommend Safest Choice™ Pasteurized Eggs )
1 package knox gelatin
1/2 cup cold water
2 cups heavy cream
4 oz fresh blackberries or other berries

Topping

2 tablespoons graham crumbs
15 fresh blackberries
Instructions
Line an 11X7" pan with parchment paper. Set aside.
To make the crust, pour the melted butter over the graham crust and stir to combine.
Evenly press the crumbs on the bottom on the prepared pan. Refrigerate until the filling is ready.

Filling

In a sauce pan combine the milk, sugar and the 3 egg yolks.
Place the saucepan over low heat, stirring constantly until the sauce starts to thicken, foams and increases in volume and the temperature reaches 180F.
Turn the stove off and let it cool for 20 minutes, stirring occasionally.
Once the egg mixture is slightly cooled, in a small bowl dissolve the gelatin in 1/2 cup cold water. Once dissolved (should take around 3 minutes) stir into the egg yolks mixture. Leave to cool completely.
In a clean bowl whip the heavy cream until stiff peaks. Slowly mix the whipped cream into the egg mixture.
Arrange the fresh blackberries over the crust and slowly pour the filling over them.
Sprinkle the remaining graham crackers crumbs and refrigerate the pan for a few hours.
When ready to serve, cut into bars, decorate with a fresh blackberry and enjoy!
7.6.8
559
https://atreatsaffair.com/no-bake-blackberry-bars-recipe/
Roxana Yawgel http://atreatsaffair.com/ All images and content are copyright protected. Please do not use my images without prior permission. If you want to republish this recipe, please re-write the recipe in your own words, or simply link back to this post for the recipe. Thank you.
Roxana