These are the best brownies I've ever had in my entire life – Read the text I received few hours after I dropped a plate with a couple of these fudgy guinness stout chocolate brownies at my neighbor's door.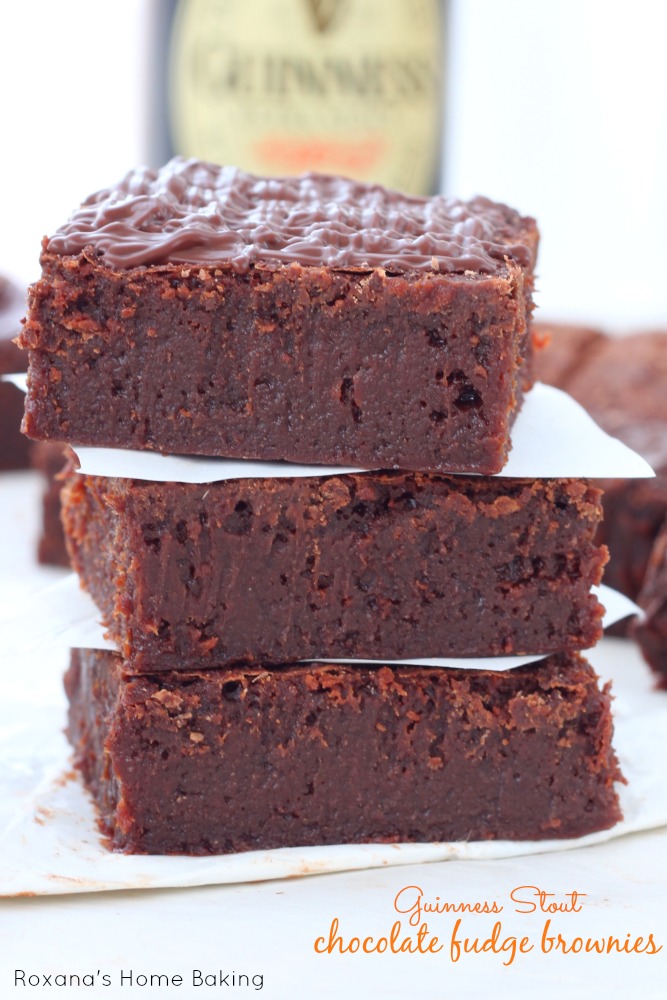 I mentioned in a previous post  we don't really drink but I do happen to love making grown up treats, like these out of this world stout brownies. Now of course, some might say "why on Earth would you ruin a good batch of brownies just by adding stout to it?" or even worst "why opening a bottle of stout just for a pan of brownies?". My lovelies, if you have never tried stout brownies, you are missing out.
While you can hardly taste the beer in these brownies, the stout enhances the flavor making these one of the richest and moistest brownies in the whole wide world!
I've made these stout chocolate brownies for the first time last year on St. Patrick's day and have had a post-it note in my office ever since to make them again and share my thoughts with you.
The recipe comes from Bon Appetit and I pretty much kept it the same. Actually, the only thing I did not do was the stout chocolate frosting. As soon as I removed my brownies from the oven I grated about 1 ounce of dark chocolate over let and let the warmth of the brownies to slowly melt it. I did play a little bit with some melted chocolate on few of them once they were cooled, but whatever you decide to do, these brownies will soon become one of your favorite!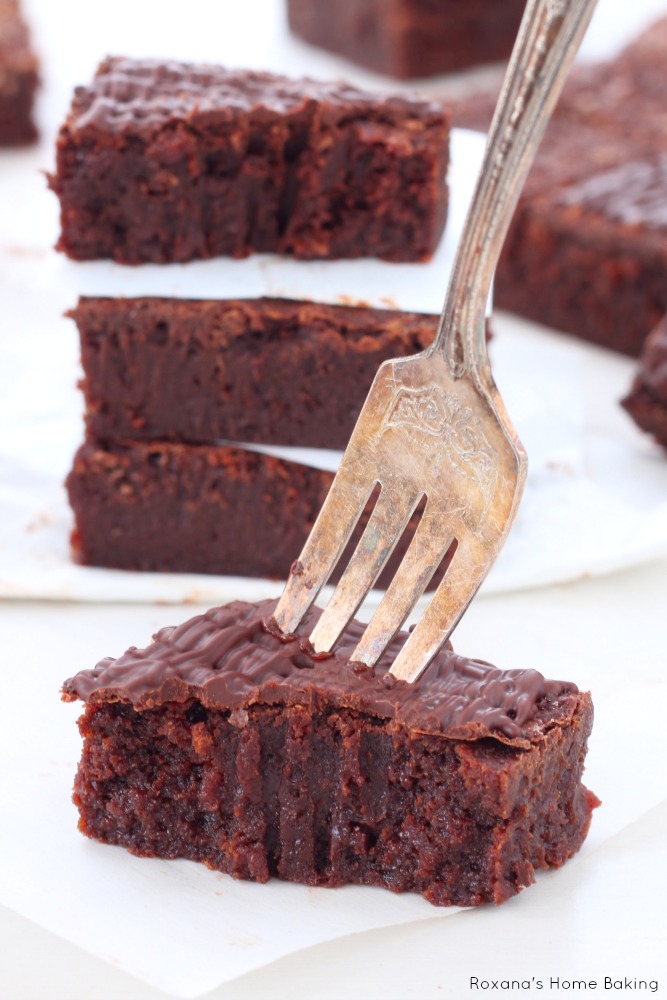 Keep in mind, because these are really rich and moist, it's best to cut the brownies in 20 pieces. A little bite will satisfy your cravings.
Of course, the hardest part is actually waiting for the brownies to cool down so you can cut them. You need a lot of will powder. My suggestion is to make them the night before and just let cool overnight on the kitchen counter. You might end up waking up in the middle of the night thinking about them, but don't give it. Let them cool completely before digging in.
If you do not have any stout on hand and don't feel like buying a six-pack  just for these brownies, go to your local (cost plus) World Market. They sell individual bottles.
Guinness stout chocolate brownies recipe
---
Yields 20 bars
The nuttiness of the stout enhances the flavor making these Guinness stout chocolate brownies so rich and fudgy, it will be love at first bite.
20 minPrep Time
40 minCook Time
5 hrTotal Time
Ingredients
1/2 cup stout ( I used Guinness)
12 oz chocolate chips (semi-sweet or dark or a combo of both)
1 cup unsalted butter
1 1/2 cups sugar
3 eggs
1 teaspoon vanilla extract
3/4 cup all purpose flour
1 teaspoon salt
1 oz. chocolate to grate over the warm brownies (optional)
Instructions
Preheat oven to 350F. Line a 9x9" baking pan with parchment paper.
In a medium sauce-pan bring the stout to boil and cook until reduced to 1/4 cup, about 5-7 minutes. Let cool.
In a medium bowl set over a saucepan of simmering water and the chocolate and butter. With a hand whisk, stir until melted and smooth.
In a mixing bow, with the paddle attachment on, beat on low speed sugar, eggs and vanilla extract.
Gradually pour in melted chocolate, and the reduced stout.
Fold in flour and salt. Pour batter into prepared pan.
Bake brownies in preheated oven for about 40 minutes, or until the top begins to crack.
Remove the pan from the oven and let cool completely at room temperature.
Optional you can grate 1 oz of chocolate over the brownies as soon as you take them out of the oven.
Once the entire brownie is cooled, cut into 20 bars.
7.6.8
520
https://atreatsaffair.com/guinness-stout-chocolate-brownies-recipe/
Roxana Yawgel http://atreatsaffair.com/ All images and content are copyright protected. Please do not use my images without prior permission. If you want to republish this recipe, please re-write the recipe in your own words, or simply link back to this post for the recipe. Thank you.
If you enjoyed these stout chocolate brownies, you may also like
Irish cream cookie dough cheesecake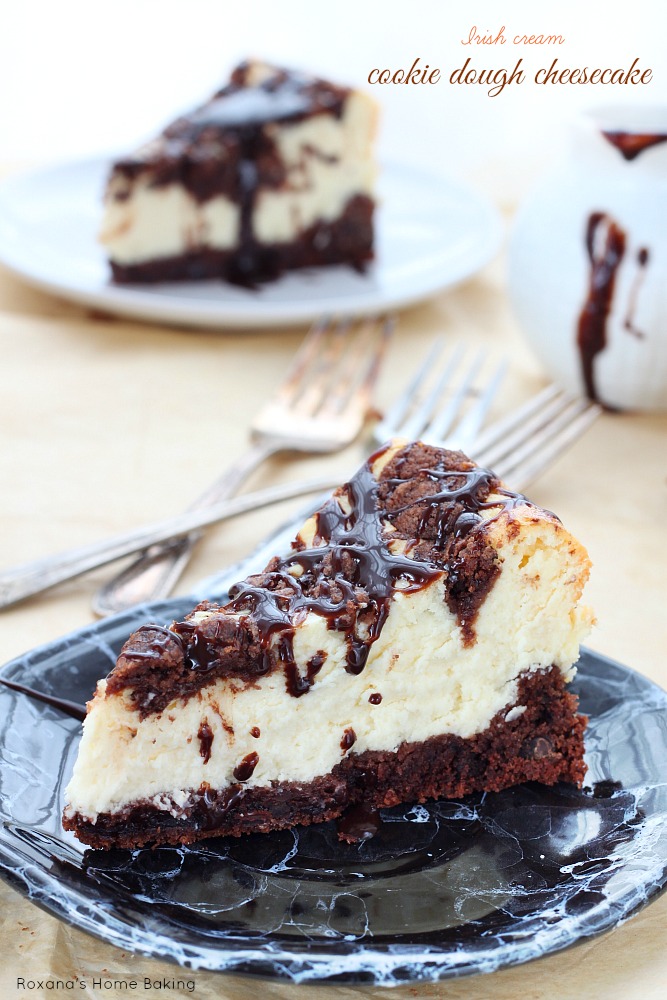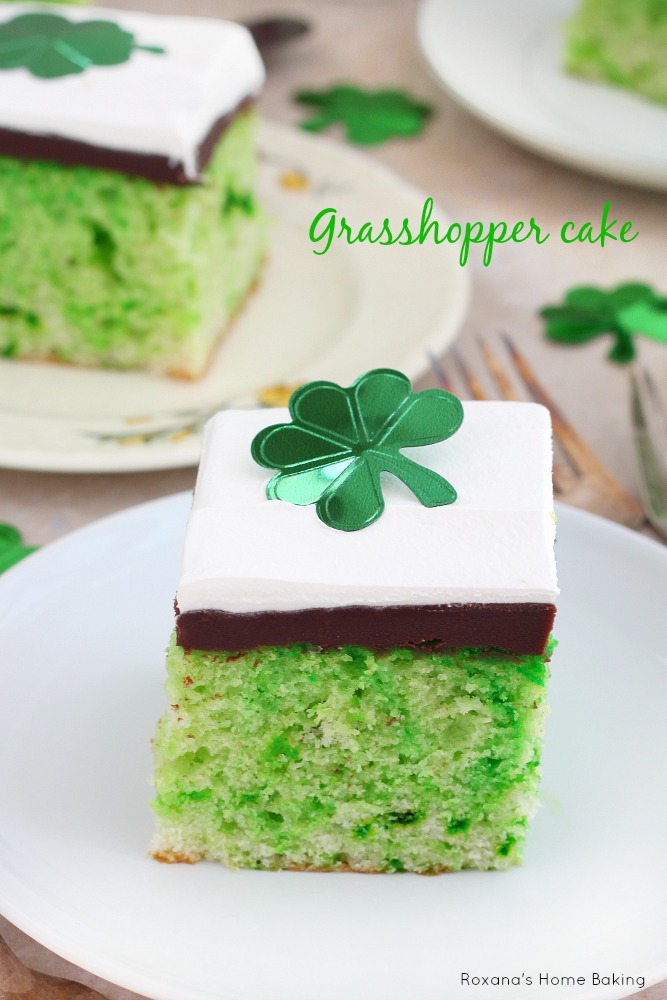 Happy Baking,
Roxana