White chocolate meets fresh raspberries in these luscious cheesecake bars. So incredible creamy and so easy to make (the filling requires no baking!) they will be a favorite year round!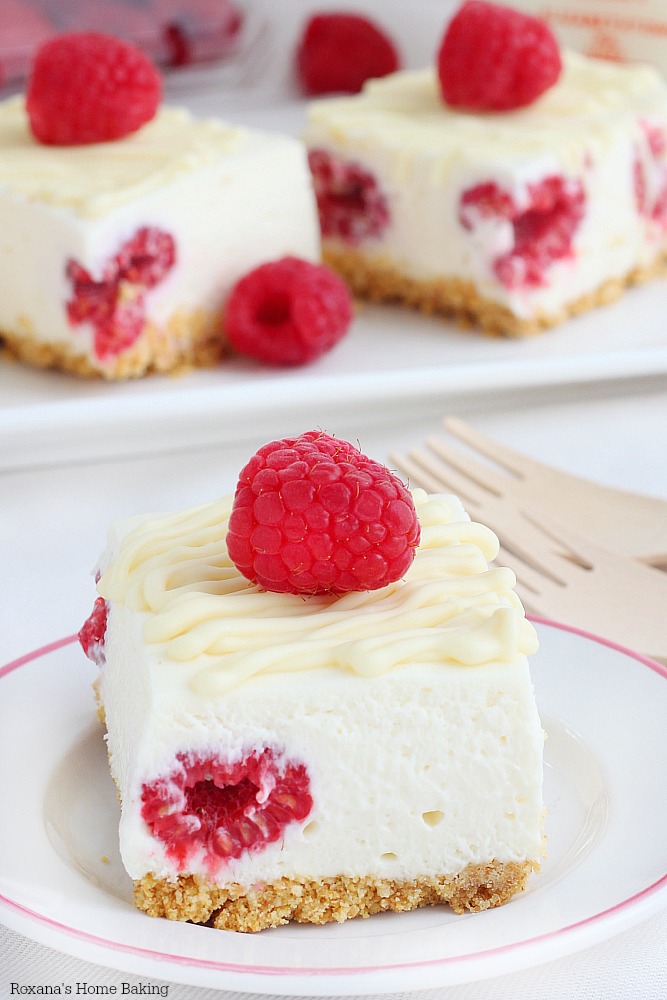 As soon as December 1st rolls around I'm already deep into cookie exchange, wrapping gifts for relatives just ready to be shipped, house almost fully decorated and most likely Christmas menu narrowed down.
For us Christmas menu always has to have some sort of ham, scalloped potatoes and at least one kind of dessert. Last year, I'm sure there were more sweets on the table than savory dishes. I have the feeling, this year it's going to be the same. I already have a few desserts in mind, including these unbelievable silky white chocolate raspberry cheesecake bars!
You won't believe how easy it is to make them! My favorite graham cracker crust is topped with extra creamy white chocolate cheesecake filling and stuffed with fresh raspberries! Ah-mazing!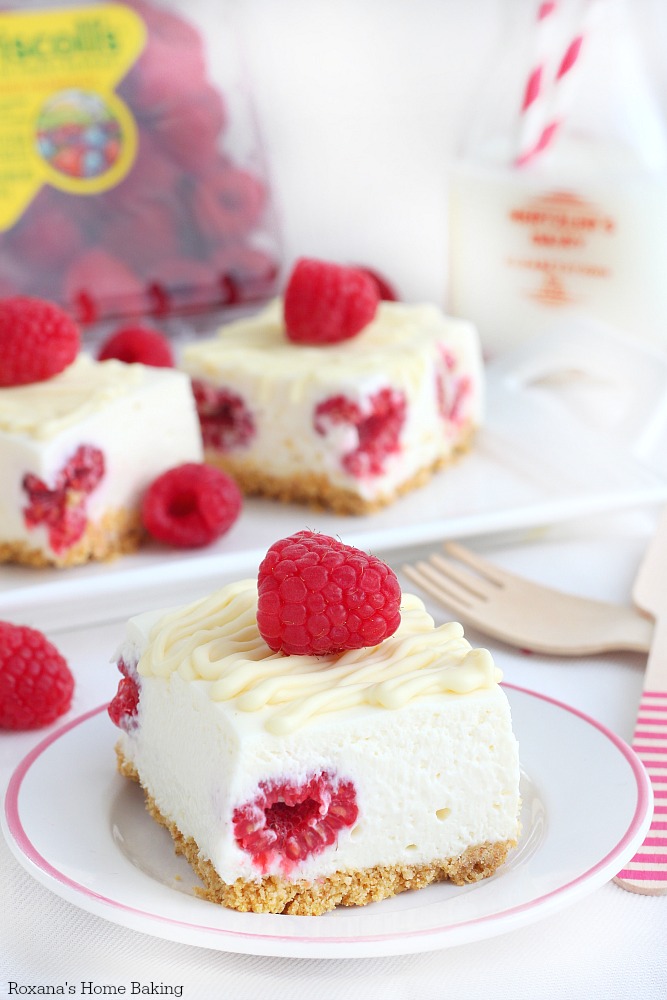 I love Driscoll's fresh raspberries! Since they are widely available year round, you'll always find me buying them. I love to pop them in my mouth every time I crave something sweet, mix them in my yogurt, on top of my oatmeal, in salads and of course, in desserts!  When I see the Driscoll's name, I know my berries are high quality.
I had to force myself to stop snacking on them to make sure I had enough for these cheesecake bars. The addition of fresh raspberries give a great pop of color to these bars. Red and white – the colors of Christmas!
In addition to the fresh Driscoll's raspberries, you'll also need graham cracker crumbs and melted butter for the crust and cream cheese, greek yogurt, heavy cream and white chocolate for the filling.
Yes, only 7 ingredients total!
Did you notice there no sugar added? The raspberries and white chocolate make these cheesecake bars perfectly sweet!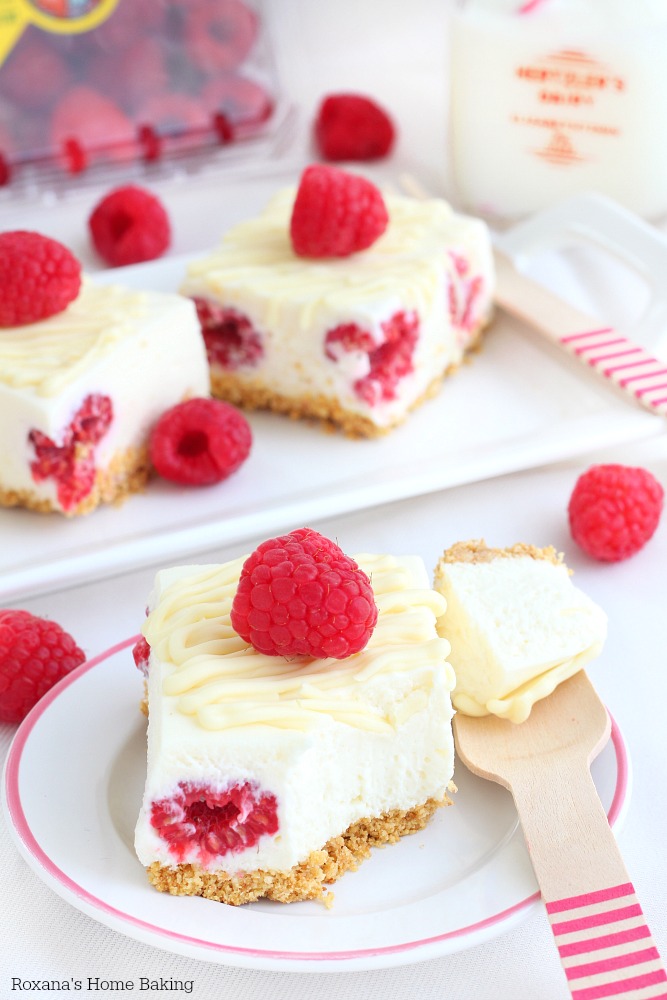 Although the filling requires no baking, the crust needs about 7-8 minutes in the oven. This ensures the crust will not fall apart when cutting the cheesecake into bars. Considering a baked cheesecake requires almost an hour of baking time, these are practically no bake, right?
Once the crust is done, you need to cool it completely. To be on the safe side, I would suggest waiting about 1 hour before making the filling. Of course, you can pop the baking pan in the fridge for a quicker version.
For the cheesecake filling it's very important that your cream cheese and yogurt are at room temperature, while the heavy cream needs to be chilled.
Let's talk chocolate now! Since white chocolate is not exactly chocolate, it needs special attention. Although 9 out of 10 times I melt chocolate in the microwave, white chocolate must be melted in a bowl set over a saucepan with simmering water. Make sure the bowl does not touch the water.
Also, it's very important you use baking white chocolate and not chocolate chips. The chips have stabilizers and don't melt as easily as the chocolate bar.
Do you love raspberries as much as I do? Be sure to follow Driscoll's on Facebook, Pinterest and Instagram for berry inspiration, recipes, and so much more.
White chocolate raspberry cheesecake bars recipe
---
Yields 24 bars
White chocolate meets fresh raspberries in these luscious cheesecake bars. So incredible creamy and so easy to make (the filling requires no baking!) they will be a favorite year round!
15 minPrep Time
8 minCook Time
3 hrTotal Time
Ingredients
1 1/2 cups graham cracker crumbs
6 tablespoons butter, melted
12 oz white baking chocolate, roughly chopped
1 cup heavy cream, chilled
3 packages (8 oz each) cream cheese, room temperature
1 cup greek yogurt, room temperature
6 oz fresh Driscoll's raspberries
Instructions
Heat the oven to 350F. Line an 13X9" baking paper with parchment paper leaving about 1 inch of paper hanging on the sides.
In a mixing bowl combine the graham cracker crumbs and melted butter. Stir to combine.
Press the crust on the bottom of the prepared pan.
Bake in the preheated oven for 6-8 minutes until golden.
Remove from the oven and cool completely.
To make the filling, melt the white chocolate in a heatproof bowl set on top of a pan with simmering water. Stir until smooth. Set aside to cool.
In a grease-free bowl, add the chilled heavy cream and whip until firm peaks form.
In another bowl, add the cream cheese and yogurt and beat until combined. Stir in the melted white chocolate.
With a spatula, fold in the whipped heavy cream.
Spoon half of the cheesecake filling over the crust.
Arrange the fresh raspberries over the cheesecake filling, gently pressing them in. Make sure you spread the raspberries evenly. This way, when you cut the cheesecake, every bar will have at least one raspberry.
Spoon the remaining cheesecake filling over the raspberries and with a spatula or the back of a spoon, smooth the top.
Cover the cheesecake with plastic wrap and chill for a couple of hours in the refrigerator.
Cut into bars.
Optional, melt 1 more ounce of white chocolate and drizzle over the cheesecake bars and decorate with a fresh raspberry.
7.6.8
585
http://atreatsaffair.com/white-chocolate-raspberry-cheesecake-bars-recipe/
Roxana Yawgel http://atreatsaffair.com/ All images and content are copyright protected. Please do not use my images without prior permission. If you want to republish this recipe, please re-write the recipe in your own words, or simply link back to this post for the recipe. Thank you.
** Disclaimer: This is a sponsored post written by me on behalf of  Driscoll's.  As always, all opinions are 100% my own. Thank you for supporting the brands that help me bring this blog to you week after week. I appreciate it! **