Too hot outside? Cool down with these rich and creamy strawberry banana split milkshakes made with just 3 ingredients!
Few weeks ago it may have seem like spring will never come, but finally the temperatures are slowly getting higher, in fact this weekend there are supposed to be 70's. There may not be much, but it's better than the high 30's we had just few days ago.
This weekend we're planning on having a big egg hunt in the backyard. My husband is planning on firing up the grill for the first time this year and our daughter is looking forward running around the backyard, finding the colorful eggs and enjoying the surprises.
Me? Most likely slurp on one of these strawberry banana split milkshakes.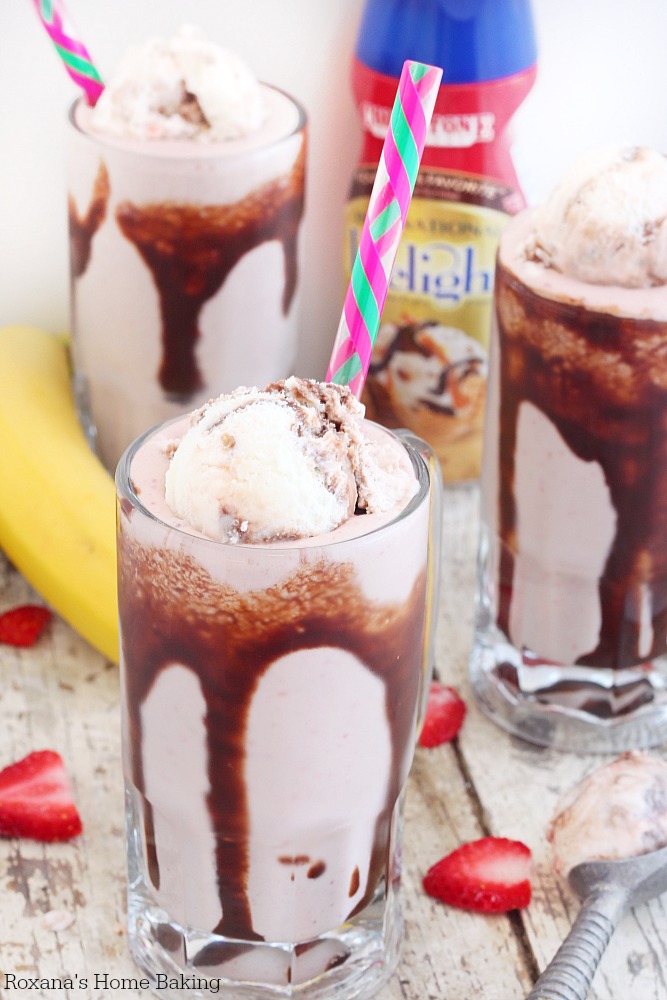 Milkshakes are my indulgence on hot days. Of course, I could just eat plain ice-cream but I prefer a rich creamy milkshake instead.
I like my milkshakes so thick and creamy it's more of a soft serve than a drink. The secret to my milkshakes? Plenty of frozen fruit (strawberries and bananas) and International Delight coffee creamer, of course!
That's it! 3 ingredients!
Super-duper easy and always a hit with the little ones. I can't wait to make more milkshakes after we're done with the egg hunt to cool down after all that walking and running around.
Looking for more Easter ideas? Check out the Easter inspiration board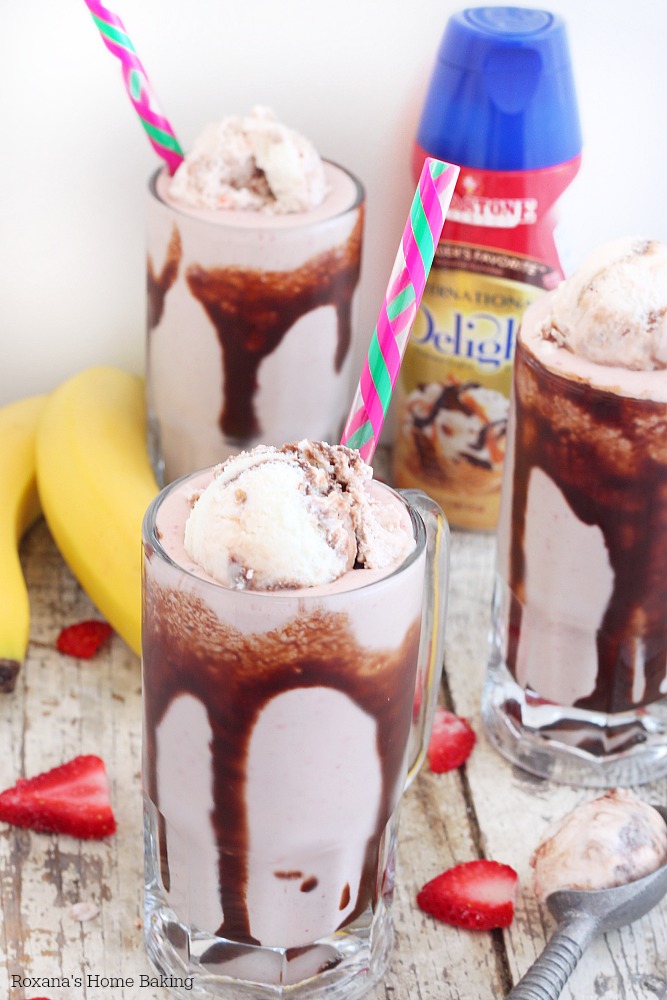 These milkshakes are not exactly a recipe per-se. All you have to do is blend all three ingredients together!
To kick it up a notch and making a strawberry banana split milkshake I drizzle a little bit of chocolate syrup on the grasses and freeze them for about 5 minutes. Then pour the strawberry banana milkshake and top with a big scoop of ice-cream. No one has to know there's actually no ice-cream in the milkshakes, right?
Below is the way I made these strawberry banana split milkshakes, but you can add more or less fruit, depending on how you like it.
Strawberry banana split milkshake
2 cups chopped or sliced strawberries, frozen
4 small bananas, cut in chucks and frozen
1 cup International Delight coffee creamer
Optional
chocolate syrup to drizzle on the sides of the glasses
few scoops of ice-cream
Drizzle some chocolate syrup on 4 glasses. Place the glasses in the freezer until you make the milkshake.
Place the strawberries, bananas and coffee creamer into a blender. Blend together until thick and creamy about 4-5 minutes, stopping to scrape down the sides once.
Pour the strawberry banana milkshake in the prepared glasses and top with a big scoop of ice-cream.
This is a sponsored conversation written by me on behalf of International Delight. The opinions and text are all mine.