No mixer needed to make this incredibly soft blueberry bread loaded with fresh blueberries and crunchy pecans. Perfect to snack on along with a cup of coffee or tea.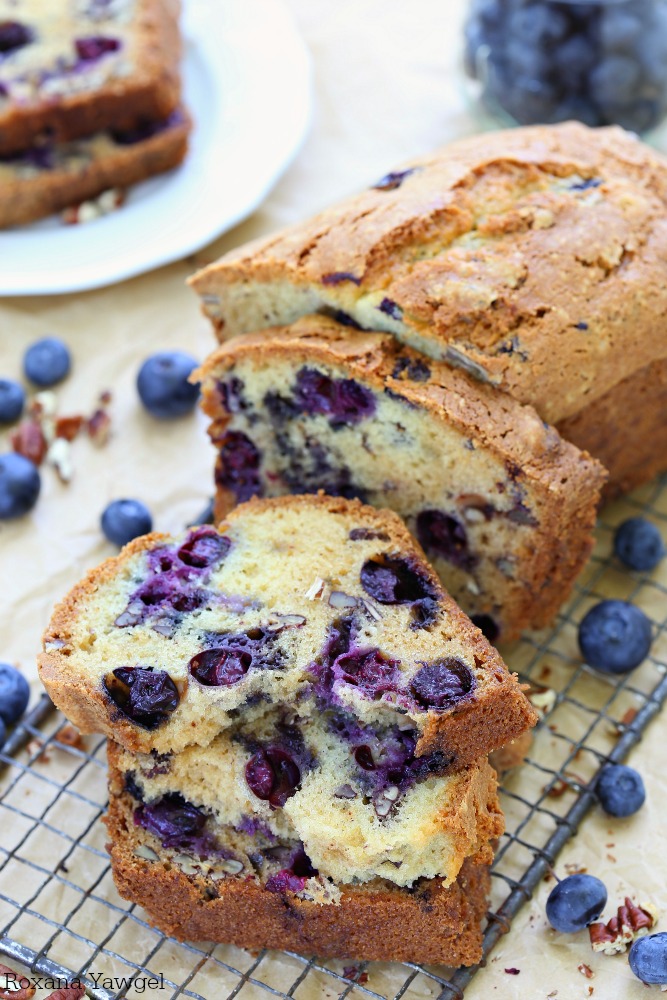 Have you ever wondered how many blueberries you can add to one loaf of blueberry bread made in a 9X5″ loaf pan?
I haven't until recently and I was on the quest to see what's the highest amount of these juicy summer berries one can add. I started with 1 cup … but I was not satisfied.
The next day I bought more blueberries and added 1 and 1/4 cups blueberries. A slight improvement but I knew I could add a few more.
A couple of days later I added 1 and 1/2 cups. It turned out so pretty with berries in every single bite.
Curiosity pushed me and I made another loaf with 2 cups of berries. Yes, 2 cups of blueberries in one loaf!
It was like eating blueberry cobbler! I loved it so much, but knowing that it took almost 2 hours to bake, I decided against it.
You can definitely play around with the amount you prefer, but my recommendation would be 1 and 1/2 cups.
In my quest for the perfect blueberry bread, not only did I play with the amount of berries but also with the size of the baking pans.
The blueberry bread pictured in this post is baked into a  7.5 x 3.5" loaf pan but I have baked the same bread in a 9X5″ loaf pan. The only difference is the baking time. 
When baking with blueberries, remember to coat them in flour so they don't sink.