These peanut butter cookie dough brownies feature fudgy homemade brownies topped with a thick layer of creamy peanut butter cookie dough and colorful candy.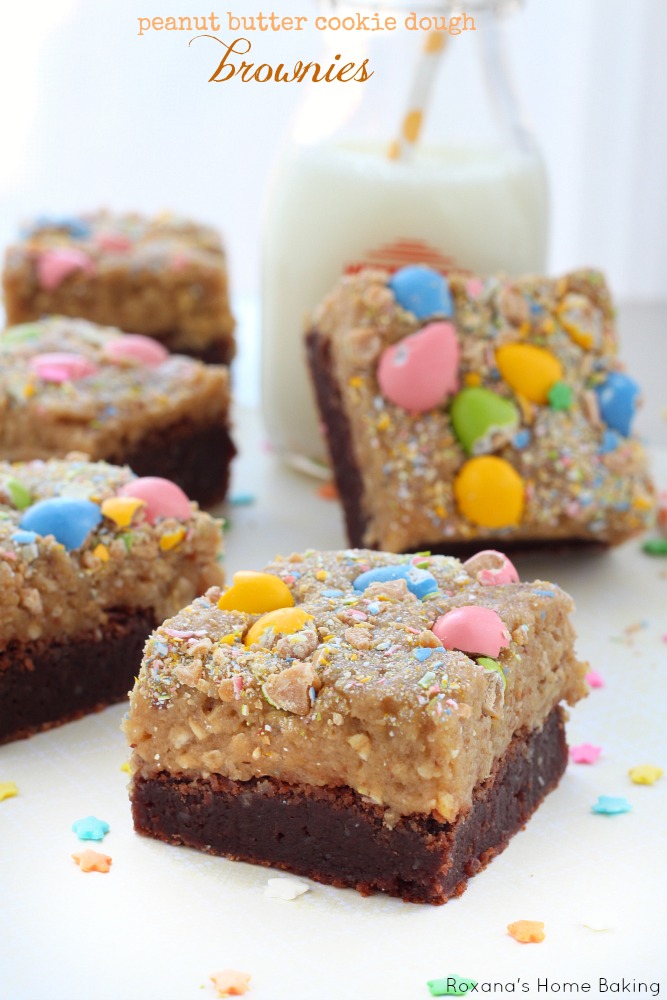 My husband and I are the perfect example for the well know saying "the opposite attract".
He can talk your ear off even if he just met you. I can hardly say 3 words if I don't know you.
He loves the country side, I'm a city girl at heart.
He loves dark colors, for me the brighter, the better.
He loves the frosting, I love the cake.
He loves peanut butter, I'm a chocolate girl.
Now of course, there are things we both love. One of them are these peanut butter cookie dough brownies.
A bite and we both agreed it was going to be hard to share with others.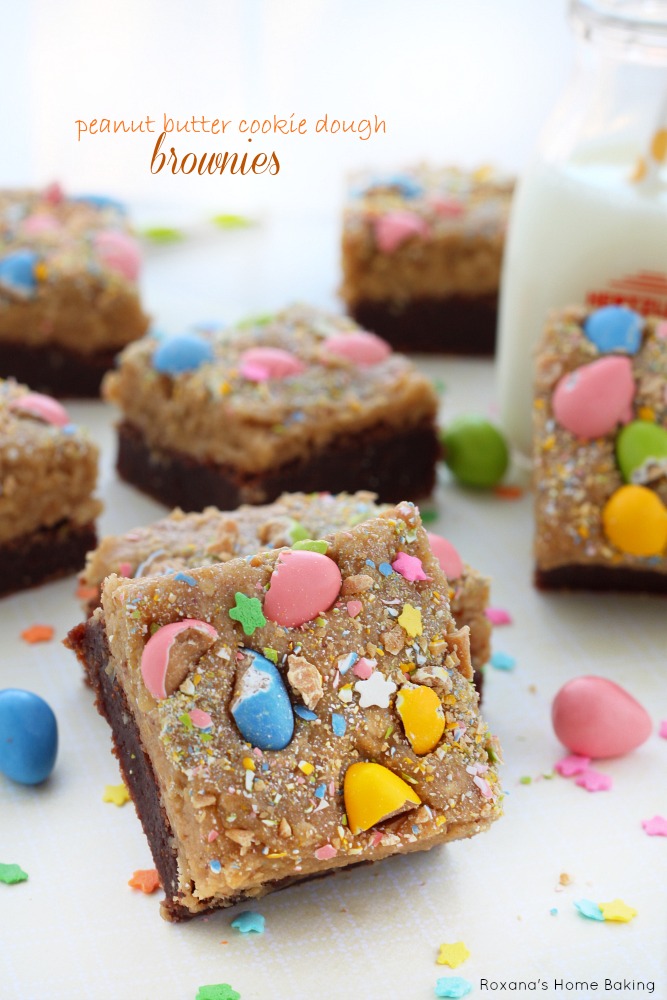 The recipe for these peanut butter cookie dough brownies is slightly adapted from my friend Averie's book "Peanut butter comfort"
If I crave something peanut butter, Averie's blog or the book is my go-to. This girl knows peanut butter, I'm telling you! I've already made a few treats for her book and have like a gazillion others bookmarked. My husband already declared it the book of the year.
Few days ago, while thinking of eggless cookie dough treats I remembered these brownies in Averie's book. They feature a layer of rich fudge brownies and once cooled are topped with peanut butter cookie dough.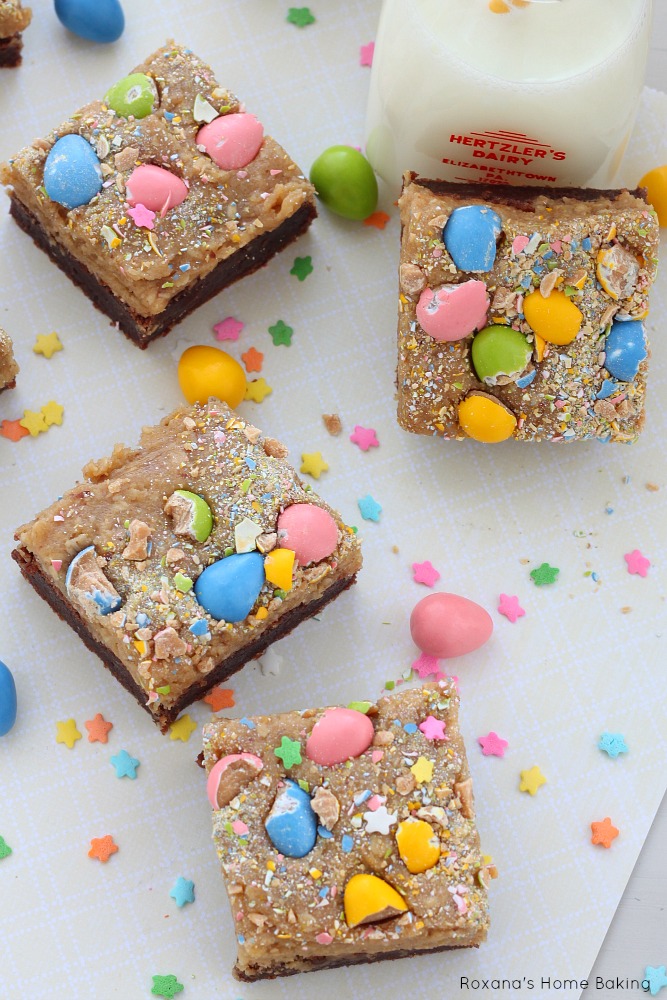 I made just minor changes to her recipe.
I left out the coffee in the brownie and baked them for 33 minutes. The recipe calls for just 26 minutes of baking time but I found they were still runny. At 33 minutes they turned out just the way I like them. Rich and fudgy.
For the peanut butter cookie dough, I actually used quick cooking oats (although she notes to use rolled oats).
The all purpose flour has been substituted with almond meal. Although I have no problems with me eating raw flour, my daughter doesn't care much for it, so I try to avoid if possible.
Last, instead of adding lots and lots of chocolate chips I just topped the brownies with (hard to chop) Reese's peanut butter eggs. Of course you can use a combo of chocolate and peanut butter chips or whatever colorful candy you have on hard.
You really can't go wrong with fudgy brownies creamy peanut butter on top and colorful candy.
Looking for more eggless cookie dough ideas? Check out these irresistible treats my friends made for you today
Peanut Butter Cookie Dough Sandies from White Lights on Wednesday
Cookie Dough Cake Roll from Grandbaby Cakes
Peanut butter cookie dough topped brownies from Roxana's Home Baking
Chocolate Peanut Butter Cookie Dough Bars from Back For Seconds
Cookie Dough Buckeyes from Something Swanky
Chocolate Chip Cookie Dough Pizza from Life, Love and Sugar
Peanut Butter Chocolate Cookie Dough Bars from Crazy for Crust
Peanut Butter Cookie Dough Stuffed Nutter Butters from The Gunny Sack
Reese's Peanut Butter Cookie Dough Cookie Cups from Mom On Timeout
Cookie Dough Chess Pie from The Domestic Rebel
Peanut Butter Cookie Dough Oatmeal Sandwich Cookies from Lemons for Lulu
White Chocolate Peanut Butter Cookie Dough Cups from Simply Gloria
Peanut Butter Cookie Dough Brownies from Kitchen Meets Girl
White Chocolate Peanut Butter Cookie Dough Cups from Simply Gloria
Cookie Dough S'mores Dip from Beyond Frosting
Cookie Dough-Stuffed Peanut Butter Fudge from Lemon Tree Dwelling
[mpprecipe-recipe:518]
Happy baking,
Roxana