Thick, chewy and fudgy, these over the top delicious peanut butter brownies will be your new favorite treat! Just as easy as a box mix, but so much better.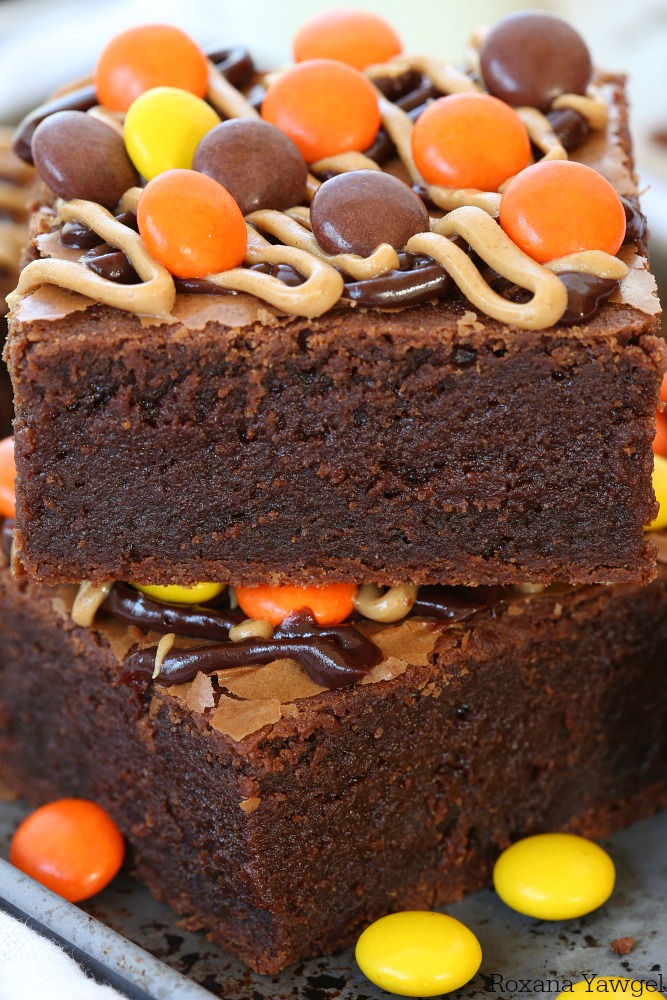 Last week we had our spring break. Later than in previous years but after the cold days we had towards the end of March, we were all looking forward to days spent at the park without having to worry about a Math problem or a spelling test.
But playing at the park wasn't the only thing Tiffany and I did the entire week. We spend half of the time in the kitchen. And we were not alone. 3 of her friends joined us several times for a peanut butter palooza!
In just a couple of days, we went through more peanut butter, jelly and milk than I do in a month.
We made peanut butter cookies, peanut butter bars, and these outrageous peanut butter brownies.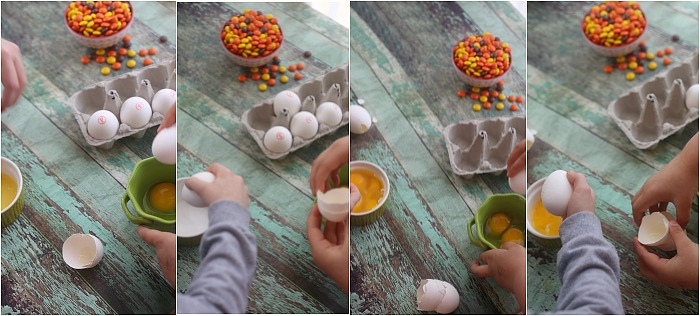 Tiffany has been with me in the kitchen since she was 2 and we always have a blast (and make a huge mess). This time, she felt so grown up while teaching her friends how to crack eggs. Good think my fridge is always stocked with pasteurized Safest Choice Eggs.
Farm fresh eggs are submerged in all-natural water bath to destroy all bacteria without cooking the egg.
After pasteurization, the eggs are dried, cooled, and then stamped with a
, which identifies them as pasteurized by the Safest Choice™ precision-pasteurization process.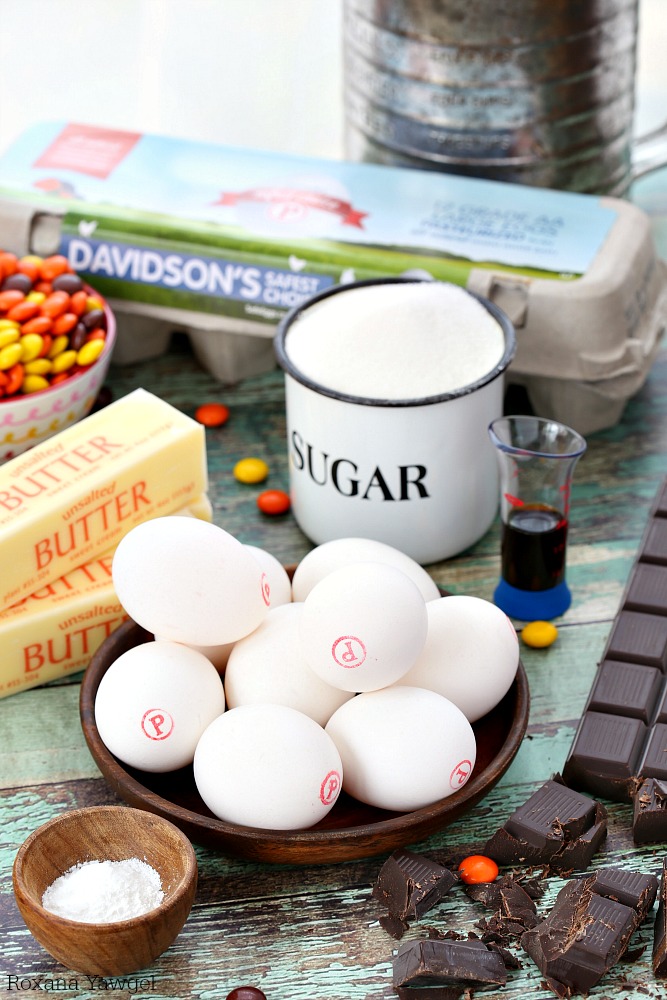 While the kids were having fun cracking eggs I turned the oven on and started melting the chocolate.
Because good things always happen when you melt chocolate.
Like these incredibly rich, chewy and fudgy peanut butter brownies. Drizzle with more melted chocolate and peanut butter, scatter some peanut butter candies on top and you have an irresistible sweet treat.
Drizzle with more melted chocolate and peanut butter, scatter some peanut butter candies on top and you have an irresistible sweet treat.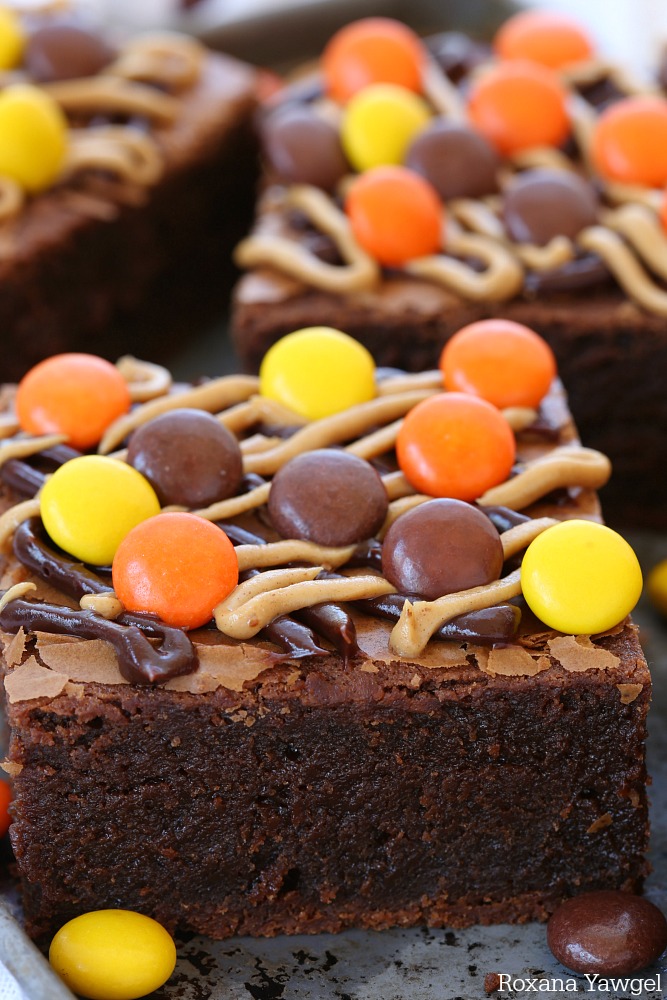 There are a few tips that I have to share with you to make you your brownies turn out as irresistible as mine did.
Roughly chopped baking dark chocolate is melted with the butter. Melting them together prevents the chocolate from seizing and also creates the perfect rich base for these brownies.
Once the chocolate is melted and smooth, peanut butter is stirred in. I tried another version by adding the peanut butter to the brownie batter but I got more peanut flavor when mixing it with the melted chocolate.
While the chocolate mixture is cooling down, it's time to let your mixer do the magic.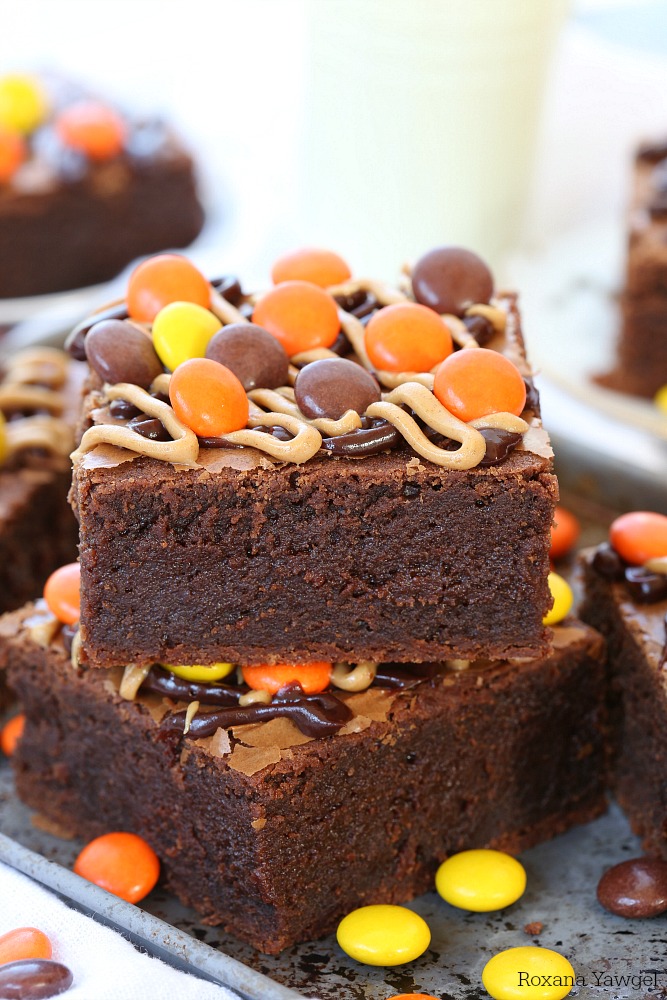 The eggs are combined with sugar and beat on medium-low speed until thick and pale in color, about 5 minutes. Doing so your brownies are guaranteed to turn out rich, fudgy and chewy and have a shiny paper thin crinkle top.
Once your eggs are beaten, stir in the chocolate mixture.
Make sure your chocolate mixture is cooled down or it will scramble the eggs.
Finally, beat in the flour. There's very little flour added to these brownies compared to the other ingredients.
But you want rich fudgy brownies, don't you? Add more flour and you end up with heavy, dry one. No good, no good!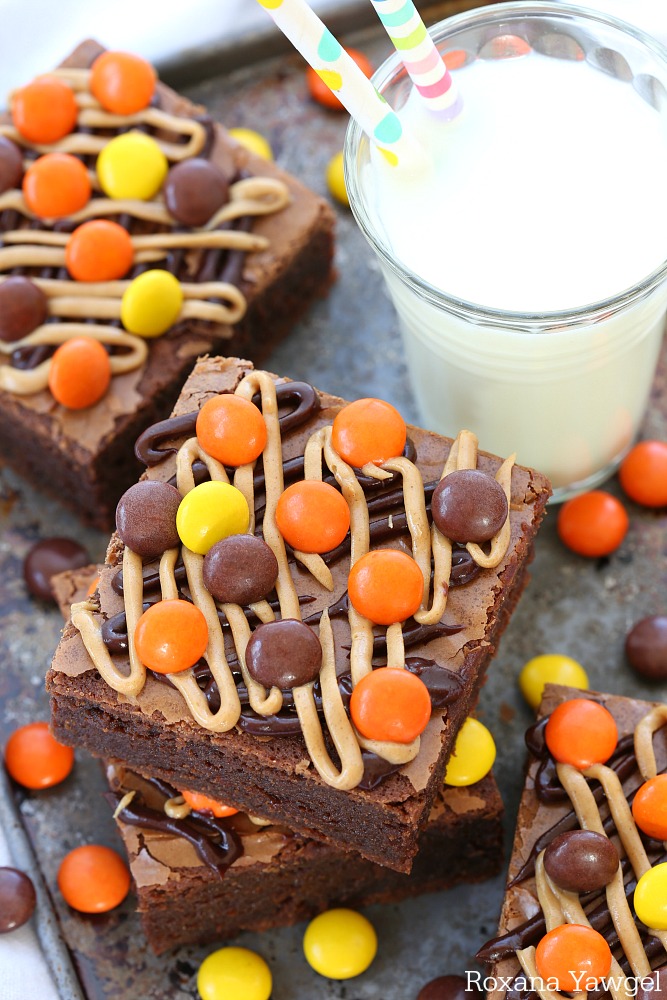 Craving more? Sign up for a trEATs affair email newsletter and get all the recipes sent right to your inbox!
Be sure to follow me on social media, so you never miss an update!
Facebook |  Pinterest   |    Instagram   |     Bloglovin'
[related-posts]
[mpprecipe-recipe:648]

disclosure – this post is sponsored by Safest Choice Eggs. Although I've been compensated to develop the recipe and write this post, the opinions expressed here are all mine. thank you for supporting brands I love.