Nutty chocolate cupcakes with a creamy buttercream frosting and decorated with colored sugar, these chocolate almond cupcakes will be a hit with the little ones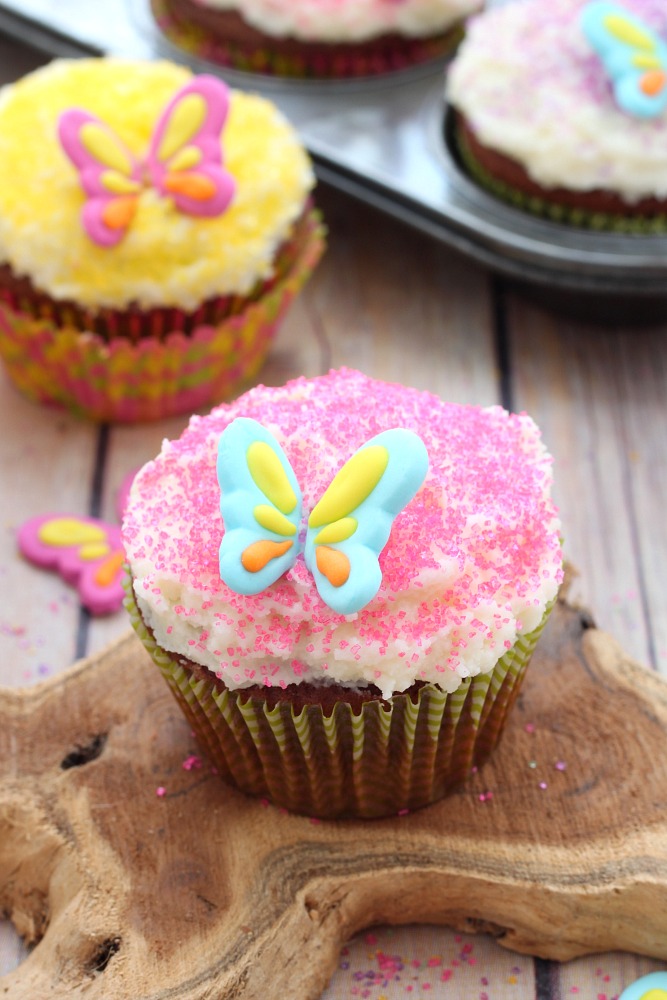 I grew up in a very supportive family. I remember, years ago, when I was in school, every year my parents enrolled me in a different extra curricular activity. Over the course of years, I've tried painting, drawing, sewing, tennis, dancing, pottery, singing, handball and basketball. Except basketball, the rest were fun at the beginning, but after few classes I did not find them interesting enough to make me look forward to the next class.
Not one year my parents complained I was changing my interest. They let me discover what sparkled my interest.
Some years I was really jealous with my sister. She loved dancing from the very first moment she stepped in the dancing room and went back year after year until highschool.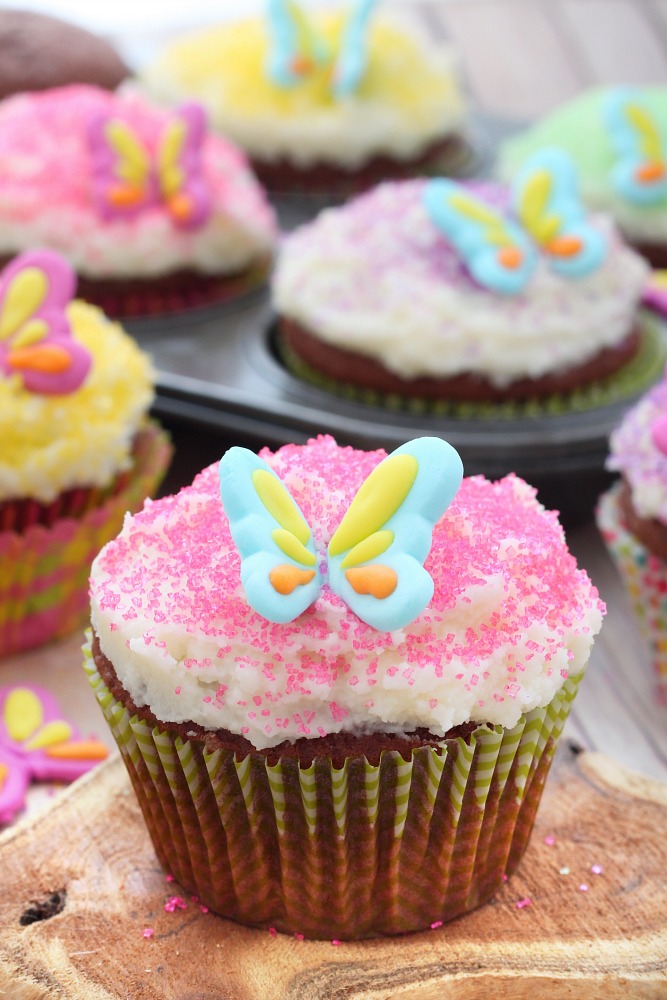 Now, that I'm a parent I want to let my daughter find what makes her happy. About a year ago we asked her what she loves most. Soccer was her quick answer. And to sing. And bounce. And play piano.
Until recently we could not find a soccer team she can be part of, but she's been taking piano lessons ever since and we're all so proud of her. She's now looking forward to her weekly piano and soccer classes.
I love that she found something she's interested in. I know, maybe in a year or two she may want to try something else and I will support her no matter what she chooses.
When she's not singing along with the cd player or practicing the piano, we find ourselves making sweet treats, throwing tea parties for the dolls or coloring, displaying the color pages in her room or the kitchen art wall for everyone to admire.
Sunday night, we cuddle up on the sofa to watch a Disney movie. No matter if it's a classic like Cinderella or a new production like Sofia the First, The Floating Palace, it's our time. No matter what, we make time for movie and cuddles.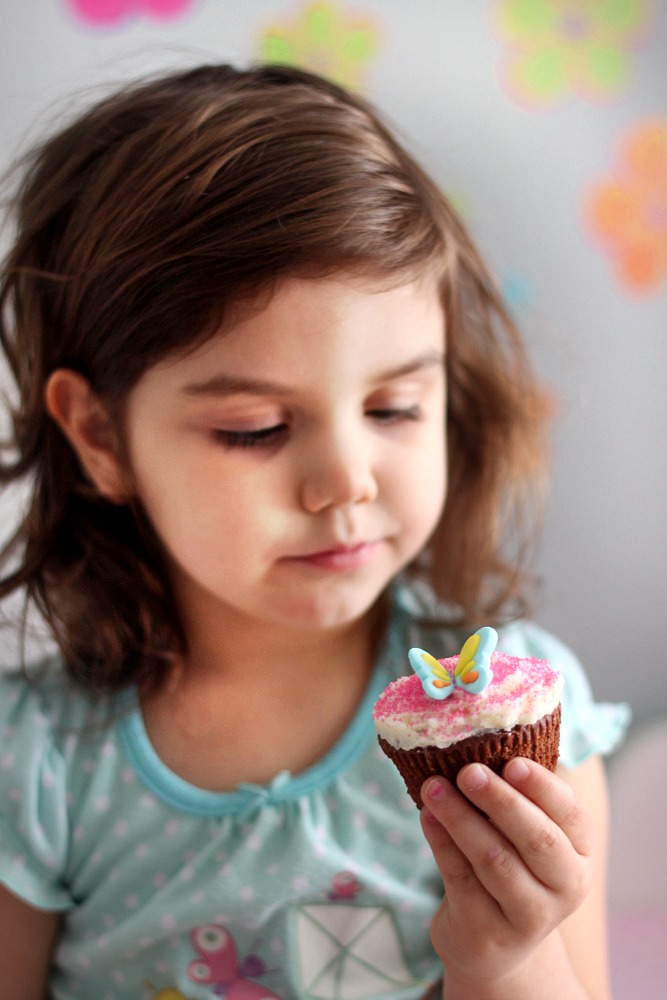 Speaking of Disney movies, we're both excited about the All-New Tinker Bell movie The Pirate Fairy available on Blu-ray and Digital HD starting April 1st. Click here to purchase your own copy.
Catch up with the latest updates from the Disney Fairies Facebook page.
Garden fairy chocolate almond cupcakes recipe
---
Yields 22 cupcakes
Nutty chocolate cupcakes with a creamy buttercream frosting and decorated with colored sugar, these chocolate almond cupcakes will be a hit with the little ones
15 minPrep Time
25 minCook Time
4 hrTotal Time
Ingredients
Chocolate almond cupcakes

10 tablespoons butter, room temperature
1 1/2 cups sugar
3 eggs
1/2 teaspoon almond extract
2 cups all purpose flour
1 teaspoon baking powder
1/2 cup unsweetened cocoa powder
1 cup almond milk

Frosting

1 cup butter, room temperature
3 1/2 cups powdered sugar
1/4 teaspoon almond extract
1/3 to 1/2 cup heavy cream
Instructions
Heat the oven to 350F. Line 2X12 hole cupcake pan with paper liners. Set aside.
In a mixing bowl with the paddle attachment on add butter and sugar. On low speed, cream until light and fluffy, about 5 minutes.
Add the eggs, one at a time, beating well after each addition. Stir in the almond extract.
With a spatula, scrape the sides of the bowl.
Combine the flour with the baking powder and cocoa.
Alternately, add the flour and the milk to the creamed butter.
Divide the cupcake batter between 22 paper cups.
Bake in preheated oven for 23 to 25 minutes or until a toothpick inserted in the center comes out clean.
Remove from the oven and let cool completely before topping with the frosting.
To make the frosting, in a mixing bowl, with the wire whisk on, whip the butter until fluffy. Gently beat in the powder sugar, 1/2 cup at a time, until all the sugar is incorporated.
Slowly, with the mixer on low speed, pour enough heavy cream to reach the desired consistency.
Once you added the heavy cream, increase the mixer's speed to medium high and whip the frosting for 1 minute.
With a small spatula or a spoon, top each cupcake with frosting. Decorate with colored sugar, if desired.
7.6.8
495
http://atreatsaffair.com/garden-fairy-chocolate-almond-cupcakes-recipe/
Roxana Yawgel http://atreatsaffair.com/ All images and content are copyright protected. Please do not use my images without prior permission. If you want to republish this recipe, please re-write the recipe in your own words, or simply link back to this post for the recipe. Thank you.
Happy baking,
Roxana