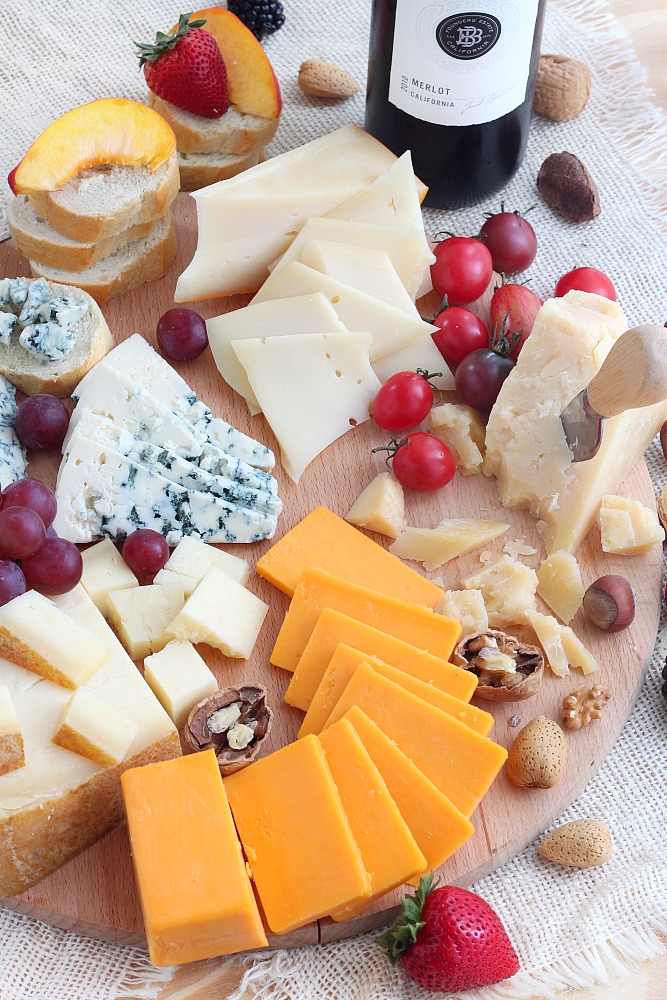 Every year I host two big parties at my house. One in the summer for a handful of mommy friends and one in the winter, for a small group of married friends. Although I try to get together with my friends at least once a week, having a night just for adult talk is something I'm always looking forward to.
Great food and amazing friends is all you ned for a memorable evening.
Throwing a cheese and wine party is always so much fun. Actually, it's my favorite party to host. What can be better than a couple of pieces of cheese, some wine and the company of great friends?
For some, hosting a cheese and wine party may be a little intimidating, but if you follow my easy tips, you'll be a pro in no time. 
I've been asked a few times why I love hosting a wine and cheese party. Seems like there's just so much going on and can easily become overwhelming.
To be completely honest, the first party I hosted was just a light dinner party but since there were lots of last minute cooking and plating I hardly enjoyed my party. It was just too much for me. Throwing a wine and cheese party gives me the opportunity to enjoy the company of my friends since all the preparation is done days and hours before the first guest arrives.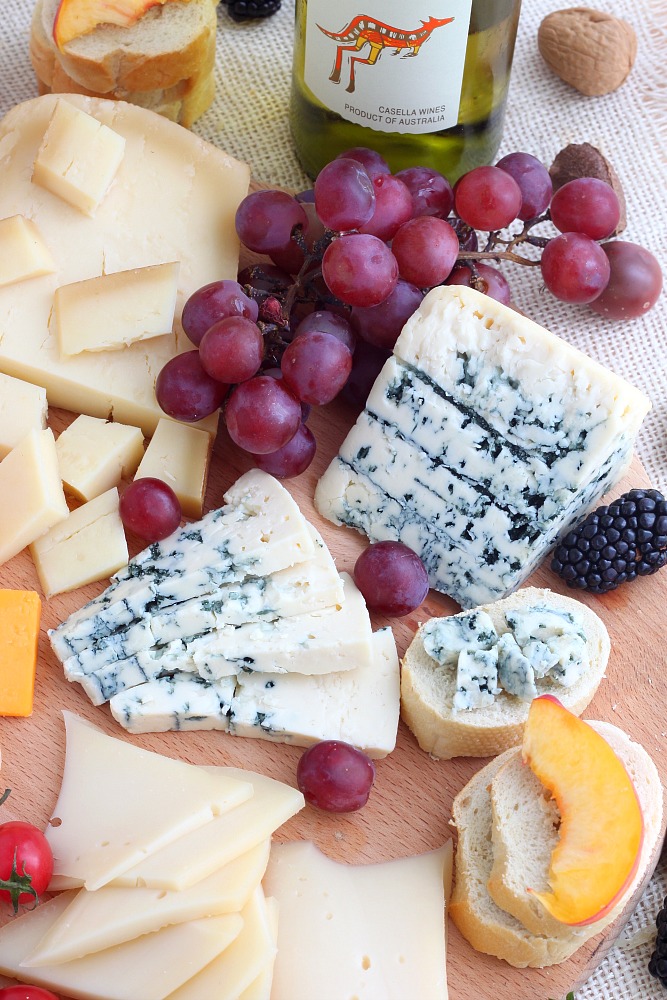 Here's how I host a wine and cheese party.
Keep in mind, these tips are from my own experience, I'm not a party organizer nor am I a sommelier or a turophile (it's a cheese connoisseur). I just love cheese and spending time with my friends.
Weeks before the party, decide who you are going to invite and send out the invitations. Once you know how many friends are coming, it's time to do a little shopping.
Skip the supermarket and go to the cheesemonger. I try to have at least 3 types of cheese and no more than 6, maybe 7 tops. This way, your guests don't feel overwhelmed by the selections. The same goes for the wine. Choose 2-4 types of wine but no more than 6 for bigger parties.
For a great cheese selection you may want to have at least one soft cheese, one hard or aged cheese and a blue cheese. It's best to have 1-2oz of each cheese per person.
For my party we had –
President Brie – Deliciously buttery and creamy inside, with a snow white edible rind, mild flavor with subtle mushroom notes.
Parmesan SarVecchio Cheese – 

Sartori Parmesan is an Italian style hard 

cheese

 made from cow's milk. This classic Italian style 

Wisconsin cheese

 is aged a minimum of 20 months. Full 

flavored

, buttery, nutty, and slightly 

sweet

, this 

Wisconsin

 

Cheese 

has full bodied flavor in addition to a pleasing grainy texture. Highly recommended grated for pasta dishes, spaghetti sauces, pasta fillings, pasta salads, pizza and last, but not least, salad.

Little Mountain Cheese – This traditional washed-rind Alpine-style cheese is made with raw cow's milk and aged at least 6 months. The cheese features a pale ivory paste with small, irregular holes, and a smooth and nutty flavor.
Gouda Marieke Young – 

This young gouda is mild and very creamy. Gouda cheese is smooth and creamy with a slightly sweet, nutty flavor that becomes more complex as it ages on wooden shelves

Hook's Three Year Sharp Cheddar – A colored cheddar that is starting to show the nice acidic sharpness with a good cheddar flavor.
Buttermilk Blue® Affinée Cheese – 

Bleu Affinee is a 

creamy and strong 

blue

. This 

cheese

 is hand selected from the finest of the buttermilk 

blue

 cheeses, then aged in a curing room for a minimum of six months. This assertive 

Wisconsin

 

blue

 

cheese

 is tongue-shockingly good, with a texture perfect for the table, crumbling over a salad, or melting on a burger…the 

blue

 

cheese

 choice for all enthusiasts!
When I got all the cheese I was certain the young Gouda will be a favorite. It turned out that the Little Mountain Cheese was my favorite and most of my guests LOVED the Buttermilk Blue® Affinée Cheese. You never know until you try it, right!
Once you have your cheese selection,  it's time to choose the wine. My advice is to ask the wine expert at the store and let him/her know what types of cheese you have. My guests enjoyed a 2010 California Merlot, a 2013 Australian Chardonnay, 2013 New Zealand Sauvignon Blanc and a 2013 Argentinian Malbec Cabernet Sauvignon
In addition to the wine and cheese you'll need some accompaniments. Fresh and/or dried fruit, nuts, chutney and jams, salami and cured meats, olives, crackers and crusty bread.
My favorites are fresh berries, grapes, cantaloupe, peaches, fresh figs, dried apricots, black olives, cherry tomatoes, all kind of nuts, honey and baguette slices.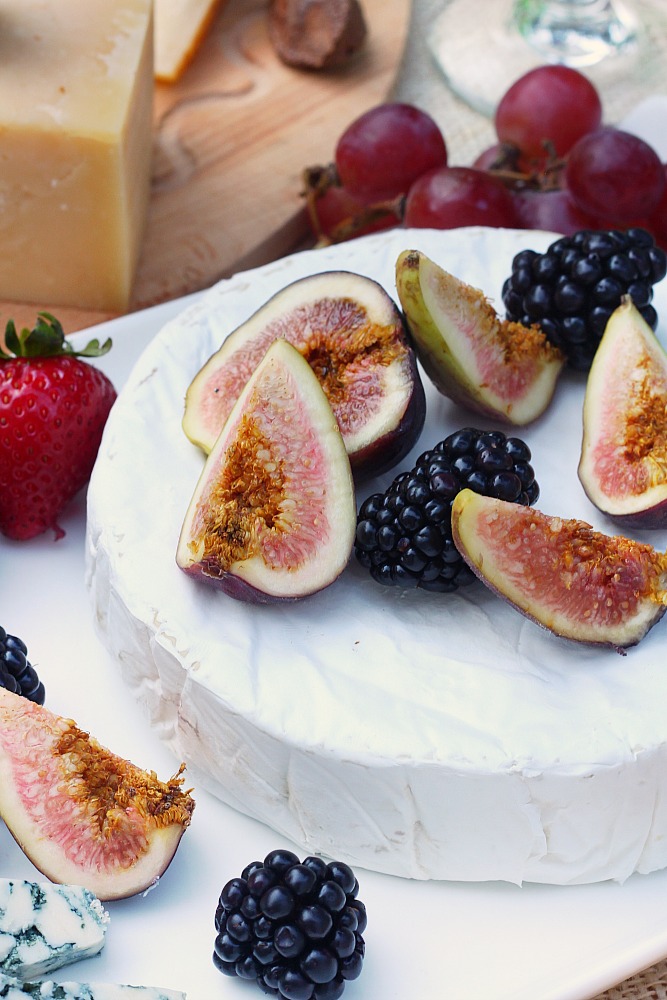 On the day of the party you'll have to
Chill the wine for a couple of hours but remember to take it our of the fridge 15 to 20 minutes before your guests arrive. Arrange the wine glasses. Depending how many guests you have, it's best to have almost double the amount of glasses for last minute guests and/or for misplaced glasses.
Take the cheese out of the fridge 2-3 hours before the party. The cheese is at its fullest flavor at room temperature. Don't forget to label the cheese so your guests will know what they are sampling. (these white porcelain cheese labels are my favorites)
Prepare the cheese and wine tasting cards. This will make it easier for your guests to keep track of what they are enjoying and take notes.
Set separate knifes for each cheese to prevent mixing flavors. If you do not have special cheese knifes, depending on the cheese a pairing knife or even a butter knife can be used.
Arranging the cheese. Depending on your party, you have two options. You either place the cheese on one or two big cheese board(s) in a separate room, offering your guests small plates to pick their favorites and munch on while mingling with the other guests. Or you arrange a couple of smaller cheese boards and space them out on the dinner table. This way each guest can easily get to a cheese board without the need to constantly pass the cheese back and forth.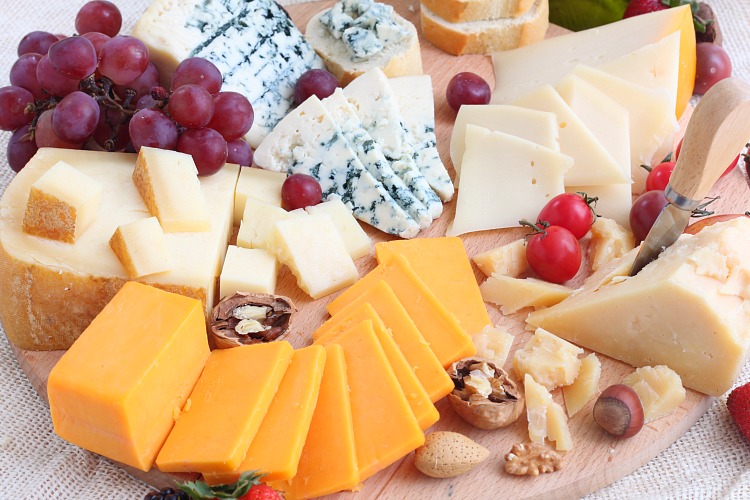 I hope my easy tips will give you the confidence to host a cheese and wine party with a handful of close friends.
I'm thankful the wonderful people at Wisconsin Cheese provided the cheese for my party. It was a great night and we are all looking forward to the next one!