Flavored with vanilla and cinnamon and sweetened with honey, these honey rolls are one of my childhood favorite treats. Brush them with honey and sprinkle chopped nuts of top for a little crunch.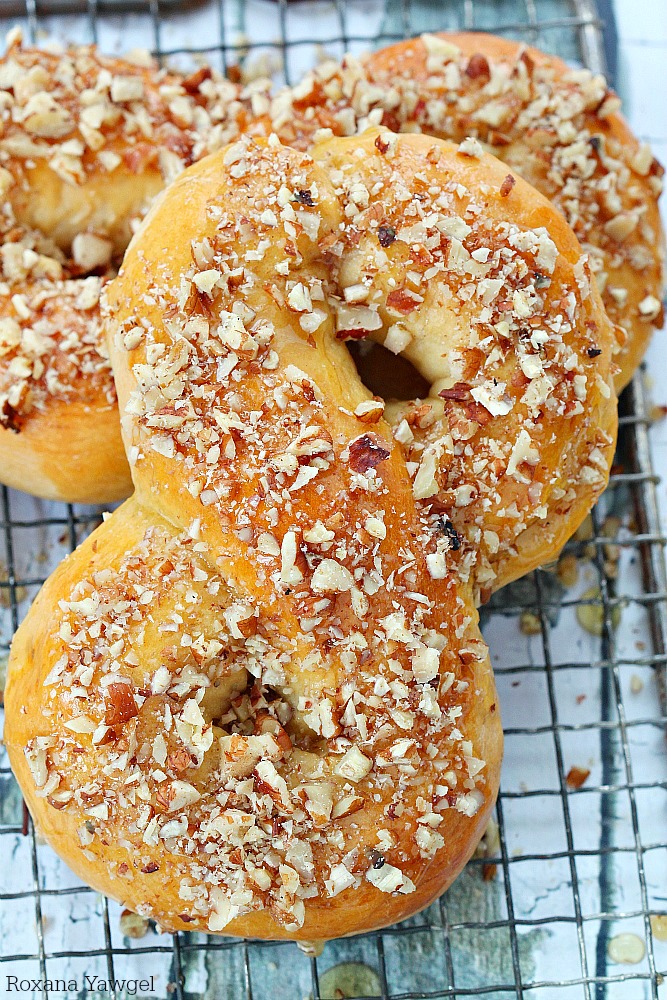 Like most of you, I grew up watching my mom and grandma cooking and baking for our family. I wish I could say I learned from them, but that's would be a lie. I didn't start cooking until my early 30's but I do have lots of memories helping them in the kitchen.
My mom would mostly let us decorate the cakes, not much else, later on she asked us on several occasions to chop vegetables, but my grandma, oh, she would have us by her side the entire time. Give me this, do that. You better learn now, soon you'll marry and you need to take care of your household!
She meant well, but I was a lost cause. The only thing I really loved was to shape rolls when she was making bread, especially at holidays or special occasions.
And today is a special day for me – I'm celebrating my grandma's life!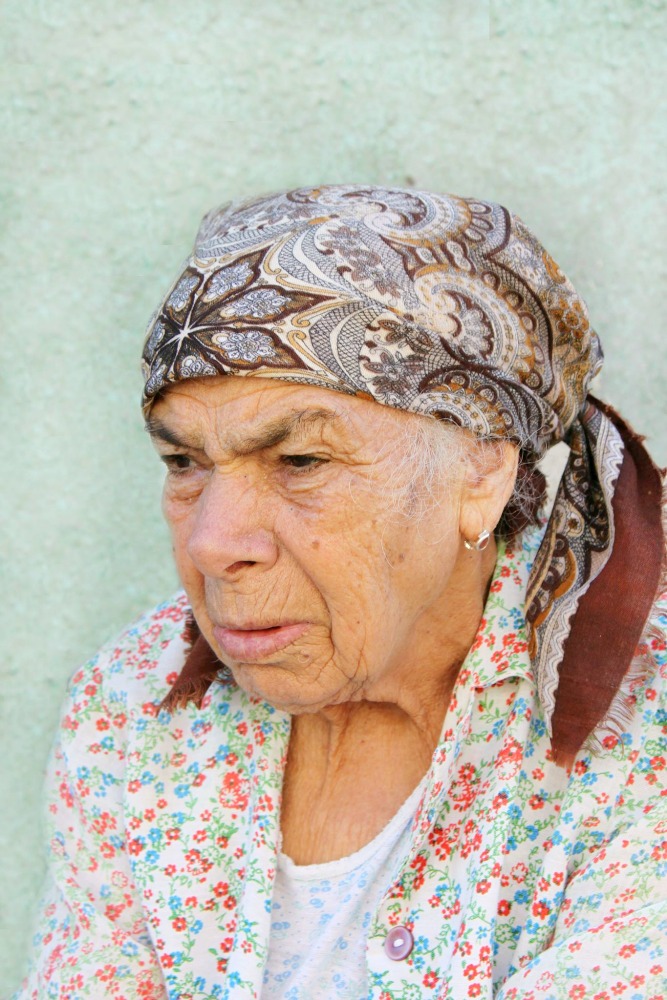 She doesn't look like much, but she was an incredible person! I don't think I've ever known someone with a bigger heart than hers! Family came first no matter what and I don't remember her ever complaining about working so hard for us.
I think I was in middle school when my dad took me to the side to let me know grandma is not feeling well and needs to be taken to the hospital. Weeks later she came home with just one kidney. Several other surgeries followed in the next couple of years, but she was undefeated.
She continued to run the household and put each and every one of us before her needs.
Unfortunately, her big heart stopped few days ago and I miss her more than ever.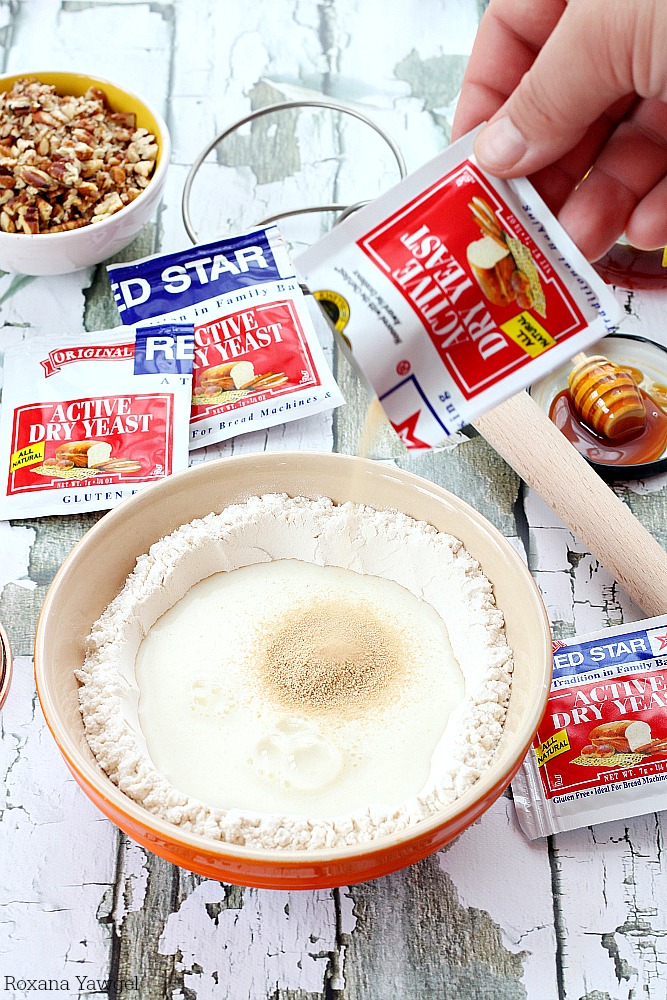 My grandma loved making bread. And, for the last couple of days, I've been baking like crazy. All sorts of bread. And shaped rolls. And made them pretty just like she liked them.
These nutty honey rolls are made during Romanian spring holidays, but my grandma made them year round. They were one of our favorites.
Unlike other rolls, these rolls are flavored with vanilla and cinnamon and use honey as a sweetener.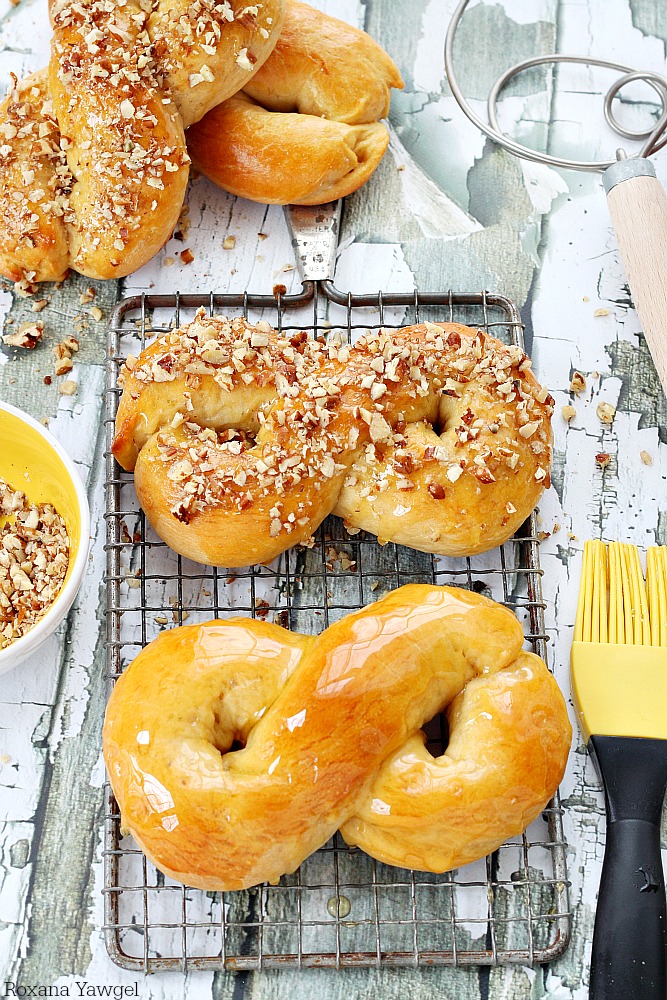 For this recipe, I used a honeydew honey which has a darker color and a very strong fruity flavor, but you can use whatever good-quality honey you have on hand.
The dough for these nutty honey rolls is very rich and it takes a little longer to rise. If you're in a hurry, I would suggest using Red Star Platinum yeast (you can read about it here) and skip the yeast proofing step. Mix the yeast with the other ingredients and make the dough. Let rise, shape and bake the rolls.
Although the Platinum yeast has been a favorite for years now, for this recipe I still prefer active dry yeast. It gives plenty of time for the flavors to develop while the dough is rising.

Visit Red Star Yeast website to learn more about baking with yeast and keep up with the latest updates by following them on social media
Facebook Instagram Pinterest Twitter Google+
Craving more? Sign up for a trEATs affair email newsletter and get all the recipes sent right to your inbox!
Be sure to follow me on social media, so you never miss an update!
Facebook | Pinterest | Instagram | Bloglovin'
Nutty honey rolls recipe
---
Yields 10 rolls
Flavored with vanilla and cinnamon and sweetened with honey, these honey rolls are one of my childhood favorite treats. Brush them with honey and sprinkle chopped nuts of top for a little crunch.
20 minPrep Time
18 minCook Time
Ingredients
1 cup all purpose flour
1/2 cup lukewarm milk
1 teaspoon sugar
1 package Red Star active dry yeast
3 cups all purpose flour
1/2 cup butter, melted
1/4 cup honey
1 egg
2 teaspoons vanilla extract
1 teaspoon cinnamon (optional)
1 1/2 teaspoons salt
~1/3 cup lukewarm milk
1 egg, lightly beaten, to brush the rolls
honey and chopped nuts to sprinkle over the rolls
Instructions
In a small bowl add 1 cup of flour. Make a well in the middle and pour in the half a cup of lukewarm milk. Sprinkle 1 teaspoon of sugar over the milk and the active dry yeast. Give the yeast a gentle stir and leave it for 5-10 minutes until bubbles appear at the surface and it slightly increases in volume.
Meanwhile, add the remaining flour, melted butter, honey, egg, salt, vanilla extract and cinnamon to a mixing bowl.
Pour over the proofed yeast with the 1 cup of flour.
Fit your mixer with the dough hook. Start kneading the dough, slowly adding the remaining 1/3 cup milk until you have a soft elastic, dough that cleans itself for the sides of the bowl.
If needed add more milk.
Remove the dough from the mixing bowl and place it in an oiled bowl. Cover with a clean tea towel and let it rest until doubled in volume. The dough, being enriched with butter, egg and honey, will take a little longer to double in size. DO not panic. Mine took a little over 2 hours.
Once doubled in volume, remove it from the bowl and divide it into 10 pieces.
Roll each piece into a rope and shape it into an 8 or an infinite sign. You can also braid it or shape it into a coil.
Place the shaped rolls onto two baking sheets. Cover with a tea towel again and ret rest for another hour.
Heat the oven to 350F. Just before baking, brush the rolls with the beaten egg. Bake the rolls, one sheet at a time for 16-18 minutes until golden.
Remove from the oven and let slightly cool.
While still warm, brush the rolls with honey and sprinkle chopped nuts over them.
7.6.8
629
https://atreatsaffair.com/nutty-honey-rolls-recipe/
Roxana Yawgel http://atreatsaffair.com/ All images and content are copyright protected. Please do not use my images without prior permission. If you want to republish this recipe, please re-write the recipe in your own words, or simply link back to this post for the recipe. Thank you.
disclosure – this post is sponsored by red star yeast. although i've been compensated to develop the recipe and write this post, the opinions expressed here are all mine. thank you for supporting brands i love.