Peanut butter cake loaded with chopped Peanut Butter M&M's and a dreamy peanut butter frosting, this cake is a peanut butter lover dream come true!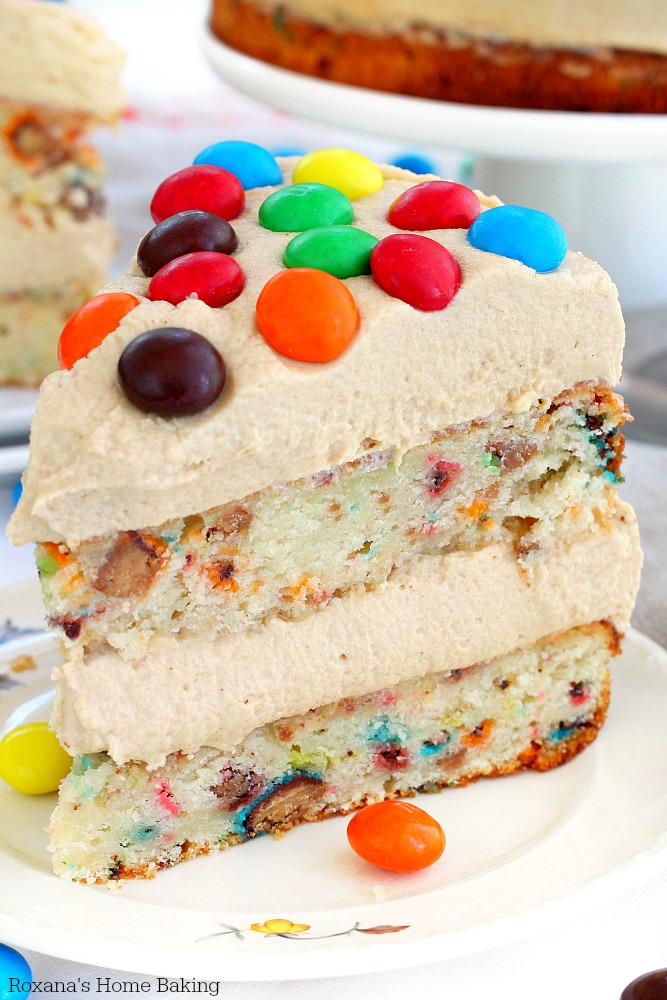 I've been on a peanut butter kick lately. It all started when I asked my daughter to let me know what she wants me to pack for her for our month-long trip to Italy. "2 princess dresses, a pair of high heels and mommy, don't forget peanut butter and jelly so we can make sandwiches".
I smiled, but she's right. We have such a hard time finding peanut butter when we travel to see my parents in Romania and just to be in the safe side, this time I bought a couple of jars of peanut butter to take with us to Italy. Surrounded by so much peanut butter, (is that ever a bad thing?) I started to crave some peanut butter treats. An open bag of Peanut Butter M&M'S was calling my name from the freezer as well and since I was on the quest to pretty much clean out the fridge and freezer before out long trip, I just had to use those Peanut Butter M&M'S. Just had to!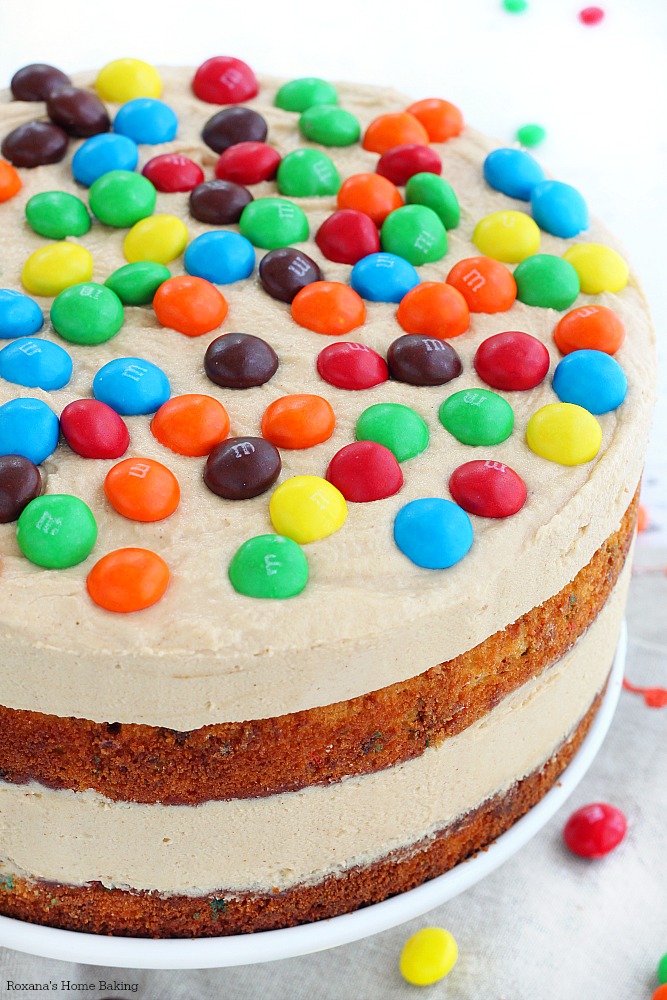 When it comes to layer cakes, my husband and I have totally different opinions. He says frosting is the best part, I say cake is the best part. Without a good cake base to even out the sweetness of the frosting, you don't have a good cake. Am I right or am I right?
Of course, no matter how ah-mazing is the cake, if the frosting is blah, I'll pass the dessert.
Good thing this Peanut Butter M&M'S cake with peanut butter frosting is so delicious we decided we were both right, at least until I make another layer cake.
To make this cake it takes a little bit of planning. I know it's not exactly my easy peasy cake recipe you're expecting, but don't leave before you hear me out.
I've made this cake using Greek yogurt the 1st time and although it was good, it did not blow me away. There was a slight tanginess from the yogurt and did not please me completely.
The second time I used vanilla yogurt and the cake was too soft and crumbly.
The third time, I let the yogurt drain in the fridge for a couple of hours before adding it to the cake batter. Perfection!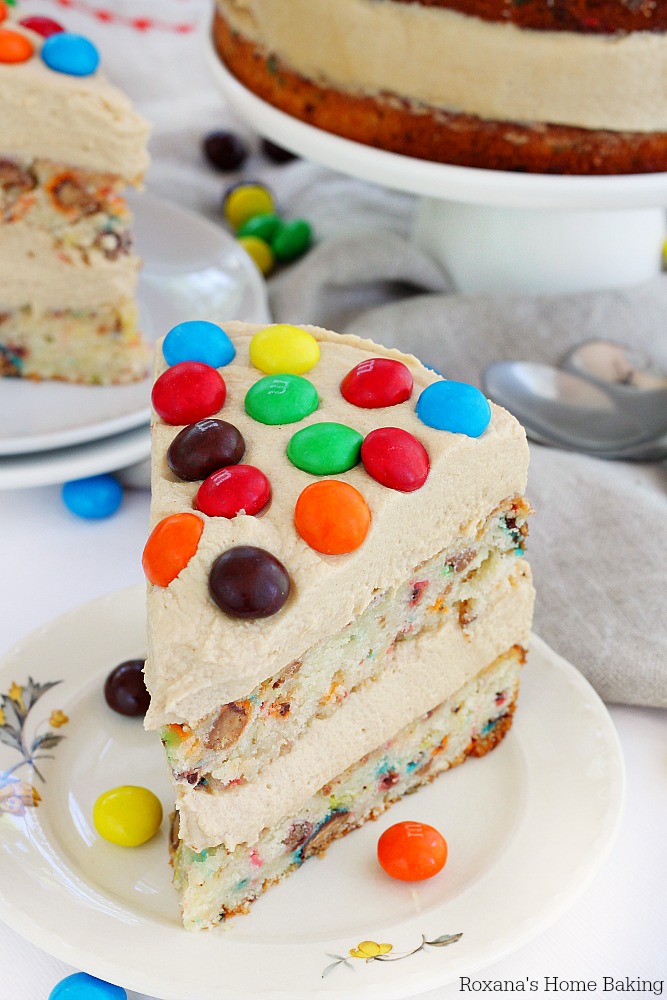 What takes the cake to the next level are the chopped Peanut Butter M&M'S. The Peanut Butter M&M'S are a little bigger than milk chocolate M&M'S and obviously heavier. Add them to the cake batter straight from the bag and they will all sink. Chop them roughly and you have colorful dots throughout the entire cake. Don't you think they make the cake even more irresistible?
The frosting is dreamy!
Creamy peanut butter is mixed with soft butter and smooth and slowly powdered sugar is added until it becomes fluffy. Since I wanted a really fluffy frosting, once all the sugar has been added, I fitted my mixer with the whisk, added some heavy cream and whisked the frosting for a couple of minutes. Air is fast incorporated, making the frosting so light and fluffy.
Because the frosting is so light, you need to assemble the cake in a cake ring and refrigerate for a couple of hours before removing the ring. If you do not have an adjustable cake ring, assemble it without one, but to do whip the frosting.

For the finishing touches, you can use more Peanut Butter M&M'S either chopped or left whole or a mix of Peanut M&M'S and Peanut Butter M&M'S.
Which ones are you favorite?
If you're looking for more ideas using M&M'S candy in your recipes, follow along the newly launched Pinterest page https://www.pinterest.com/mmschocolate/  for daily inspiration!
M&M'S peanut butter cake with peanut butter frosting recipe
---
Yields 12-16 servings
Peanut butter cake loaded with chopped Peanut Butter M&M's and a dreamy peanut butter frosting, this cake is a peanut butter lover dream come true!
40 minPrep Time
25 minCook Time
Ingredients
Cake

1 cup butter, room temperature
1 cup sugar
1 tsp vanilla
3 eggs
1 cup vanilla yogurt, drained for a couple of hours in the fridge (see notes)
2 cups all-purpose flour
2 teaspoons baking powder
pinch of salt
3/4 cup Peanut Butter M&M'S, roughly chopped
Frosting
1 cup butter, room temperature
2 cups creamy peanut butter
5 cups powder sugar
1/4 cup heavy cream (see notes)
Instructions
Heat the oven to 350F. Grease and line two 9 inch round baking pans with parchment paper. Set aside.
In a mixing bowl add the butter and sugar. With the paddle attachment on, beat on low speed until light and creamy, about 3 minutes.
Add the vanilla extract, followed by the eggs, one at a time, beating well after each addition.
Beat in the yogurt followed by the flour, baking powder and salt in two-three batches mixing until just combined.
With a spatula, fold in the chopped M&M'S.
Divide the cake batter between the two cake pans and bake in preheated oven for 22-25 minutes until a toothpick inserted in the center comes out clean.
Remove from the oven, leave to cool completely in the pans set on a wire rack.
When the cake layers are cooled, make the frosting.
In a mixing bowl, add the peanut butter and the butter. With the paddle attachment on, beat until smooth.
Gently, beat in the powdered sugar, 1/2 cup at a time until add the sugar is incorporated.
If you have a cake ring, add 1/4 cup heavy cream to the frosting and fit the mixer with the whisk attachment. Whip on low speed, slowly increasing it for 5 minutes.
Turn the mixer off and assemble the cake.
Place one of the cake layers on a serving platter. Arrange the cake ring around it to fit it tightly.
Spoon half of the frosting over the first cake layer and spread it evenly.
Place the second cake layer over the frosting, slightly pressing it down. Tighten the cake ring if needed.
Spoon the remaining peanut butter frosting over the second layer and finish the cake with more Peanut Butter M&M'S or Peanut M&M'S or a combo of the two.
Refrigerate for at least 2-3 hours before removing the cake ring .
Notes
* To drain the vanilla yogurt, place a piece of cheese cloth, a coffee filter or paper towels in a colander set on top of a bowl. Spoon the yogurt into the colander, cover with a piece of plastic wrap and refrigerate for few hour.
** A cake ring will prevent the cake from sliding once assembled. If you do not have a cake ring/collar, do not add the cream to the frosting.
7.6.8
613
https://atreatsaffair.com/mms-peanut-butter-cake-with-peanut-butter-frosting-recipe/
Roxana Yawgel http://atreatsaffair.com/ All images and content are copyright protected. Please do not use my images without prior permission. If you want to republish this recipe, please re-write the recipe in your own words, or simply link back to this post for the recipe. Thank you.
Disclosure – this post is sponsored by M&M'S. Although I've been compensated to develop the recipe and write this post, the opinions expressed here are all mine. Thank you for supporting brands I love.