Carrie is so sweet and supportive and after reading her blog for months I got to the conclusion she should have named her blog Bakeaholic Super-woman Mama. Somehow (I'm still waiting for the secret) she manages to have a gorgeous blog while surrounded by three little ones.
~~~~~~~~~~~~~~~~~~~~~~~~~~~
Hi, My name is Carrie and I am the recipe developer, photographer, and writer behind the blog Bakeaholic Mama. For those of you who don't know me, I am a wife, master mama of 3 kids and 2 dogs, I was a former preschool teacher and now a wannabe baker. I spend my days chasing kids, playing Lego's, changing diapers and up to my elbows in cookies and cupcakes!  On my blog you will find anything from the sinful Cookies and Cream Red Velvet Layer Cake or something a tad healthier such as my Spinach and Feta Veggie Burgers. I am a firm believer that we can all enjoy healthy home cooked meals and still have plenty of time and room for dessert.
Roxana has helped me out in the past with this guest post for Coffee Cupcakes, to return the favor she asked me join her 25 Days Of Christmas Recipes. How fun!!
When I think of Christmas recipes the first two that come to mind are sugar cookies and snickerdoodles. I love the two more than you can imagine. Nothing fancy to get me excited just a classic holiday cookie.
I mean now really… is there anything better than a house that smells of fresh baked cookies and cinnamon to warm you up? These cookies are crunchy on the outside, chewy in the middle. Loaded with cinnamon and sugar, and cinnamon chips topped off with a powdered sugar glaze… it's sugar cookie meets a cinnamon bun.
Roxana, thank you so much for asking me to guest post today. It's been so much fun!! 
~~~~~~~~~~~~~~~~~~~~~~~~~~
You can keep up with Carrie by following her on Facebook, Twitter, Pinterest and Google+
Check out other Christmas recipes as part of the #25recipestoXmas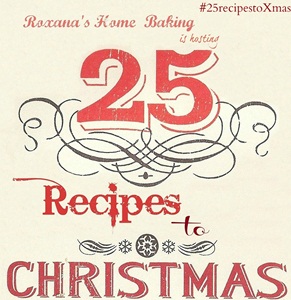 Sending love your way,
Roxana