Buttery cookie base, a layer of decadent smooth caramel and a rich chocolate ganache – this homemade version of the well-known Twix bars comes together in less than 1 hour and makes enough to feed a crowd!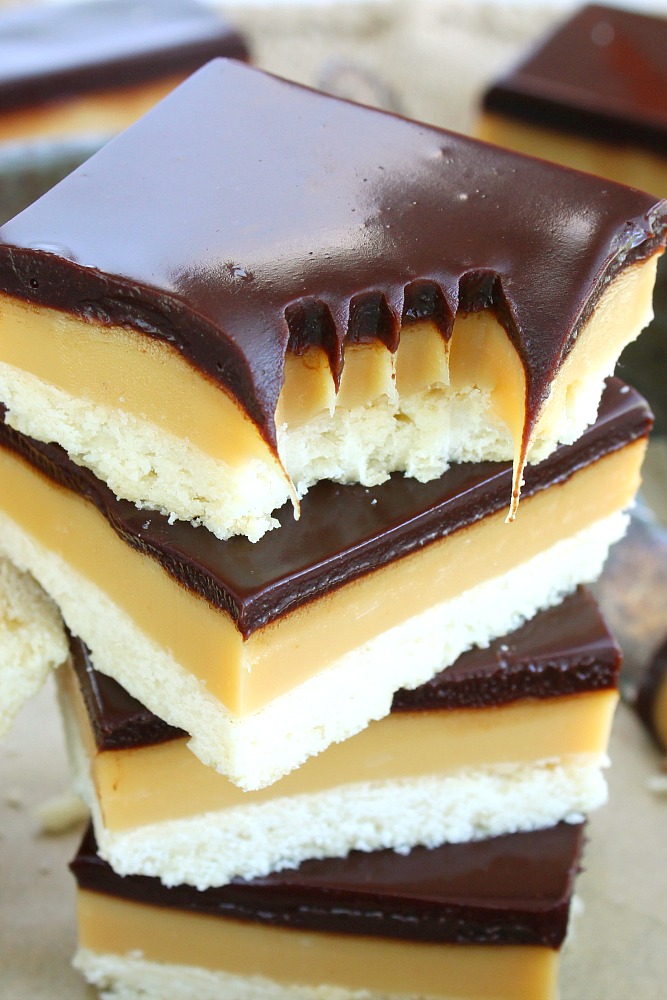 I'm the mom that goes through the kid's Halloween candy as soon as we get home. Tiffany eats candy, but for her it's all about going treat or tricking with her friends. For me, it's all about the candy.
More than half of the candy we receive gets immediately tossed into the "emergency drawer", you know, te one that holds the candy you don't like and you reach out to it when there's absolutely no other sweet in the house. (mostly my husband does so, as I do have a secret candy stash).
Twix is one of my favorite candy bars. The fun size ones are perfect to sneak in your pockets and snack on throughout the day.  Don't tell me I'm the only one!
Actually I'm sure I'm not the only one who likes candy. Knowing how successful my 30-minute homemade version of the Snickers bars are, you're clearly on the same page.
Obviously, it was just a matter of time until I shared another quick and easy version of store-bought candy bars – today we're talking Twix!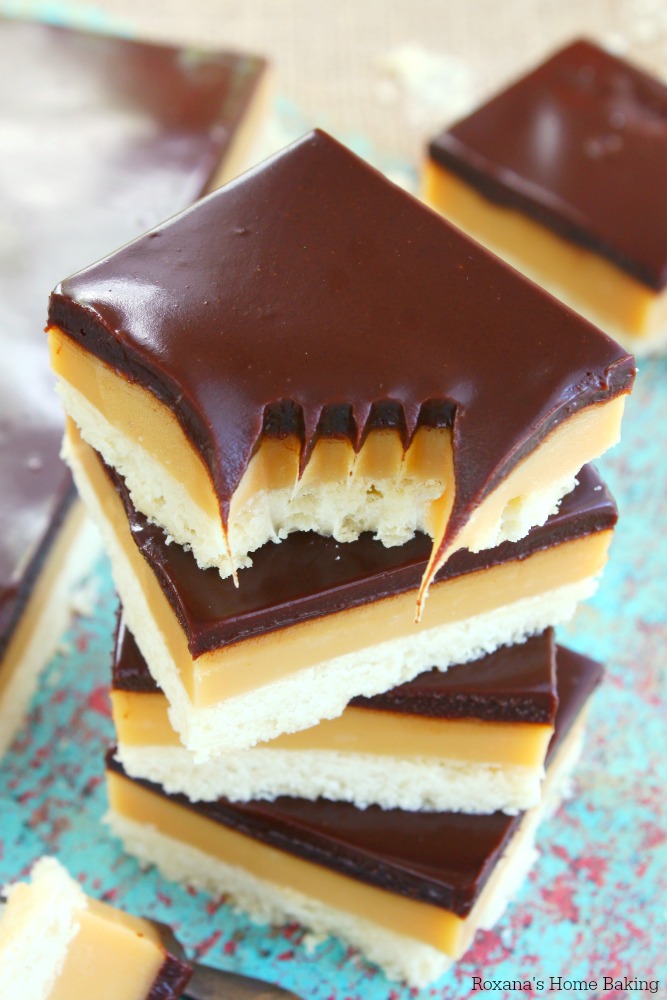 The secret to this homemade version of Twix bars is to get the biscuit layer just right. That's a deal breaker. At least for me.
While taste testing this recipe for Twix bars I came to realize I actually prefer a buttery biscuit, very similar to a shortbread but not as crumbly. The trick was to add powdered sugar to the biscuit layer, mix it until the dough just comes together and bake until golden. It's very important to prick the biscuit layer with a fork. This creates little tunnels for the steam to escape during baking and prevents the biscuit to puff up. Do not overbake it or it's going to crumble everywhere when cutting them into bars!!
The second thing I realized is that I loved the dark chocolate ganache instead of a milk or semi-sweet chocolate ganache. Of course this is just a personal preference, you can definitely use semi-sweet chocolate chips to make the ganache.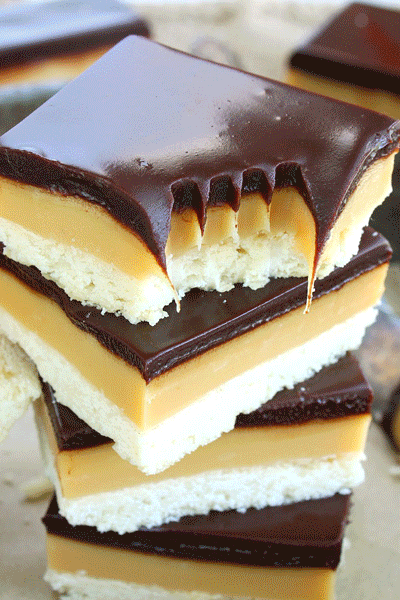 I hope the step-by-step aminated gif I created for you will help you while making these irresistible twix bars. They are so much better than the store-bought ones. And most importantly they are made with everyday ingredients I'm sure you already have on hand.
Visit Imperial Sugar to get the list of ingredients and directions to make these scrumptious Twix bars!
Craving more? Sign up for a trEATs affair email newsletter and get all the recipes sent right to your inbox!
Be sure to follow me on social media, so you never miss an update!
Facebook |  Pinterest   |    Instagram   |     Bloglovin'
Happy baking,
Roxana