Sometimes I wonder if us, the food bloggers live in a world of our own. I could talk forever with you about food, food trends, food props and the list goes on but just a handful of my friends are so passionate about food. Of course, they all love to eat, but I want to talk,  to chit-chat about the cake/bread we just tested.
With kids is a little different. Some of them would not touch a cake if I, by mistake, tell them it's a healthier version of the store-bought one. (less sugar, less butter or fewer eggs)
Truth be told I don't blame them. It took me forever to talk my husband into not eating anymore store-bought buttercream frosting.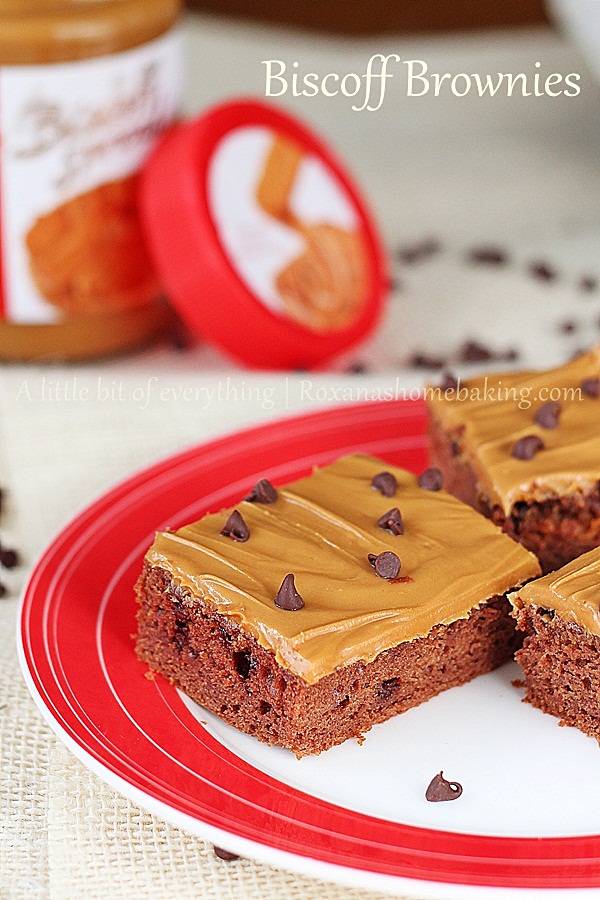 Growing up outside US has some advantages. I don't remember food coming from a can/box. My family had to cook everything from scratch every single day.  My grandma took pride in teaching us how to cook at an early age.
I already told you I had the first peanut butter sandwich in my 20's. Not because my family didn't like food from a jar, but we didn't have peanut-butter. I don't think peanut-butter is a popular food in Romania, even nowadays. And not just in Romania, but in lots of European countries.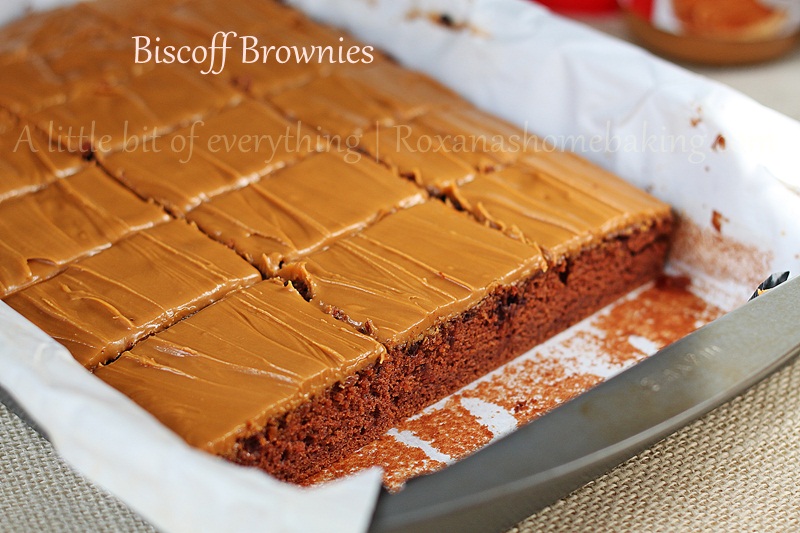 This is how Biscoff came to life. The peanut-free European version on peanut-butter.
If you're a food lover you have most probably seen the Biscoff band-wagon going on in the food-bloggers world for quite a while. After eating few packages of Biscoff cookies (had to make sure they are indeed blog-worthy) I joined the Biscoff fan-club with some irresistible Biscoff brownies.
They are soft, moist, buttery, sweet, out of this world good!
The idea of these brownies came from a chocolate chip biscoff swirl muffin recipe.
I made few minor changes to the original recipe.  I added two more eggs to the batter to make it more of a cake like consistency, left some of the sugar out, skipped the swirl and made some frosting.
Biscoff Brownies
---
Yields a 13X9 inch baking pan
A moist chocolate Biscoff brownie and frosting, best enjoyed in the afternoon with a cup of coffee or as an after-dinner treat
15 minPrep Time
30 minCook Time
1 hrTotal Time
Ingredients
Biscoff Brownies

6 tbsp butter
2/3 cup semisweet chocolate chips, divided
1/3 cup Biscoff
2 cups (240 grams) all-purpose flour
1/2 cup (100 grams) sugar
1/3 cup (28 grams) unsweetened cocoa powder
2 tsp baking powder
1/2 teaspoon salt
1 1/4 cups (300 ml) buttermilk
3 eggs
2 teaspoon vanilla extract

Biscoff Frosting

1 cup Biscoff
4 tbsp butter melted
Instructions
Preheat the oven to 350F. Line a 13X9 baking pan with parchment paper (I love the Reynolds Wrap® Pan Lining Paper)
In a small bowl mix the butter with half of the chocolate chips and Biscoff. Heat in the microwave or in a heatproof bowl set over a pot of simmering water until melted.
In a mixing bowl combine the dry ingredients (flour, sugar, cocoa, baking powder and salt). In another bowl combine the eggs with the buttermilk and vanilla extract. Slowly add the wet ingredients to the dry ones.
Mix in the chocolate Biscoff mixture as well and add the rest of the chocolate chips.
Pour the batter into the prepared pan and bake for about 25- 30 minutes or until a toothpick inserted in the center comes out clean.
To make the frosting, combine the butter with the Biscoff and spread it over the warm brownie.
Cut into 21 or more pieces when cooled.
Enjoy!
7.6.8
344
https://atreatsaffair.com/chocolate-chip-biscoff-brownies-with-biscoff-frosting-recipe/
Roxana Yawgel http://atreatsaffair.com/ All images and content are copyright protected. Please do not use my images without prior permission. If you want to republish this recipe, please re-write the recipe in your own words, or simply link back to this post for the recipe. Thank you.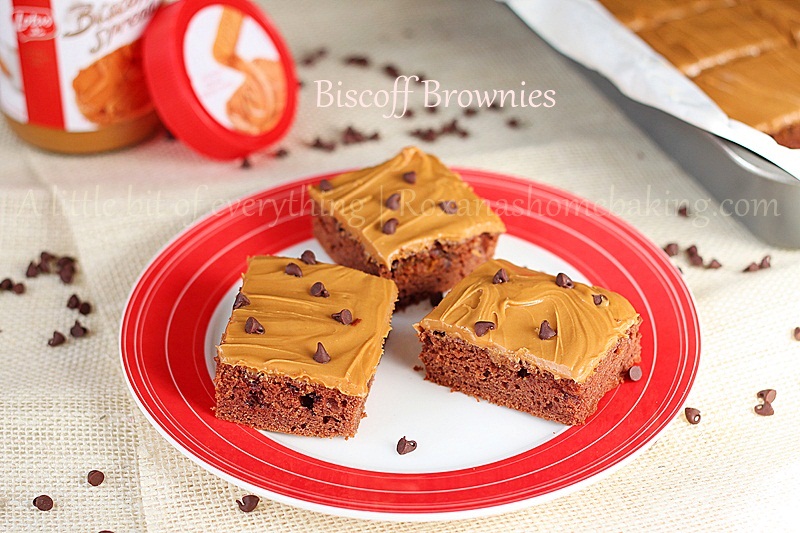 Sending love your way,
Roxana
Linking this delicious Biscoff brownie recipe to Jen's Kitchen Bootcamp May Round-up