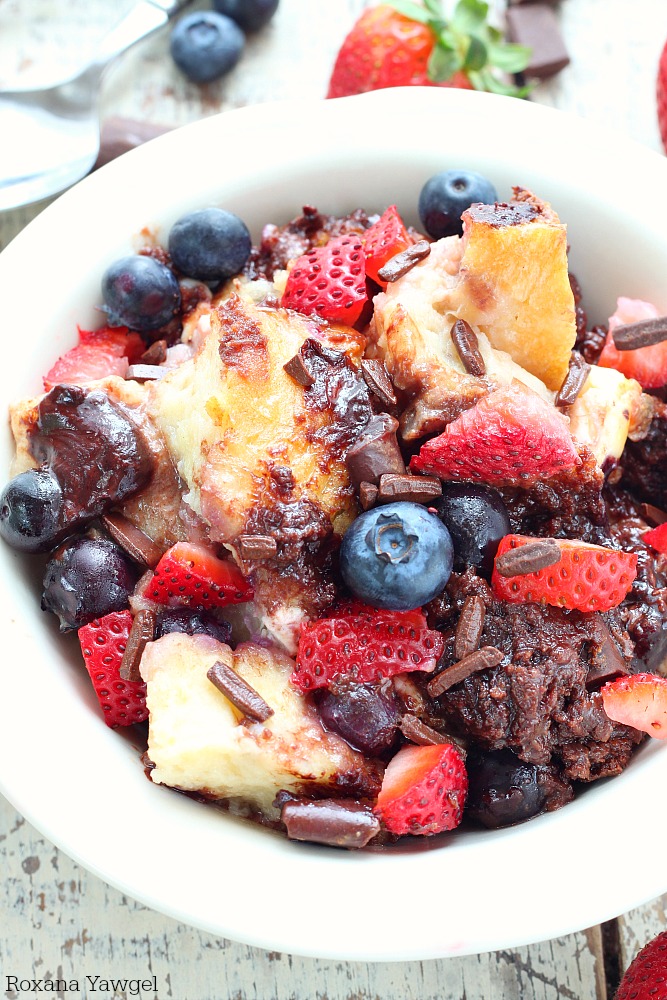 Now that's a mouthful – berries chocolate cream cheese french toast casserole! And that's after putting some thought into it. Initially, it was called Strawberries, blueberries, Nutella, cream cheese and chocolate french toast casserole. Say that 3 times in a row!
Brunch is my favorite meal of the week with breakfast for dinner coming in second. You'll find Tiffany and I having breakfast for dinner at least once a week. Pancakes, waffles, loaded oatmeal bowls or french toast.
We love cozying up on the sofa with a breakfast treat in hand and talking about our day. And if that breakfast treat happens to be made with chunks of crusty bread, fresh strawberries and blueberries, nutella, cream cheese and a handful of chocolate chunks all baked in a sweet custard, well, let's just say, breakfast for dinner should happen more often.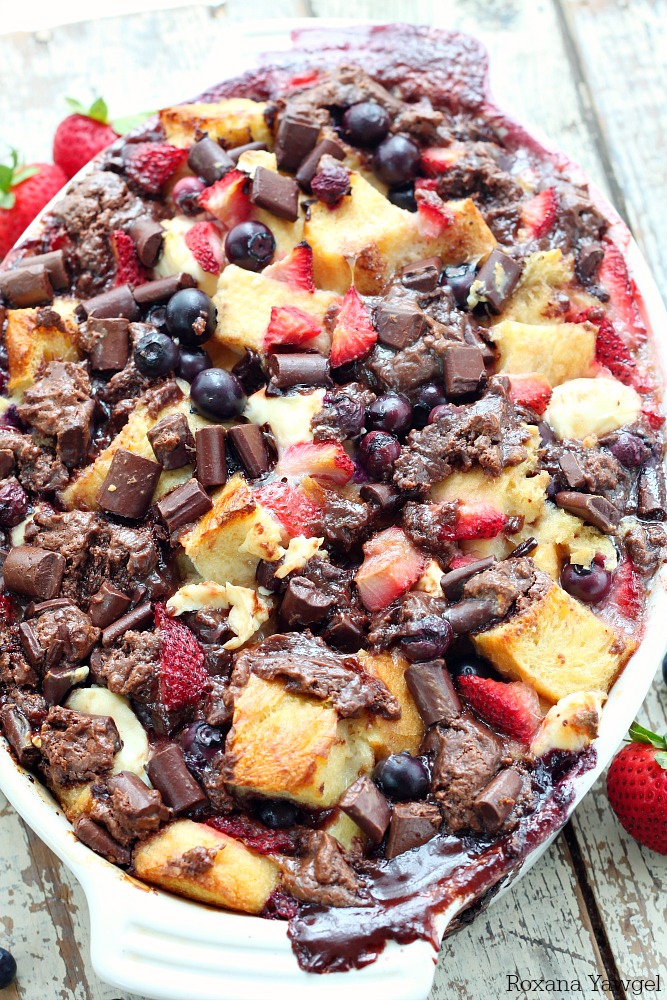 I've had french toast on my mind since last month when we went to Myrtle Beach for Blog'n Bake retreat. My friend's Lynne blueberry cream cheese french toast has been haunting me since.
I bought blueberries to make it so many times, I just never got around to it until recently when I combined her version with my berry chocolate french toast casserole.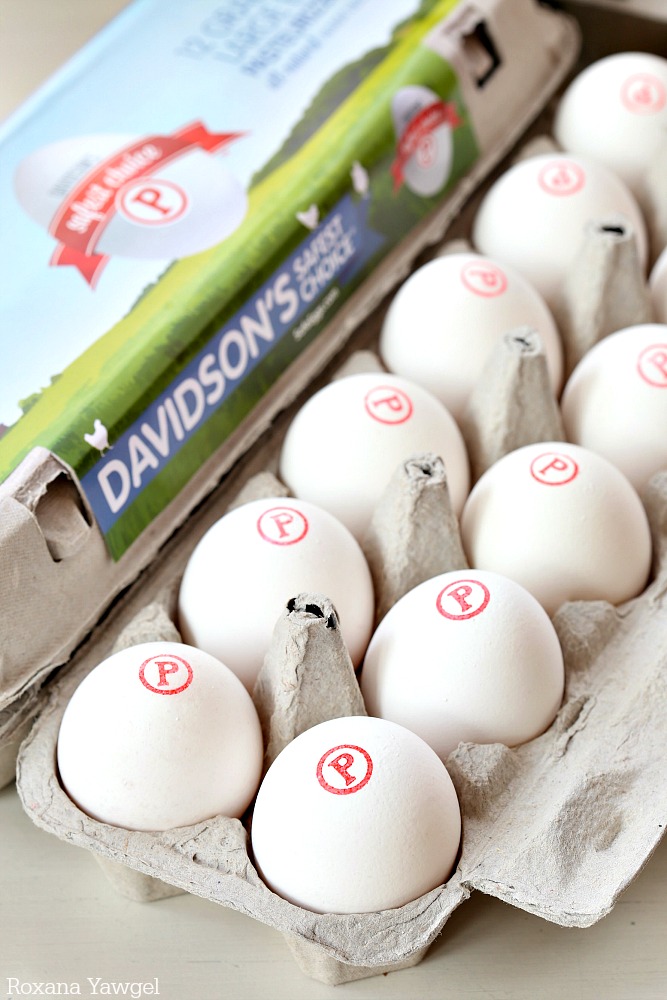 There are 2 key ingredients when making french toast.
Day old bread and eggs.
Day old bread is essential when making french toast.  A dry bread will absorb all the goodness from the other ingredients making the french toast absolutely delicious. Use a fresh bread and you end up with a mushy french toast. And no one wants mushy french toast.
Eggs are very important also. Eggs help binding everything together. Without them you'll end up with a bunch of ingredients thrown into a casserole. The egg custard is what holds everything together. And you need to add the right amount. Too little and your french toast is going to be dry. Too many and it spills over.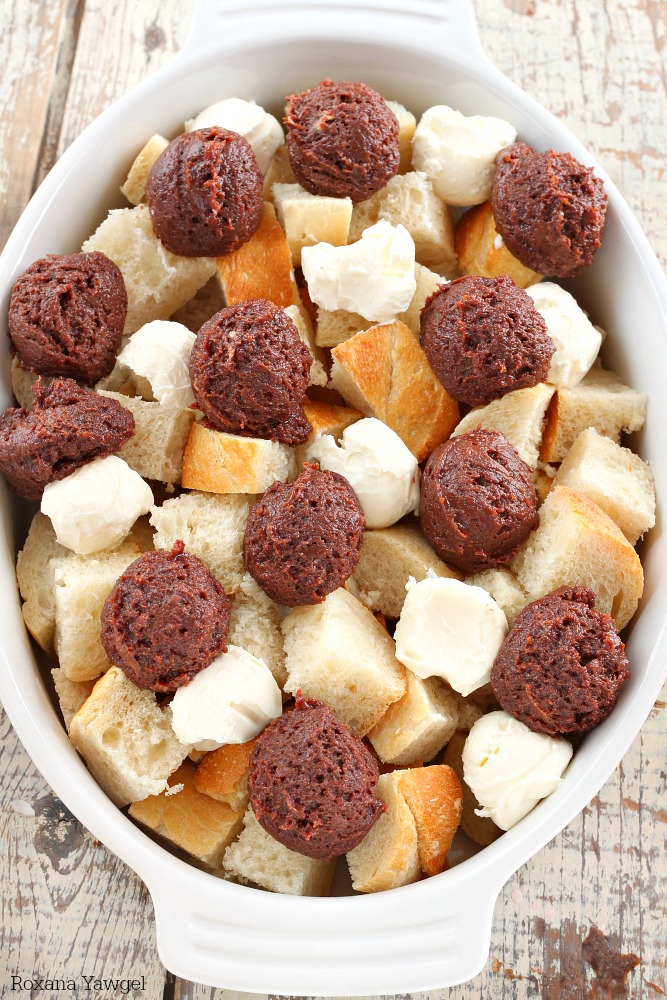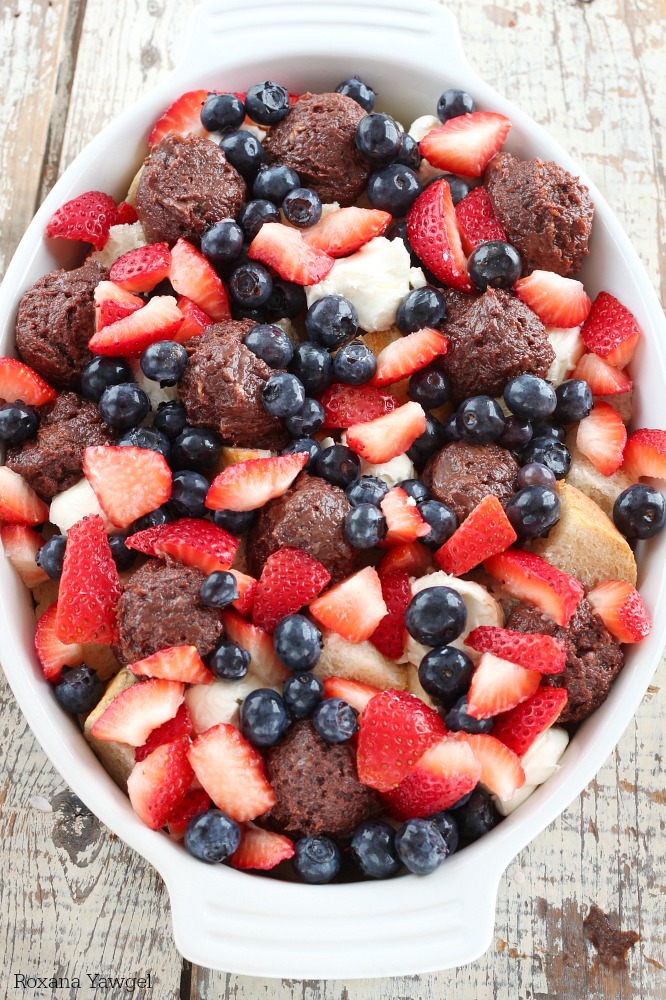 At Blog'n Bake retreat was the first time I used Safest Choice Eggs and I was pleasantly surprised with the richness they gave to the casserole.
I used Safest Choice Eggs this time as well. I always have them in the fridge. You never know when I have kids with me in the kitchen or I crave tiramisu or these no bake bars.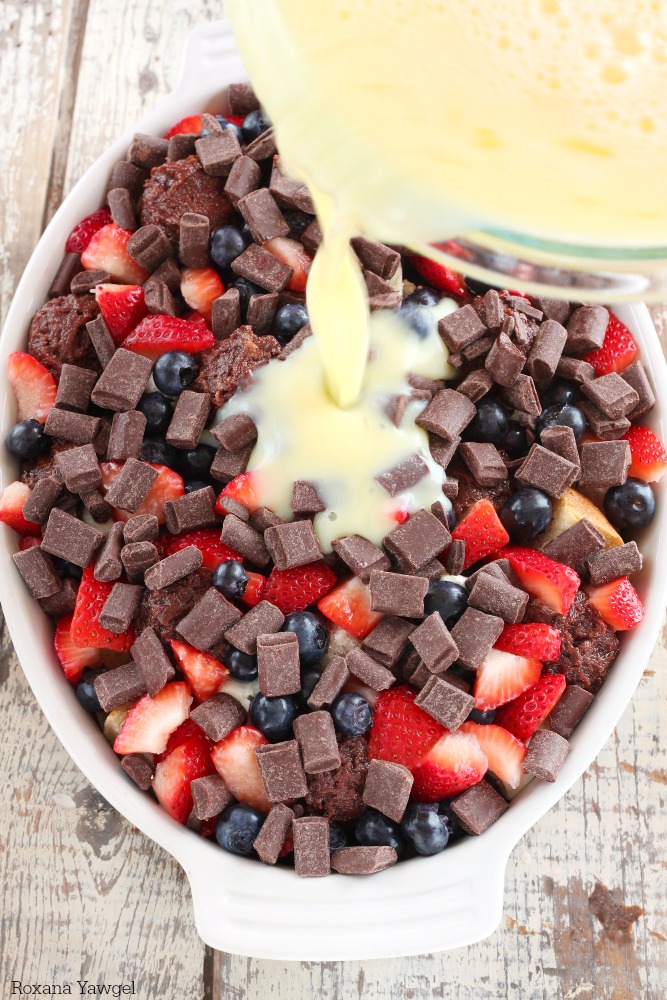 So, what's in this berries chocolate cream cheese french toast casserole? Glad you asked!
It starts with day old bread roughly diced.
Over it, with a small melon scoop I added cream cheese and Nutella. A generous layer of fresh strawberries and blueberries. And some chocolate chunks before there's no such thing as too much chocolate.
Everything is then soaked in an eggy mixture. Eggs, milk, heavy cream, melted butter, vanilla extract and a touch of sugar.
Once you pour the egg mixture over, gently try to combine all the ingredients. Cover with plastic wrap and place in the fridge for at least 2 hours. This can be done the night before or in the morning and have it for dinner.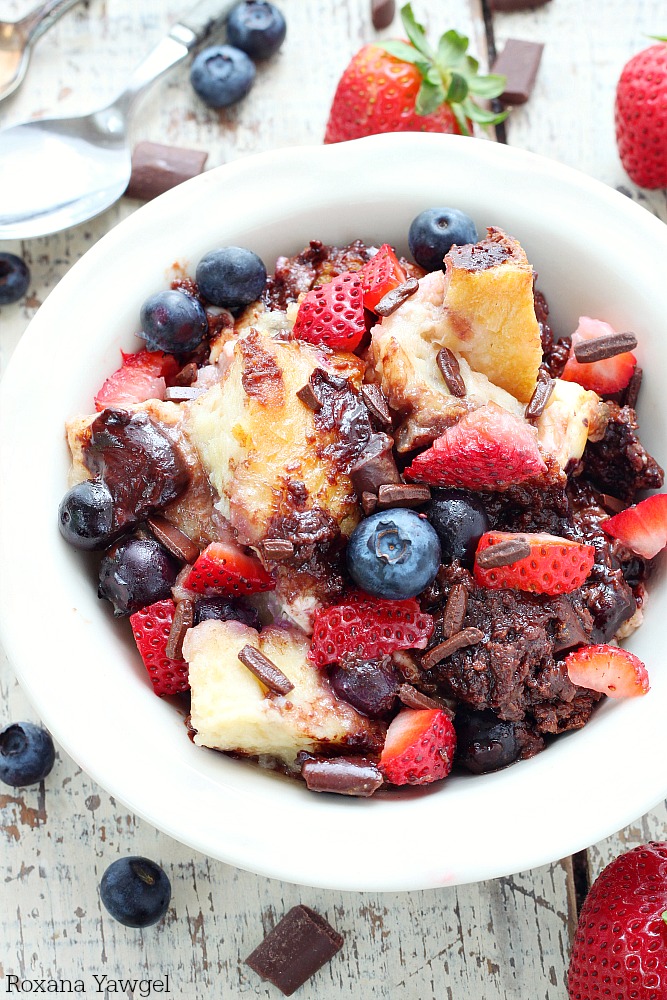 Now, it's totally up to you if you wanna drizzle maple syrup over or just dig right it. No judgement.
Craving more? Sign up for a trEATs affair email newsletter and get all the recipes sent right to your inbox!
Be sure to follow me on social media, so you never miss an update!
Facebook |  Pinterest   |    Instagram   |     Bloglovin'
Berries chocolate cream cheese french toast casserole recipe
---
Roxana
Yields 6-8 servings
10 minPrep Time
45 minCook Time
55 minTotal Time
Ingredients
6 cups day old crusty bread, roughly cubed
1X8oz cream cheese, room temperature
1/2 cup nutella
2 cups fresh berries, cut approximately the same size
1 cup chocolate chunks
6 eggs
2 3/4 cup milk, either 2% or whole milk
1/4 cup heavy cream
1/4 cup butter, melted and cooled
1 teaspoon vanilla extract
1/4 cup sugar
Instructions
Grease a 3qt. baking casserole. Set aside.
Place the bread into the casserole.
Using a melon scoop , drop cream cheese balls and Nutella over the bread.
Scatter the berries and the chocolate chunks over.
In a mixing bowl add the eggs, milk, heavy cream, melted butter, vanilla extract and sugar.
Whisk to combine.
Pour the egg mixture into the casserole.
Gently give all the ingredients a stir. Not too much, just to ensure when the casserole bakes the chocolate and the berries are just at the top layer.
Cover the casserole with plastic wrap and chill for at least 2 hours.
When ready to bake, heat the oven to 350F.
Bake the casserole for 45 minutes or until puffed and golden brown.
Let cool slightly before serving.
Serve with more fresh berries, maple or chocolate syrup or a dollop of ice-cream.
7.6.8
649
https://atreatsaffair.com/berries-chocolate-cream-cheese-french-toast-casserole-recipe/
Roxana Yawgel http://atreatsaffair.com/ All images and content are copyright protected. Please do not use my images without prior permission. If you want to republish this recipe, please re-write the recipe in your own words, or simply link back to this post for the recipe. Thank you.
disclosure – this post is sponsored by Safest Choice Eggs. Although I've been compensated to develop the recipe and write this post, the opinions expressed here are all mine. thank you for supporting brands I love.