Surprise your loved ones with these strawberry chocolate cakes. They are so easy to make no one will know you spent only 15 minutes in the kitchen!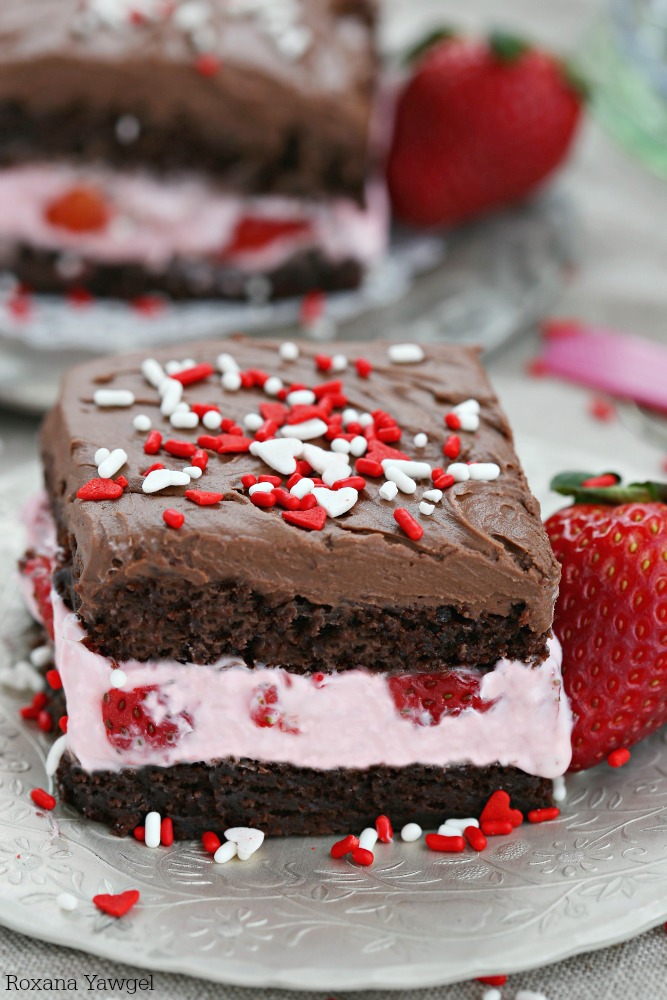 I can't believe Valentine's Day is just around the corner. Where did 2015 go?
I'm usually on top of the things but I feel lately I've been all over the place. Either, things go wrong and need my immediate attention, or I overbook myself and instead of focusing on one thing, you guessed it, I try to juggle all of them in the same time and nothing gets done. Do you know the feeling? I'm glad to hear I'm not the only one and to those of you on top of your agenda, I bow to you!
You know what makes everything better? Chocolate! Chocolate is the answer to everything! Especially if it comes in a little cake like this that's so easy to make you're not going to believe!
Especially if it comes in the form of cute little cakes like these that are so easy to make you're not going to believe!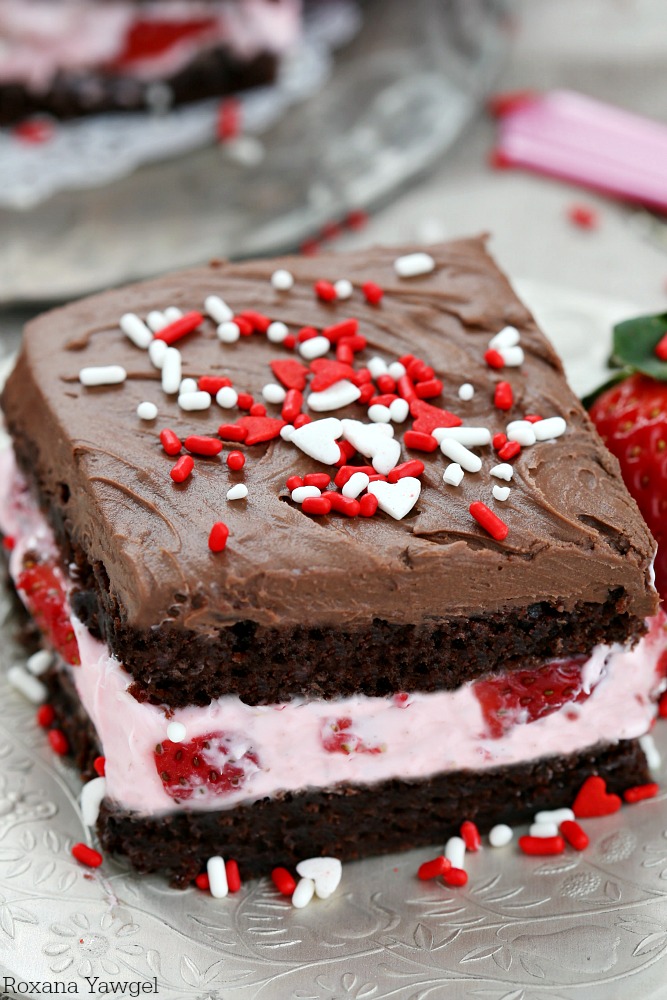 My niece is visiting and with my husband coming home in few days I needed to have a couple of sweet treats up my sleeves. I've been debating what should I make to please everyone and after a couple of "no, not this","this takes forever to make"  or "yeah, I'm not crazy about that" it finally came to me. Chocolate and strawberries!
Chocolate and strawberries is the perfect combo for Valentine's day and everyone will love these little cakes.
There are so many things I love about these strawberry chocolate cakes.
I only needed to wash one bowl! I know! It's pretty hard to believe but you only need one bowl – to mix the Pillsbury™ Family Size Chocolate Fudge Brownie Mix for the cake layers. I told you in my previous post I stocked up at Walmart last week!
For the 2 layers of frosting, I used Pillsbury Funfetti Valentines Vanilla Frosting and Pillsbury Creamy Supreme Frosting, Milk Chocolate flavor – No need to dirty up more bowls – I spooned the frosting straight from the container.
they are so versatile – if you're not crazy about chocolate and strawberry together, use another fruit. Or chocolate chips, or nuts! Pick a different frosting – Pillsbury frosting comes in so many flavors and colors!
It takes 10-15 minutes to put together the cake! Once you bake your brownie, cut in half, spread frosting, scatter some fresh fruit, top with the other brownie layer, more frosting and you're done!
I absolutely love how a store-bought brownie mix can save the day! I can't wait to make these cakes again when my husband comes home in few days. It's the perfect way to mix up a moment when you don't have a lot of free time on your hand. Knowing my husband will be home just for few days, the last thing I want is to be buried in the kitchen under a pile of dirty dishes.
A side note before I leave you with the recipe. In the video above, I'm mixing the strawberries with the frosting. After leaving the cake overnight in the fridge, I was not happy with the results. I made another cake, this time scattering the chopped strawberries over the layer of vanilla frosting, gently pressing them in. Perfection!
Looking for more treats using Pillsbury brownie mix? Check out their Pinterest board
Craving more? Sign up for a trEATs affair email newsletter and get all the recipes sent right to your inbox!
Be sure to follow me on social media, so you never miss an update!
Facebook |  Pinterest   |    Instagram   |     Bloglovin'
[related-posts]
[mpprecipe-recipe:633]
This is a sponsored conversation written by me on behalf of The J.M. Smucker Company. The opinions and text are all mine.