Oreo crust, silky and airy chocolate filling and finished with chopped candy, this no bake Nutella Snickers pie is perfect for hot summer days!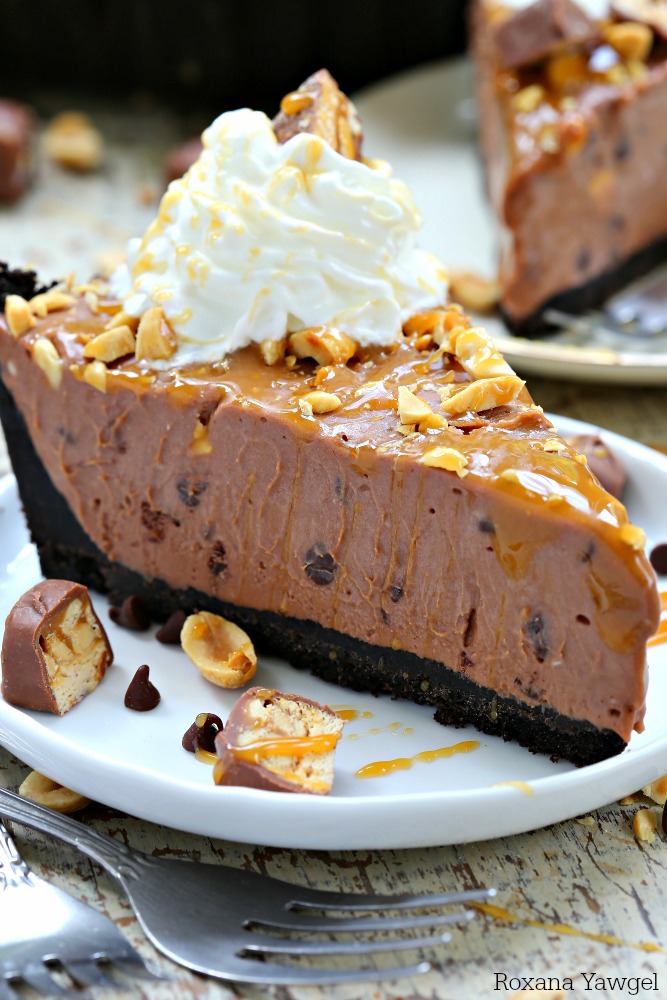 Have you noticed how easily we change our mind?
Few months ago I could not wait for the summer to come. I was longing light dresses, flip flops, reading by the pool and refreshing iced coffee.
Here we are in the middle of July and I'm so tired of summer. It's been so unbreathable hot lately, I melt a little every single day. I miss breezy days, rain and 70 temps.
I change my mind a lot about a lot of things. Weather, clothes, places to visit, what to eat, and the list could go on for pages.
In the same time, there are things that don't change no matter what. My love for chocolate is one of them.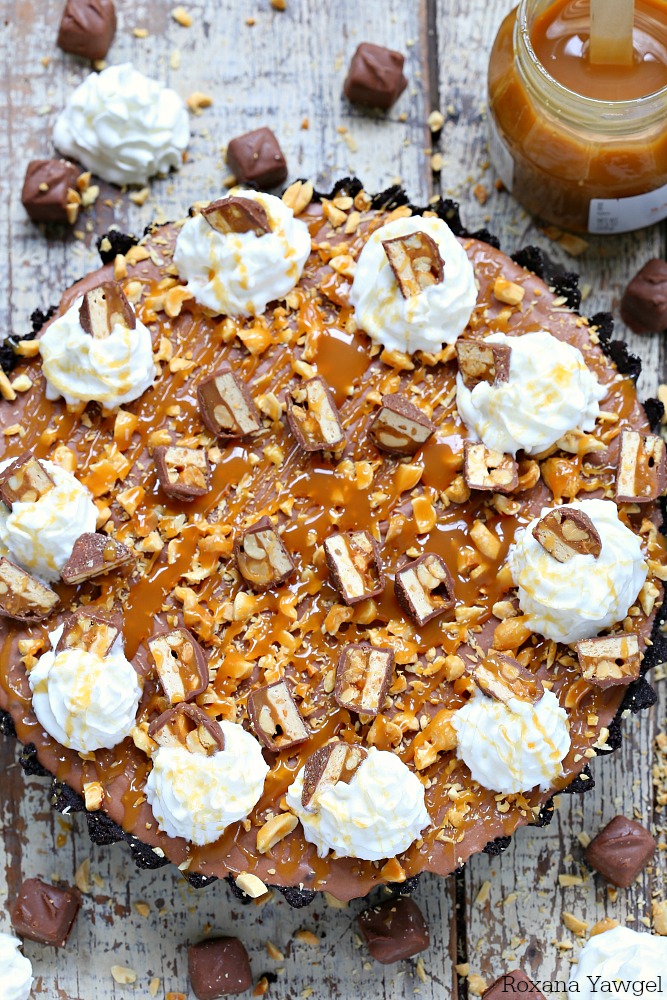 And not only that I love chocolate but I have to have chocolate every single day.
But these days it's so hot the last thing I want is to turn the oven on. So I rely on no bake chocolate treats.
Good thing my friend Julienne has just released a book filled with 80 no bake desserts. From no bake cheesecake, to icebox cake, pies and other sweet treats, she has all your cravings covered!
I've been drooling over it since I received a copy a couple of weeks ago.
And let me tell you, it was so hard to decide which recipe to share with you. All 80 recipes come with full-color photos and if you haven't seen her gorgeous photography, boy, you're in for a real treat!!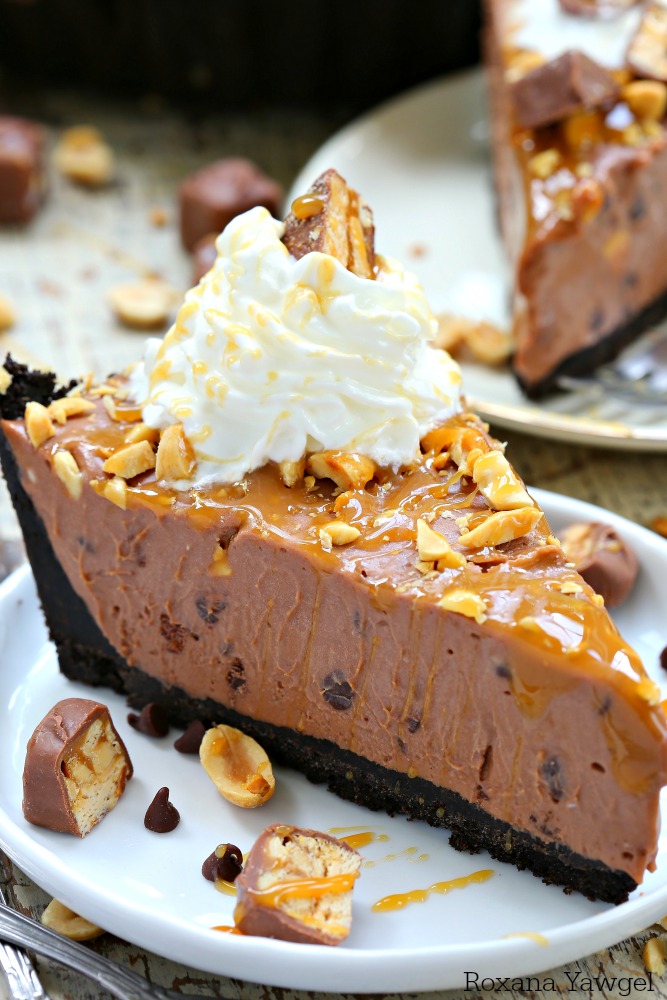 The pie starts with an Oreo crust. You know, ground oreo and butter pressed onto the bottom of a pan with removable bottom. And no, there's no need to remove the filling from the Oreo cookies.
The filling is a mix of cream cheese, heavy whipping cream, powdered sugar, and Nutella.
I could eat the filling with the spoon all day long! It's so smooth and silky and love the crunchy bites you get from the peanuts and mini chocolate chips.
To make the filling, take a little bit of patience. You have to slowly add the heavy whipping cream and which it until firm peaks form and once the Nutella is added, you whip it a little longer.
For the finishing touches, you'll need salted caramel, some more peanuts, whipped cream and chopped snickers candy.
Julienne suggests using any candy bars you prefer but you know how much I love Snickers!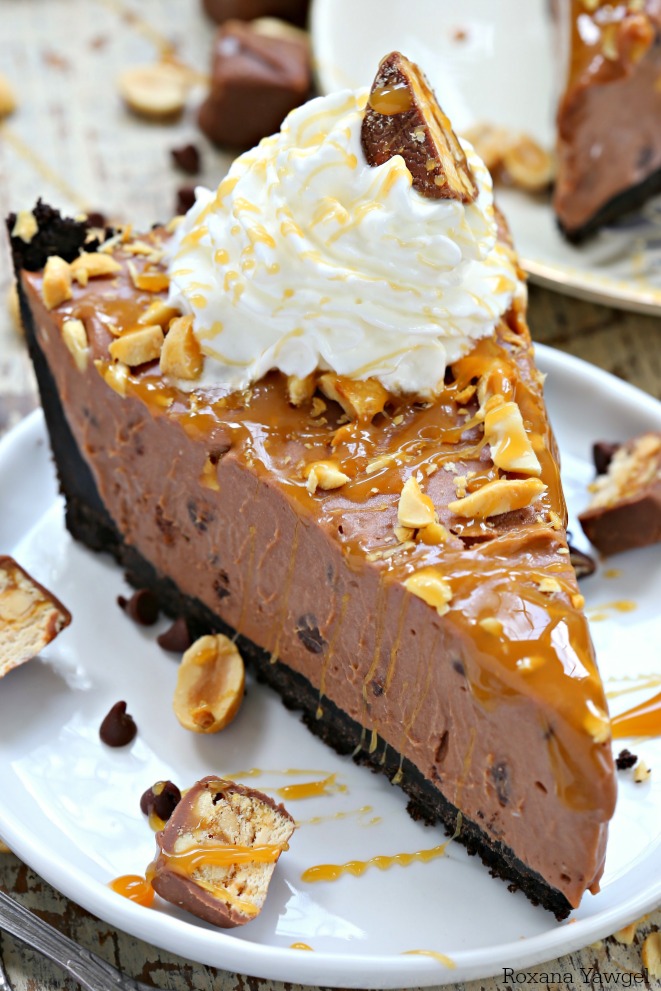 Craving more? Sign up for a trEATs affair email newsletter and get all the recipes sent right to your inbox!
Be sure to follow me on social media, so you never miss an update!
Facebook |  Pinterest   |    Instagram   |     Bloglovin'
[related-posts]
[mpprecipe-recipe:664]