Today's Christmas dessert is brought by Kate of Diethood. If you don't know Kate (although I doubt since she's very popular in the blogging world and sweeter than sugar) no, her blog has nothing to do with a diet. With recipes like Macarons with Lemon Buttercream Filling or Mojito Doughnuts you'll forget about your New Year Resolution in no time!
~~~~~~~~~~~~~~~~~~~~~~~~~~~~~~~~~~~~~~~
Thank you, Roxana, for inviting me to share my recipe with your readers. I am so incredibly honored to be here.
Roxana was one of my very first blogger-friends. She left a lasting warm impression when one day she decided to try and share one of my very first recipes on her blog. I was so touched, and so happy, that I will forever be grateful. She doesn't even know this, but because of her, all those doubts about food blogging went out the window the moment that I saw my recipe on her blog. Thank you, Roxana. xo
When Roxana and I got to know each other better, we realized that we had tons of stuff in common! She and I sorta, kinda hail from a similar part of the world; she's from Romania and I'm from Macedonia. We're both immigrants. She and I also had our daughters around the same time. She loves sweets. I love sweets. She loves to bake, I love to bake… See, we're practically the same person!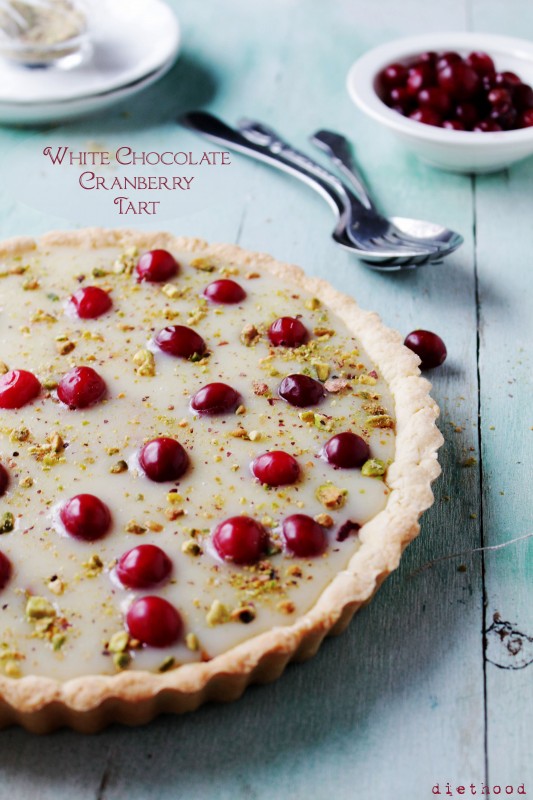 As you all know, Roxana comes up with the most decadent desserts, that trying to replicate her stunning creations is simply impossible. But, I wanted to bring her something colorful, something vibrant, and something that Roxana would make. Thus, I present to you a White Chocolate Cranberry Tart. This dessert totally reminds me of her. You, too, right?
This tart involves a few steps, BUT don't be discouraged; it is easy to make. First we're going to start with making a cranberry sauce. Thereafter we will move onto the tart crust, and finally we're going to fill the tart with white chocolate ganache and decorate it with pistachios and fresh cranberries.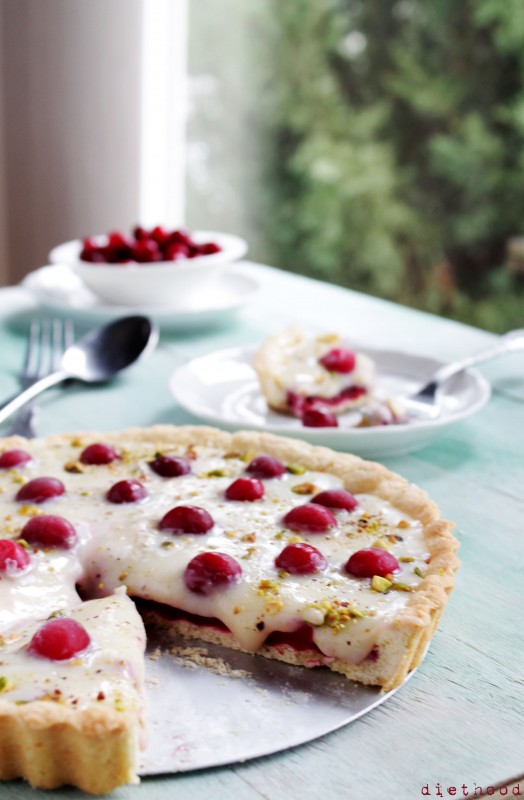 White Chocolate Cranberry Tart
---
Ingredients
Cranberry Sauce

1 1/2 cup cranberries
1/2 cup sugar
1/2 cup water

Tart Crust

(Makes two 10-inch tarts – we will only need one (1) for this recipe)
2 cups all-purpose flour
1/3 cup sugar
½ teaspoon baking powder
¼ teaspoon salt
8 tablespoons butter, cold, cut into 10 pieces
2 whole eggs
Beans for pie weights

White Chocolate Filling

12 ounces white chocolate chips, chopped
1 ½ cups whipping cream

Garnish

2 tablespoons chopped pistachios
Fresh Cranberries
Instructions
Cranberry Sauce

Place the cranberries, sugar, and water in a small saucepan and bring to a simmer.
Continue to simmer for 10 minutes.
Let completely cool and put in the fridge until ready to use.

Tart Crust

Combine the flour, sugar, baking powder, and salt in a food processor and pulse a few times to mix.
Add the butter and pulse until the butter is completely mixed in.
Add the eggs and process until the dough forms a ball.
Transfer the dough to a lightly floured work surface, divide the dough in half, and flatten each half into a disk.
Cover with plastic wrap and let sit in the refrigerator for 30 minutes.
Preheat oven to 350.
Prepare the crust by taking one of the pieces of dough from the refrigerator.
Let sit at room temperature for 5 minutes.
Flour your work surface and roll out the dough to about a 13-inch diameter disk.
Line the tart pan with the dough, making sure it's flat against the bottom and the sides of the pan.
Prick the bottom and sides of the dough with a fork and place uncooked beans on bottom of crust.
Bake for 20 minutes, or until edges of crust are golden brown.
Remove from oven and cool completely.
Discard beans.
In the meantime, prepare the filling.

!White Chocolate Filling

Combine white chocolate and cream in a microwavable bowl.
Microwave on high for 1 minute. Stir.
Continue to microwave for 1 more minute; stir until chocolate is completely melted and mixture is smooth.
Set aside and let completely cool.

Assemble the tart

Drain the cranberries of any excess juice.
Spread the cranberry sauce on the bottom of the tart crust.
Pour the white chocolate ganache over the cranberry sauce.
Garnish with fresh cranberries and chopped pistachios.
Refrigerate for 3 hours.
Serve.
Notes
The crust is adapted from Nick Malgieri's "Bake! Essential Techniquest for Perfect Baking". Makes two 10-inch tart crusts – we will only need one (1) for this recipe.
7.6.8
404
https://atreatsaffair.com/white-chocolate-cranberry-tart-recipe/
Roxana Yawgel http://atreatsaffair.com/ All images and content are copyright protected. Please do not use my images without prior permission. If you want to republish this recipe, please re-write the recipe in your own words, or simply link back to this post for the recipe. Thank you.
~~~~~~~~~~~~~~~~~~~~~~~~~~~~~~~~~~~~~~~~~~~~~~
You can keep up with Kate by subscribing to her RSS Feed or follow on social media : Google +, Facebook, Pinterest, Twitter
Check out the other Christmas treats #25recipestoXmas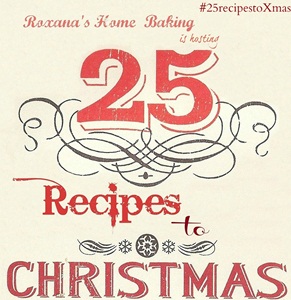 Sending love your way,
Roxana
[ts_fab]