Decadent, rich chocolate ganache filling, a nutty crust and juicy sweet fresh figs make this roasted figs chocolate ganache tart a treat for a special occasion. And not to worry, it is super easy to make.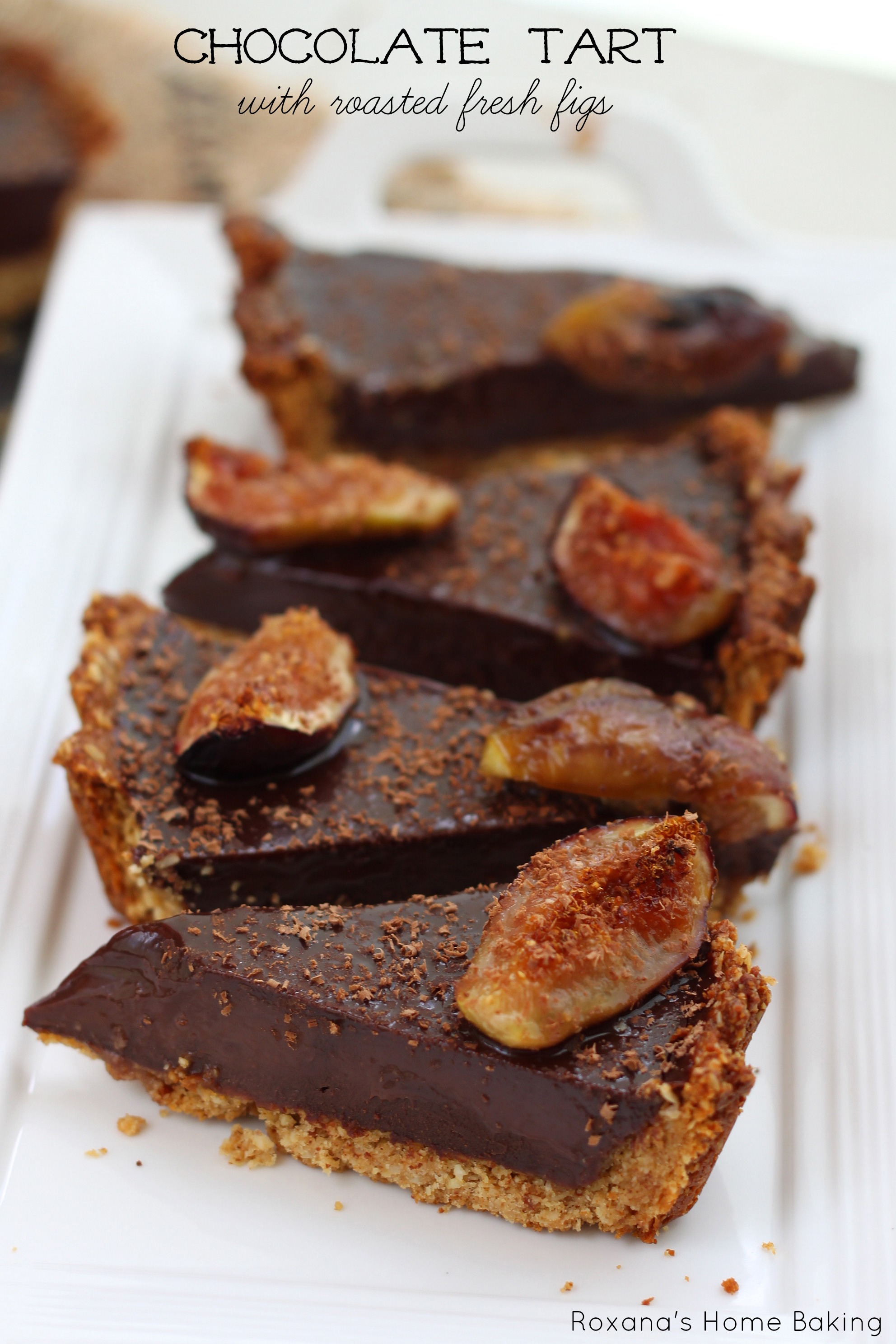 If I have to pick one, just one fruit towards the end of summer, hands down is going to be fresh figs. I've been in love with figs for years and every summer I look for them at the local farmer's market or grocery store. As much as I would like to have a fig in the back yard these figs came for California. And as much as I would like to say I hand picked them from the tree, I bought them from the local grocery store.
Either way, hand picked by me or just picked from the produce section of the store fresh figs make my heard skip a beat.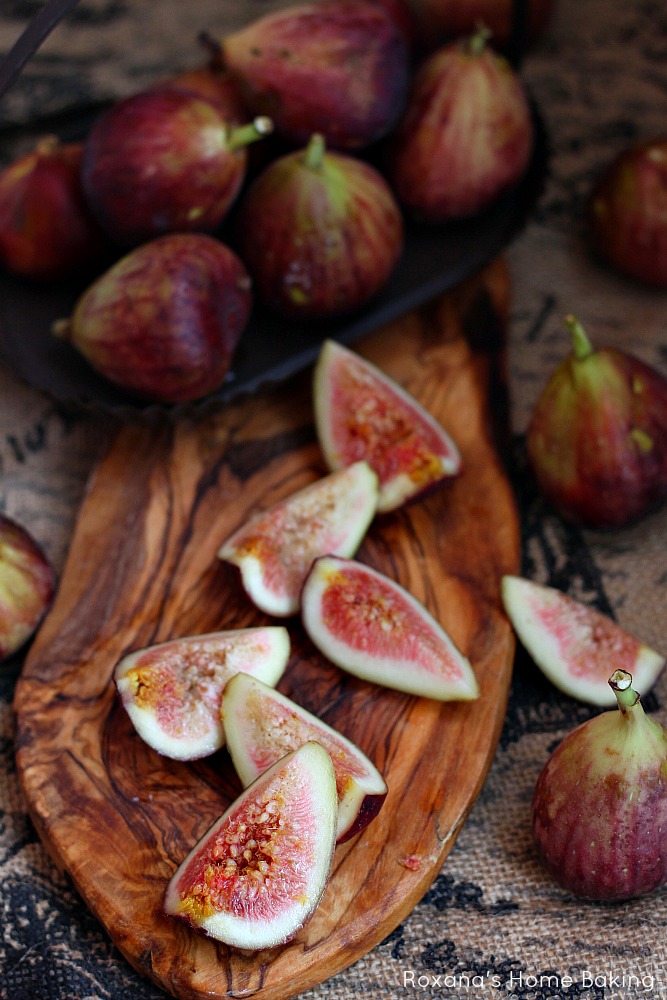 After eating almost a whole box in just few days I remembered this chocolate fig tart recipe from my friend Sylvie. I have saved it since she shared the recipe 2 years ago and have been waiting for the right time to make it.
Few weeks ago seemed like the perfect time. And my friends agreed with me. The whole 11″ tart was gone in no time!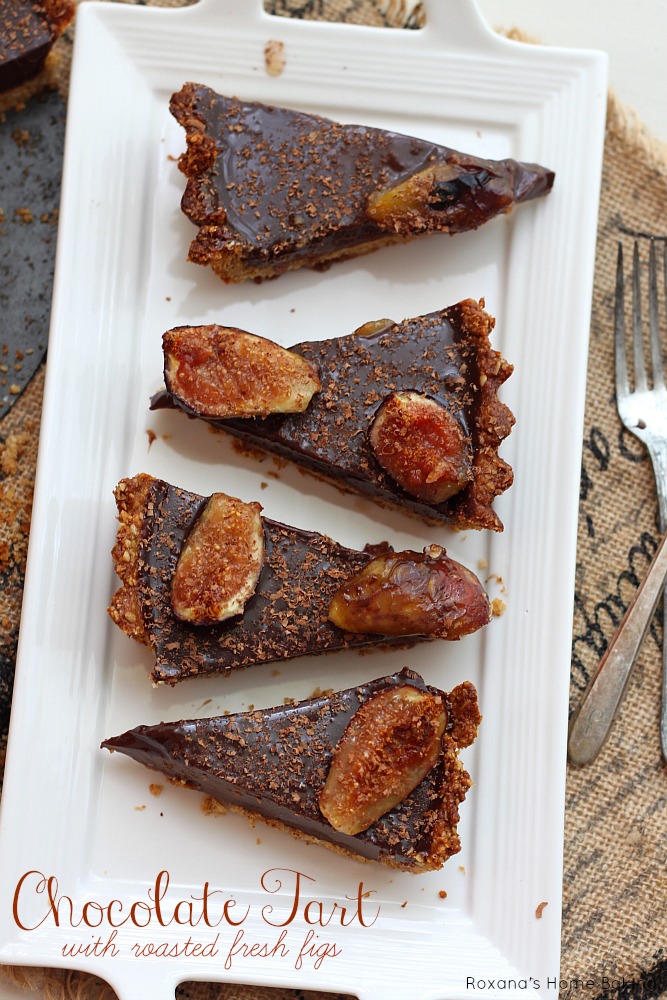 If you've never had figs and chocolate, well I highly advise you to give it a try. In my opinion is as good, or maybe even better than chocolate and strawberries and i'm pretty sure everyone know how insanely good that combo is!
This roasted figs chocolate ganache tart was adapted from Sylvie's tart. Although I did not add roasted figs at the bottom of the part like Sylvie did (because I ate most of them while waiting for the crust to chill) I made sure each slice got at least one piece of roasted fig on top.
The crust is made gluten free, using ground pecans and rolled oats while the ganache is made from a combo of bittersweet and semisweet chocolate and heavy cream. If you want a vegan version, you can use coconut milk like Sylvie did.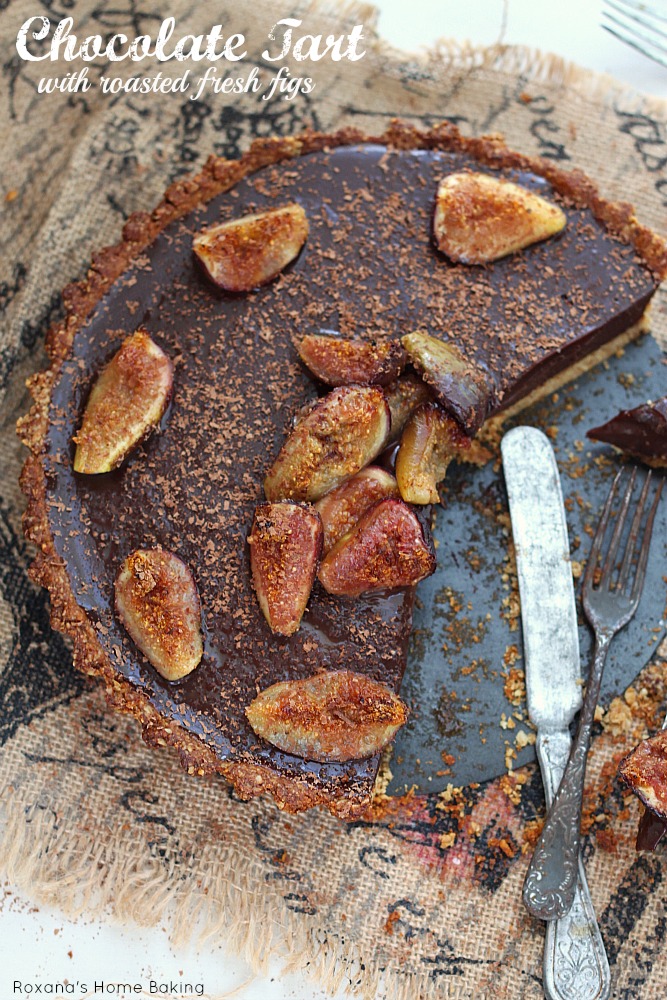 Roasted figs chocolate ganache tart recipe
---
Yields one 11" round tart
Decadent, rich chocolate ganache filling, a nutty crust and juicy sweet fresh figs make this roasted figs chocolate ganache tart a treat for a special occasion
15 minPrep Time
15 minCook Time
4 hrTotal Time
Ingredients
Crust

1 1/2 cups halved pecans (I got mine from Oh! Nuts)
1 cup rolled oats (Gluten free from Bob's Red Mill)
2 tbsp honey
2 tbsp coconut oil (Kelapo coconut oil)
1/4 tsp baking power

Filing

1 1/4 cup heavy cream
8 oz chopped chocolate (bittersweet and semisweet combined)

Topping

8 fresh figs
1 tbsp honey
Instructions
Grease one 11" tart (quiche) pan and set aside.
In a food processor add the pecans, oats and pulse for about 30 seconds to 1 minutes until finely chopped. Add the honey, coconut oil and baking powder and pulse one more time to combine.
With your fingers press the crust evenly on the bottom and sides of the prepared baking pan and chill for 30 minutes.
Meanwhile, heat the oven to 350F.
Bake the tart crust for 12-13 minutes. Remove from the oven and set aside to cool completely.
While the oven is still hot, roast the figs.
Turn the broiler on.
To roast the figs, cut off the stem and slice the figs in 4. Spread the fig slices on a cookie sheet and drizzle the tablespoon of honey on top of them.
Place the baking sheet on top rack of the oven and broil for few minutes until the honey begins to bubble. Keep a close eye on the oven, there's a fine line between sweet, juice roasted figs and burned roasted figs.
Remove the figs from the oven and set aside.
Time to make the ganache filling
To make the filling, place the chocolate in a heatproof bowl.
In a small saucepan add the heavy cream and heat it until it reaches boiling point. Pour over the chopped chocolate, leave for few seconds until the chocolate just starts to melt. Stir gently to combine until smooth and silky.
If you prefer, lay some of the roasted figs over the tart crust and pour over the chocolate ganache, or simply pour the chocolate ganache in the tart shell.
Leave the ganache to set, for few hours, before decorating with roasted figs and grate some more chocolate on top if you prefer.
Chill the tart until ready to serve.
When slicing the tart, clean the knife blade after each cut.
Enjoy!
Notes
7.6.8
472
https://atreatsaffair.com/roasted-figs-chocolate-ganache-tart-recipe/
Roxana Yawgel http://atreatsaffair.com/ All images and content are copyright protected. Please do not use my images without prior permission. If you want to republish this recipe, please re-write the recipe in your own words, or simply link back to this post for the recipe. Thank you.
If you liked this tart you might also like
Triple chocolate tart –  chocolate crust filled with smooth, shiny, rich chocolate ganache and topped with Belgian chocolate seashells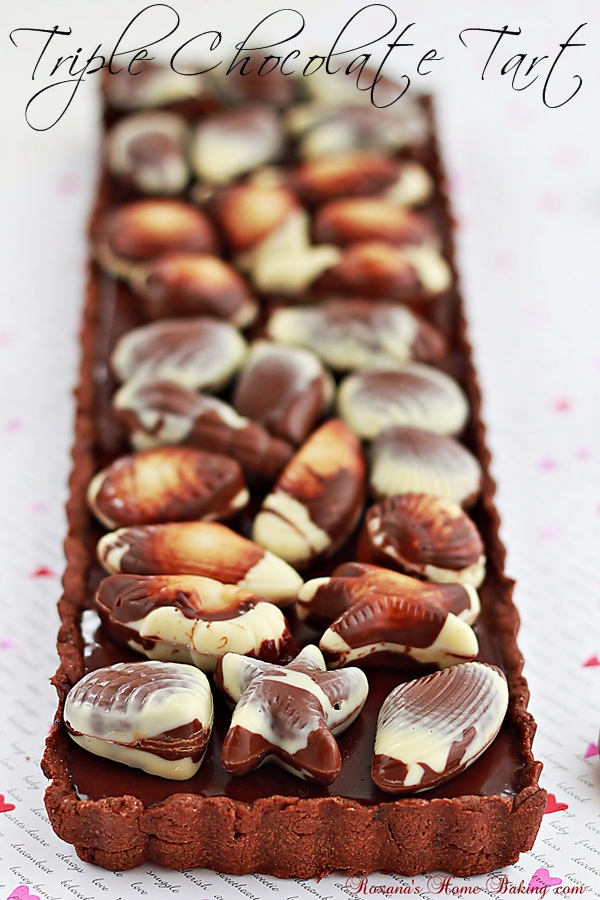 Ricotta tart with honey and fresh figs – A creamy, sweet ricotta tart brushed with honey and decorated with flagrant fresh figs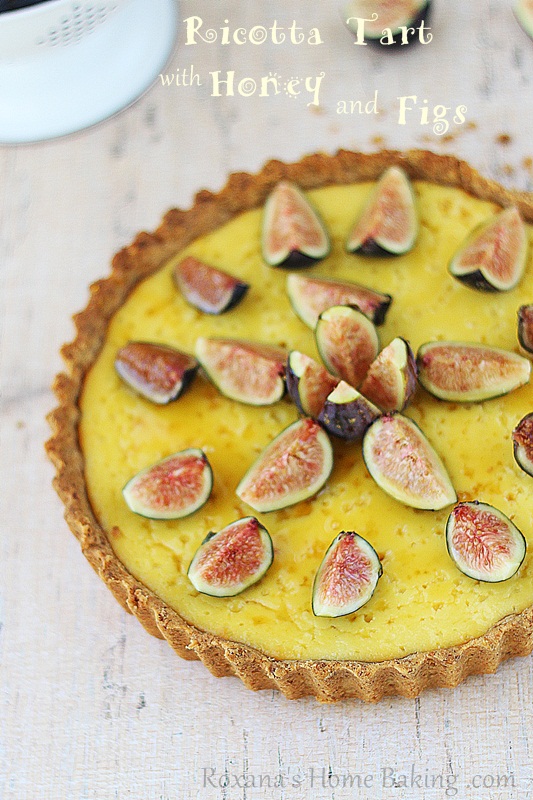 Sending love your way,
Roxana