Three types of cheese and a dollop of yogurt make this spinach artichoke dip stuffed bread incredibly creamy and cheesy. It is a guaranteed hit with the crowd and always disappears – no leftovers in sight!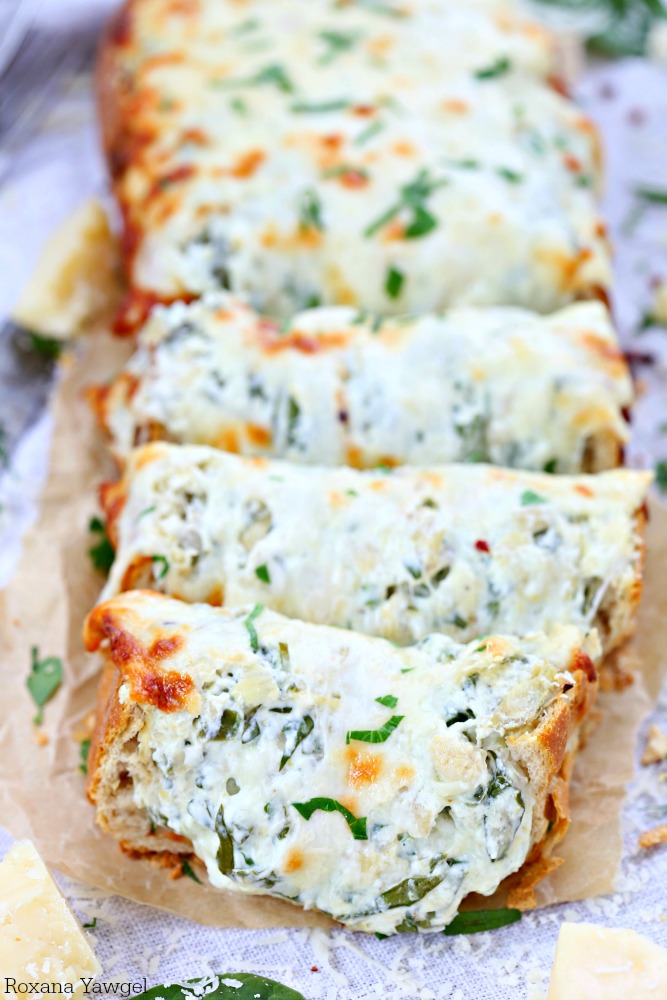 Do you have a food or an ingredient that makes you cringe just by thinking about it? I have a couple that immediately come to mind. Raw oysters, shrimp, and mayonnaise are just a few.
For the oysters and the shrimp, it's a texture thing.
Mayo – it's a childhood nightmare.
I have so many memories of family or friends parties with foods overloaded with mayo. May it have been the Romanian beef salad (a mix of chopped meat and vegetables folded in mayo) but I think what drove me over the edge was this sandwich loaf that everyone was going crazy over – A loaf of bread cut lengthwise and filled with a mayo tuna salad and finished with a thick layer or mayo, like frosting on the cake.
I'm not blaming my mom for feeding it to us. It was definitely the trend back then.
Now, years later, I'm very wary when it comes to dishes involving mayo (unless I have to bake with it) and either I don't eat them or play around with the recipe until it's mayo-free and taste just as good or even better than the classic!
That's the case of this spinach artichoke dip stuffed bread! No mayo here, but just as creamy and cheesy as the classic!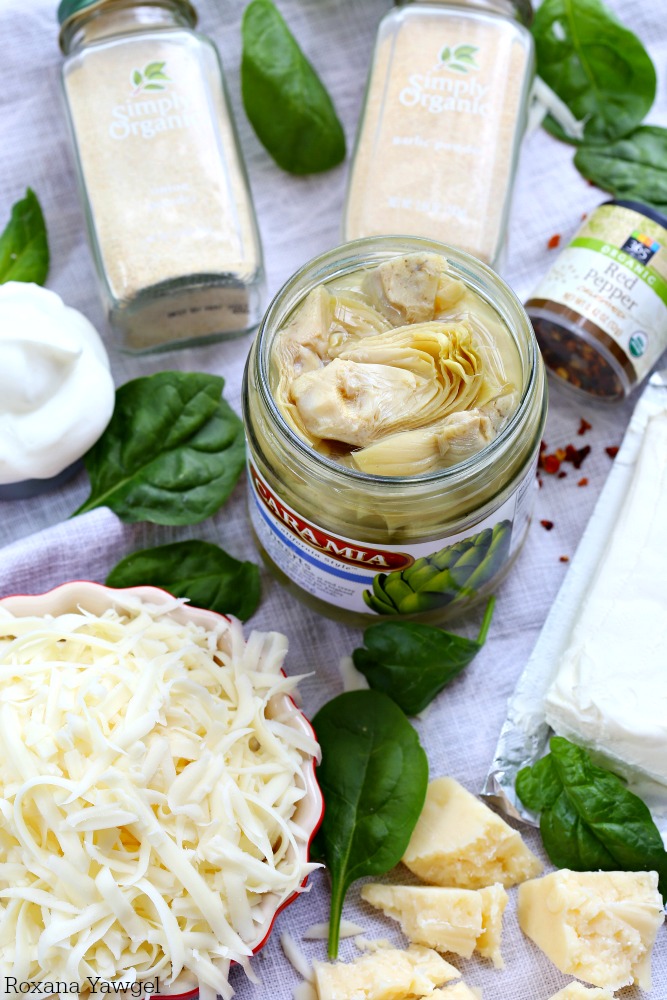 I love getting together with my friends and obviously feeding them! May it be just a friend or two, or a handful, I'm always up for a last minute party! Good food, great friends – that's what life is all about!
About a week or so ago I had a visit from an out of town friend. She loves spinach artichoke dip and always brings it to get together. It's like her signature dish.
I love it too, but my version of the dip!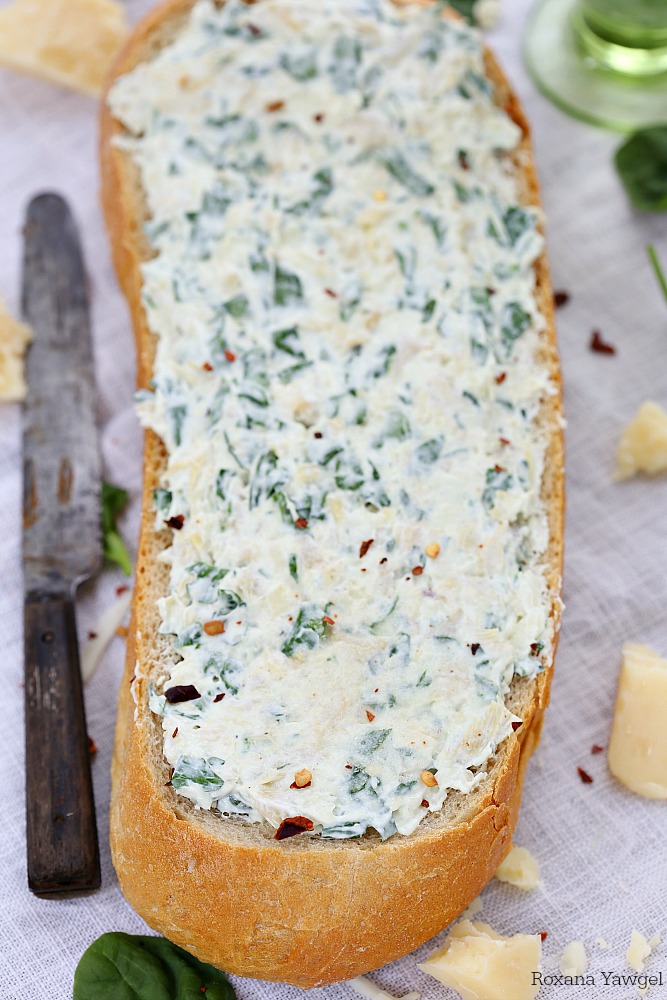 My spinach artichoke dip calls for cream cheese, mozzarella cheese, parmesan cheese (yes, it's cheese overload!) a dollop of greek yogurt for a super dreamy dip, artichoke hearts, and fresh baby spinach, and my secret weapons – garlic and onion powder and red pepper crushed flakes.
I love using fresh baby spinach in this dip. All you have to do is chop and mix it with the remaining ingredients. No need to cook it, wait for the frozen one to thaw and drain it. Plus I LOVE the pop of green color!
As much as I love using fresh garlic in my dishes, this time I opted for the powder one. Since the dip requires no cooking before spreading it over the bread, using fresh garlic is a little overpowering. The same goes for fresh onion.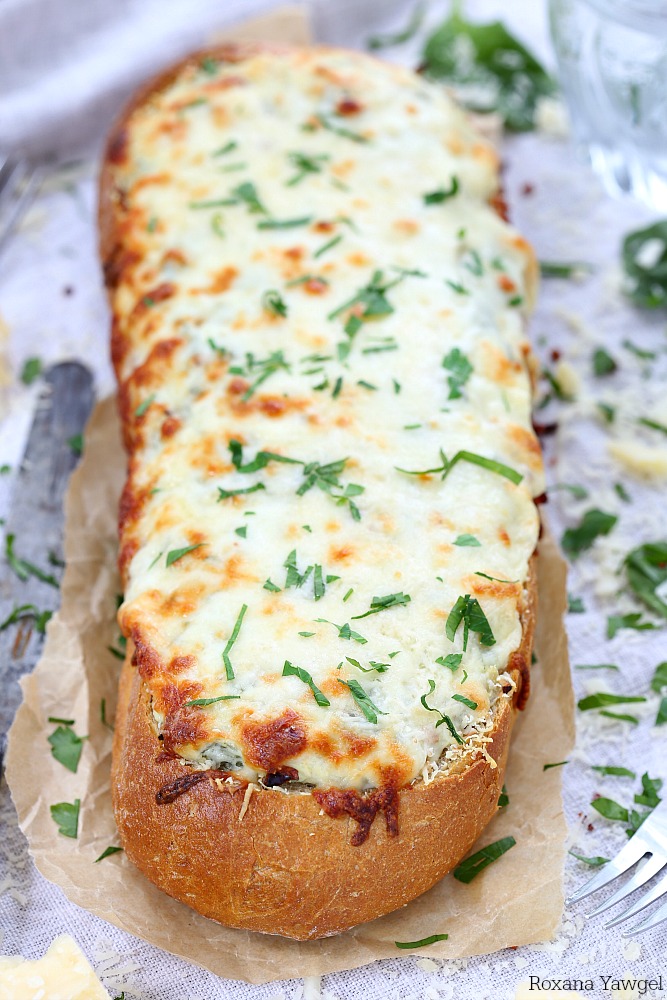 Once you combine all the ingredients for the dip, spread it over the bread slices and bake just until the cheese on top is melted.
To receive the host of the year award, you need to serve the spinach artichoke dip stuffed bread immediately.
The good thing is that you can make the filling ahead of time and just bake it when your friends arrive. It only takes about 12 minutes! Just enough time for everyone to find a seat and pour themselves a drink.
Looking for other last minute ideas to serve your guests?
Check out the special edition of the Better Homes and Garden Magazine : Get together
If your guests want to recreate the amazing dishes you served, you can write them down on these pretty recipe cards
Craving more? Sign up for a trEATs affair email newsletter and get all the recipes sent right to your inbox!
Be sure to follow me on social media, so you never miss an update!
Facebook |  Pinterest   |    Instagram   |     Bloglovin'
Spinach artichoke dip stuffed bread recipe
---
Roxana
Yields 14-16 servings
Three types of cheese and a dollop of yogurt make this spinach artichoke dip stuffed bread incredibly creamy and cheesy. It is a guaranteed hit with the crowd and always disappears – no leftovers in sight!
10 minPrep Time
12 minCook Time
22 minTotal Time
Ingredients
14 oz (from a can or a jar) artichoke hearts, drained and chopped
2 cups baby spinach, chopped
8 oz cream cheese, room temperature
1/3 cup Greek yogurt
1/2 teaspoon garlic powder
1/4 teaspoon onion powder
1/4 teaspoon red pepper crushed (optional)
salt and freshly ground black pepper, to taste
1 cup shredded mozzarella cheese, divided
1/4 cup freshly grated Parmesan
1 French or Italian bread loaf, cut in half lenghwise
2 tablespoons chopped fresh parsley
Instructions
Preheat oven to 400 degrees F. Line a baking sheet with parchment paper.
In a large bowl, combine artichoke hearts, spinach, cream cheese, greek yogurt, garlic powder and onion powder; season with salt and pepper.
Stir in half of the mozzarella cheese and Parmesan.
Place bread, cut-sides up, onto the prepared baking sheet.
Spoon and spread the spinach artichoke mixture evenly over the bread slices; top with remaining mozzarella cheese.
Bake for 10-12 minutes, or until the cheese has melted.
Serve immediately, garnished with parsley, if desired.
7.6.8
655
https://atreatsaffair.com/spinach-artichoke-dip-filled-bread-recipe/
Roxana Yawgel http://atreatsaffair.com/ All images and content are copyright protected. Please do not use my images without prior permission. If you want to republish this recipe, please re-write the recipe in your own words, or simply link back to this post for the recipe. Thank you.

disclosure – This is not a paid post by Better Homes and Gardens. I received the Get Together magazine for free.