A creamy velvety cheesecake topped with ruby red cranberry sauce. A festive holiday treat perfect for the Thanksgiving or Christmas dessert table.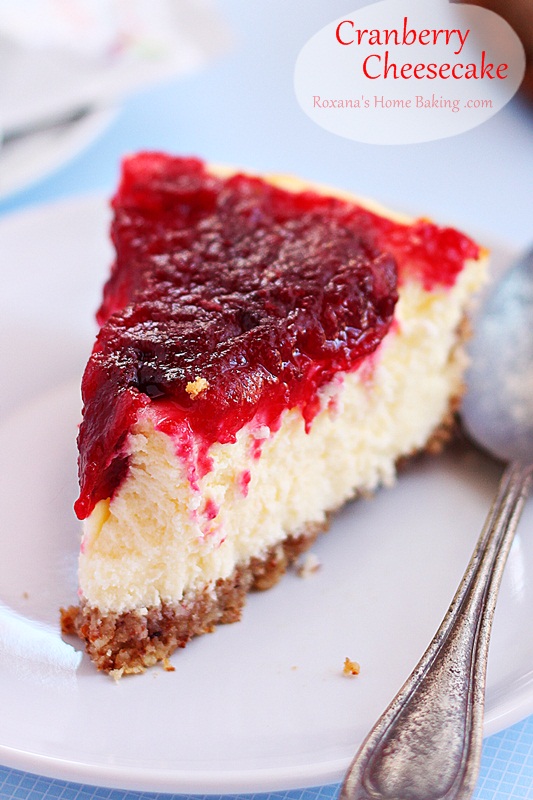 Did you know today is World Diabetes Day? I didn't either and if you take a look at my blog you can easily understand why. I bake absolutely nothing that can be called diabetic friendly, well except for these Pumpkin Cookies I made last year for my friend Carolyn and this beautiful Cranberry Cheesecake which happens to be both sugar and gluten free.
I've been reading Carolyn's blog since I started blogging and I've learned that even if you have diabetes you can still enjoy lots of sweet treats, oh, and she's a professional when it comes to whipping a low-carb gluten free sweet treat.
When she emailed me a few weeks ago about participating in an event to raise Diabetes awareness my first thought went to my mother in law. Some of you might smile of this point but I've mention her before and she's as sweet as sugar, the sad part being she has to watch her blood sugar.
And just like Carolyn, my mother in law loves sweets. She has to has some every day, even if it's just a few crumbs.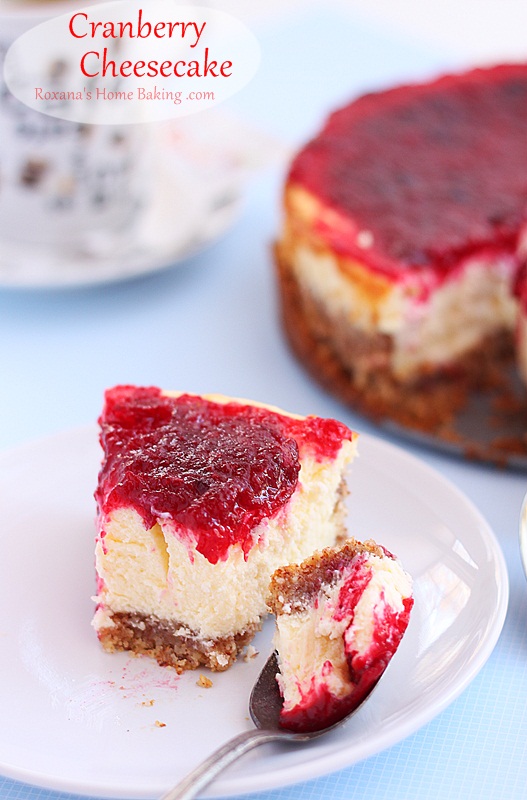 This cheesecake recipe is my favorite. I have made it several types using regular sugar and every time I just change the sauce on top, it depends on my mood and the season. This time I picked cranberries since they are in season, but you can leave it plain if you prefer.
Instead of regular white sugar I used Swerve, an all-natural diabetic friendly sweetener. It was the first time I have used it and it was a wonderful experience.
It was the first time I also made cranberry sauce for the cheesecake and can't say for sure if it was the sweetener or just in general, but it dried out a wee bit. I'd recommend topping the cheesecake with the cranberry sauce just before serving, this way you prevent it from drying out.
The cheesecake turned out creamy and velvety, just like I like it. As a variation (and I've made it several times as well) you can replace one package of cream cheese with 1 cup of cottage cheese)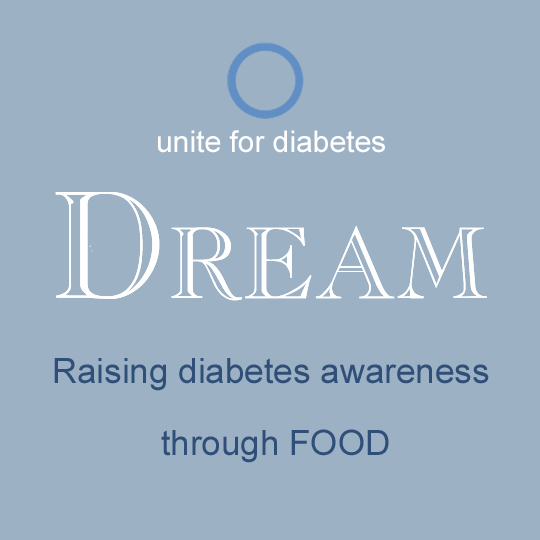 I don't think I've actually thought too serious about diabetes until few days ago after I made this cheesecake. The things I've read are quite scary and made me think twice about the amount of sugar that goes in our bodies every single day.Did you know about 347 million people worldwide have diabetes and it's predicted that soon diabetics become the seventh leading cause of death in the world by the year 2030. There are two major forms of diabetes. Type 1 diabetes is characterized by a lack of insulin production and type 2 diabetes results from the body's ineffective use of insulin. A third type of diabetes is gestational diabetes. This type is characterized by hyperglycaemia, or raised blood sugar, which has first appeared or been recognized during pregnancy. Type 2 diabetes is much more common than type 1 diabetes. Type 2 diabetes can be prevented. Thirty minutes of moderate-intensity physical activity on most days and a healthy diet can drastically reduce the risk of developing type 2 diabetes. Type 1 diabetes cannot be prevented.
Cranberry Cheesecake
---
Yields one 8 inch round pan
A creamy velvety cheesecake topped with cranberry sauce. The crust is made from ground almonds and the filling form a mixture of cream cheese, eggs and heavy cream, deliciously paired with the tart cranberry sauce.
30 minPrep Time
55 minCook Time
Ingredients
Crust

8 oz whole almonds ground
1/4 cup swerve sweetener
1 egg
4 tbsp cold butter, diced
pinch of salt

Filling

2/3 cup swerve sweetener
1 tbsp fresh squeezed lemon juice
2X8oz each cream cheese, room temperature
2 eggs
1 egg white
1/2 cup heavy cream

Cranberry sauce

4 oz fresh cranberries
1/4 cup fresh squeezed orange juice
1/4 cup swerve sweetener
Instructions
Crust

In a food processor add the almonds and process few minutes until ground. Add the butter, sugar, egg and salt and pulse few times until it forms a ball.
Take the dough out and gently press it on the bottom and about 1 inch on the sides of a greased 8 inch springform pan.
Chill for about 15 minutes.
Turn the oven on and place a shallow dish with about 1 1/2 inch water in it on the bottom rack. Wait until the oven temperature reaches 350F.
Now it's time to make the filling.

Filling

In a large mixing bowl add the cream cheese and swerve and mix until combined. Add the heavy creamy, eggs and the egg white and stir until creamy. Pour into the chilled crust
Bake without taking the water dish out of the oven for about 55 minutes or until the edges slightly become golden and the middle is just slightly wiggly.
Turn off the oven, crack the door just a little bit and leave the cheesecake to slowly cool for the next two hours without taking it out of the oven. When the two hours are oven, run a butter knife between the cheesecake and the sides of the pan for easy release.
While the cheesecake is cooling down you can make the cranberry sauce.

Cranberry sauce

In a small saucepan add the cranberries, swerve and orange juice and cook, over low heat for few minutes until the cranberries have popped and they become mushy. Remove from the heat and cool slightly before spreading it on top of the cheesecake.
Remove the cheesecake from the pan and enjoy! Enjoy!
7.6.8
383
https://atreatsaffair.com/cranberry-cheesecake-recipe/
Roxana Yawgel http://atreatsaffair.com/ All images and content are copyright protected. Please do not use my images without prior permission. If you want to republish this recipe, please re-write the recipe in your own words, or simply link back to this post for the recipe. Thank you.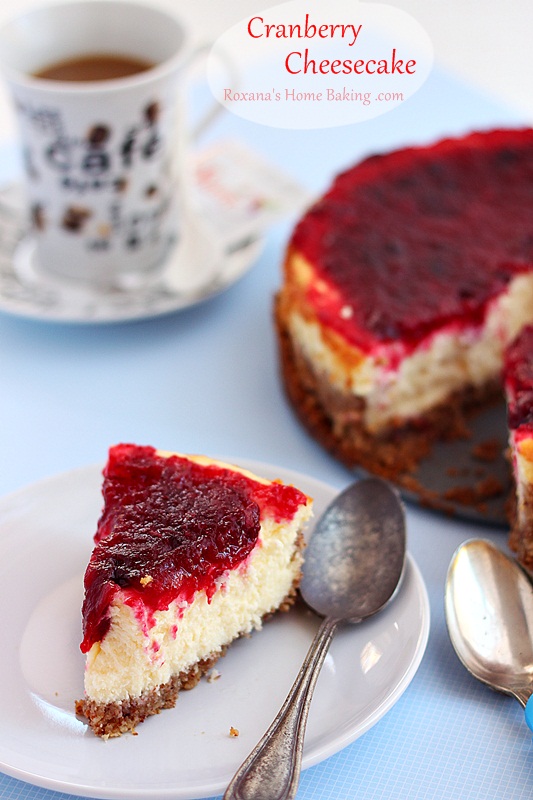 If you like this Cranberry cheesecake you may also like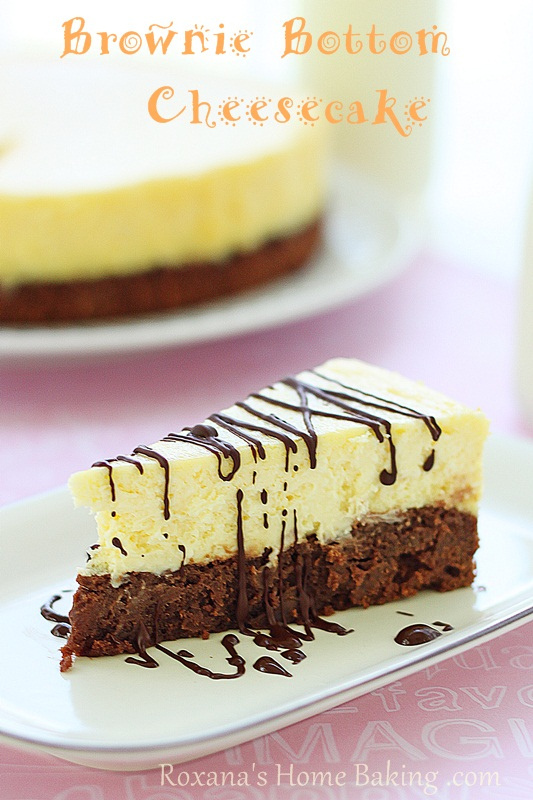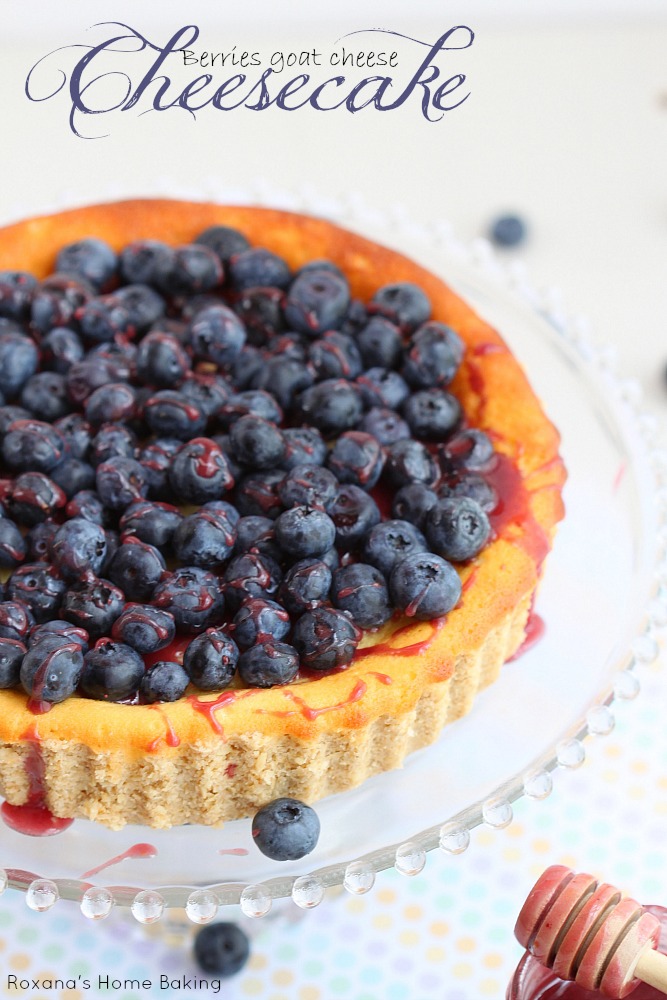 Cranberry chocolate brioche rolls