This easy dinner recipe is brought to you by Pompeian Olive Oil. All opinions are 100% mine.
Packed with a tasty mixture of vegetables, pine nuts and raisins, these flavorful stuffed bell peppers are perfect for an easy weeknight dinner.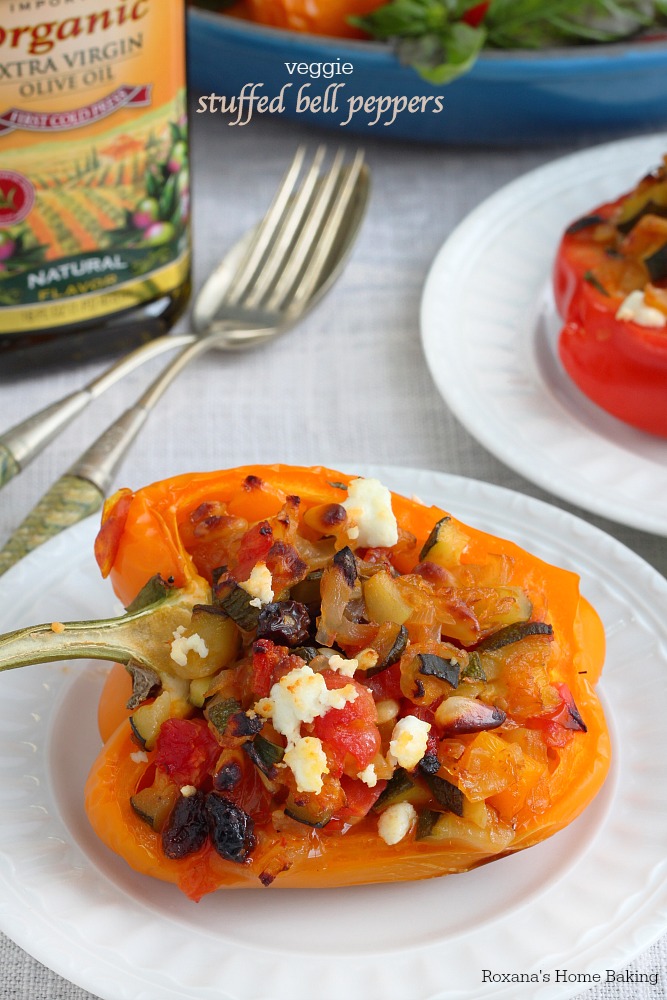 Stuffed bell peppers have always been comfort food. Ask any Romanian, actually ask pretty much any east European and they'll tell you stuffed bell peppers is a family recipe. May it be a sunday family get together, a holiday or just because, my mom always made stuffed bell peppers.
I could say I grew up on this comfort dish, but I would not tell the truth. I was the pickiest of the pickiest eaters. Bell peppers was on of the foods on my no-no-no list. I loved the stuffing, but no one could make me eat the bell peppers.
My mom's bell peppers were filled with a combination of vegetables, rice and ground beef. It's was absolutely amazing! I have tried to replicate her recipe a few times but I'm not quite there, yet.
Today, I may not have my mom's recipe for stuffed peppers to share with you, but I have a light summer version everyone will love! Even the picky eaters!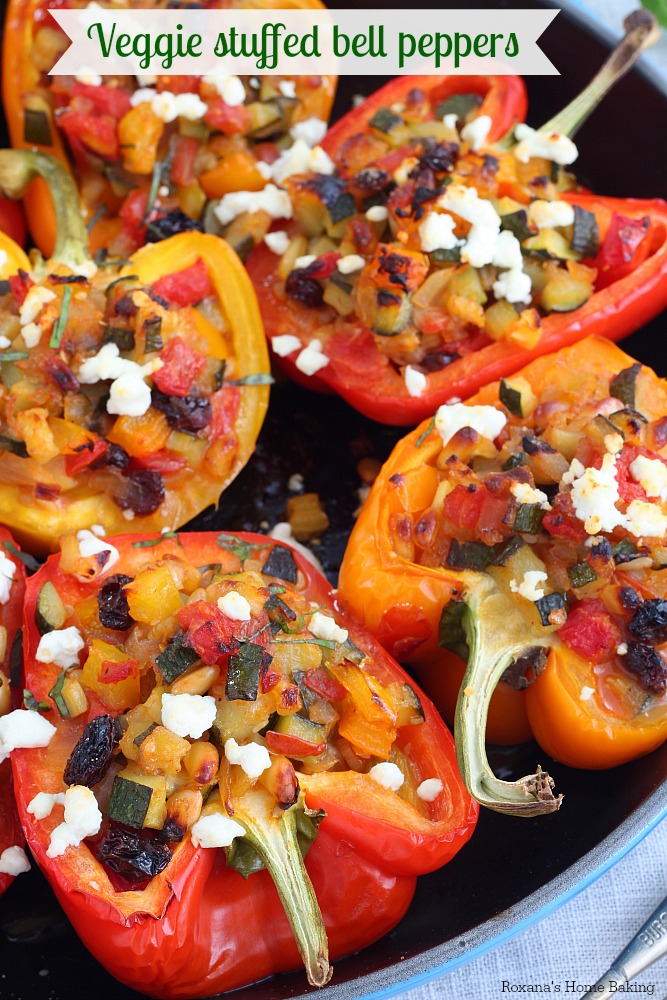 My version of bell peppers are stuffed with a tasty mixture of onion, garlic, zucchini, tomatoes, bell pepper.
Pine nuts, raisins and some crumbled goat cheese is added as well, but you can use your favorite nuts, skip the raising and sprinkle other type of cheese on top.
But the veggie filling. Leave it as it is! It's just so good, I ate some spoonfuls while stuffing the peppers.
Since August is National Olive Oil Month I took the pledge and joined Pompeian, the leader in the olive oil industry and the makers of the Number One selling Extra Virgin Olive Oil in the US, to swap butter with olive oil in easy every day recipes like this one.
To learn how easy it is to swap butter for olive oil, check out Pompeian's conversion chart by visiting http://bit.ly/1rXdzhR.
To take the Pompeian #PledgeforEVOO, visit http://bit.ly/1rCJyW4.
1,000 fans who sign up will be randomly selected to receive a gift from Pompeian (a free movie redemption code and a coupon for a free bottle of olive oil), plus every week during the month of August 5 additional fans who have pledged will win a fun prize pack.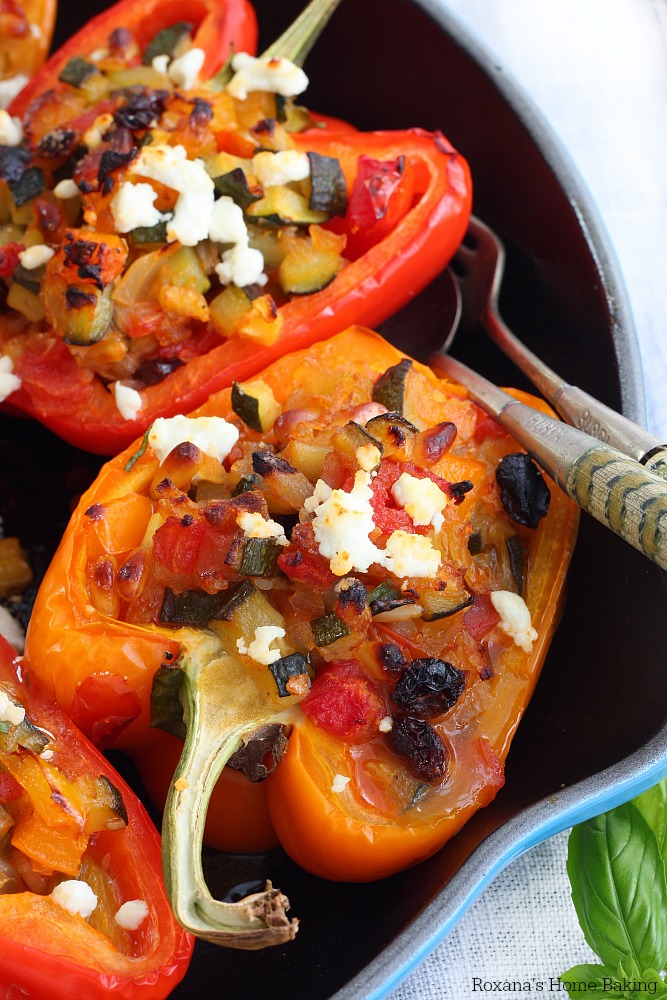 I love the rich flavor that comes from cooking onion and garlic in olive oil over a medium-low heat until the pieces are golden-browned and begin to caramelize.
Diced zucchini, bell pepper and tomatoes are added and cooked over medium heat for just few minutes. You want to keep the vegetables slightly uncooked allowing them to finish cooking in the oven.
I love adding pine nuts and raisins to my bell peppers. It gives a little sweetness and crunchiness.
Speaking of crunchiness, because the peppers are only cooked for about 30 minutes, they will remain slightly crunchy unless you blanch them ahead of time. I've done this recipe both ways. As a personal preference, I choose the crunchy peppers but my family love the softer peppers.
[mpprecipe-recipe:570]
Happy baking,
Roxana
Disclosure – This post is brought to you by Pompeian Olive Oil. All opinions are 100% mine