Sandwiched between a chocolate crust and chocolate crumble topping , these creamy dreamy chocolate cherry cheesecake bars are loaded with fresh cherries and chocolate chips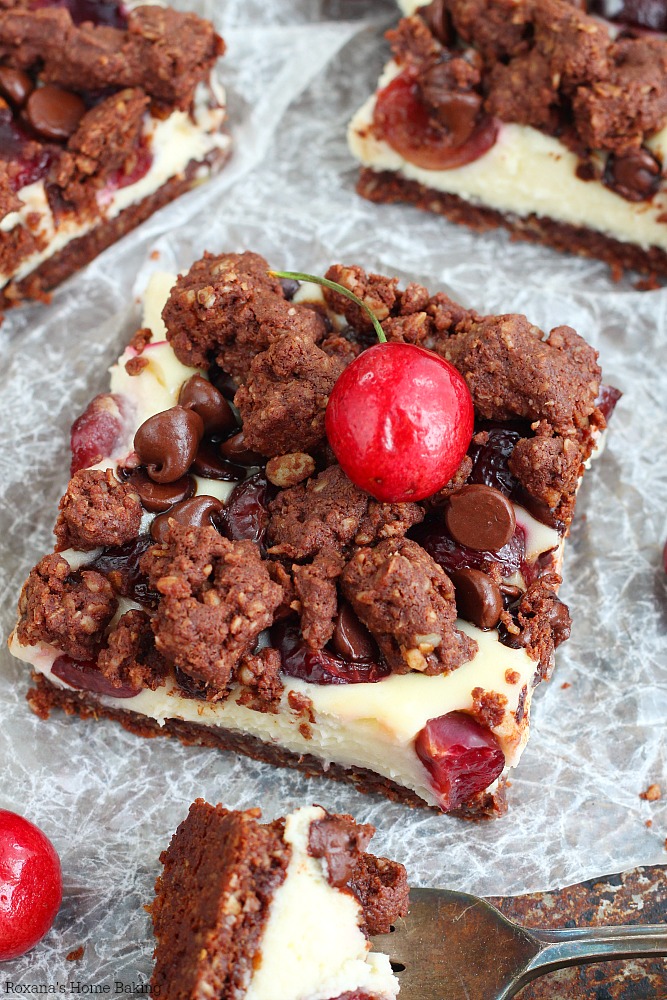 If I had to pick one fruit to describe summer spend at my grandparents when I was a wee one, cherry would be the perfect fit.
We did not have any cherry trees in our small orchard, but the house next to us had a big one and my cousins and I were pretty much the only kids who would devour all those juicy red cherries as soon as the school was out for the summer. Carefully, we would climb the tree and didn't get down until we were so full we could hardly move. The next day we would do it all over again until there were no cherries left.There's no surprise cherries are one of my favorite summer some fruit. Little gems of sugary sweetness. And paired with a silky cheesecake sandwiched between a chocolate crust and chocolate crumble topping – summer in a scrumptious bar! 

To make these chocolate cherry cheesecake bars is very easy. You make the crust, filling, sprinkle the cherries and the chocolate chips, bake, cool and enjoy. Doesn't that sound easy?
The crust takes about 2 minutes to make in the food processor. Oats, all purpose flour, cocoa powder, sugar, walnuts and butter. Pulse until pea size crumbs.
The filling is easy-peasy as long as you follow basic cheesecake rules. All ingredients must be at room temperature and you don't overheat the filling. Incorporating air into the filling will result into a puffed cheesecake which will crack on top and most likely to turn rubbery. And no one wants rubbery cheesecake! Smooth and creamy is what we're all looking for.
The hardest part is definitely waiting for the cheesecake to bake and then cool down completely. Resist the temptation and cool the dessert before cutting into bars. If you want to cheat, after the cheesecake is baked, let cool for 1 hour at room temperature and refrigerate for another hour or so before serving.
Again, do not cut the cheesecake bars while they are still warm. The crust and the filling won't be set and it will be just a mess. A delicious mess.
To get the recipe, please visit Imperial Sugar website.
Happy baking,
Roxana