Layers upon layers of delicious Sara Lee® All Butter Pound Cake, rich chocolate filling and ripe strawberries make this chocolate parfait an irresistible treat! Perfect for last minute guests or as a quick after dinner dessert!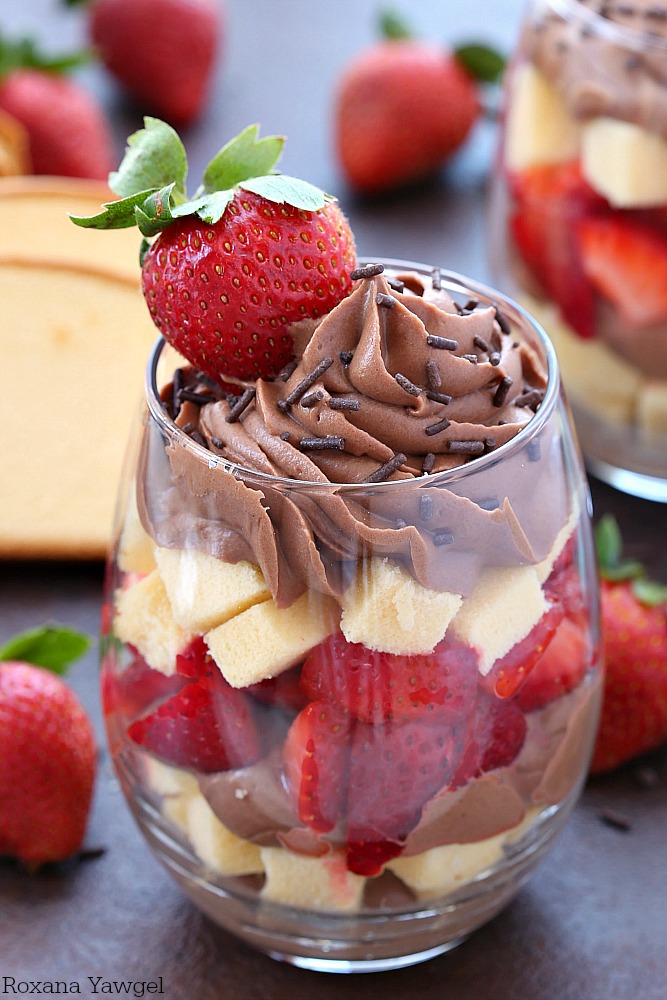 When I first heard the word "parfait" it sounded like such an intimidating dessert. I mean we have cookies, cakes, bars, brownies but parfait, such a grown up word!
Once I saw what parfait really was I was so mesmerized by its layers. I wanted to know how you can arrange those impressive layers so perfectly in a glass and most of all, how are you going to eat it! It was just too pretty to eat!
Little did I know a parfait is probably one of the easiest desserts to make. And those fancy layers – it's just like 2 minutes worth of work and less than 5 ingredients!
Now, of course, every time I have last minute guests or just because I wanna feel royal I make parfaits, just like this chocolate strawberry parfait I made for you today!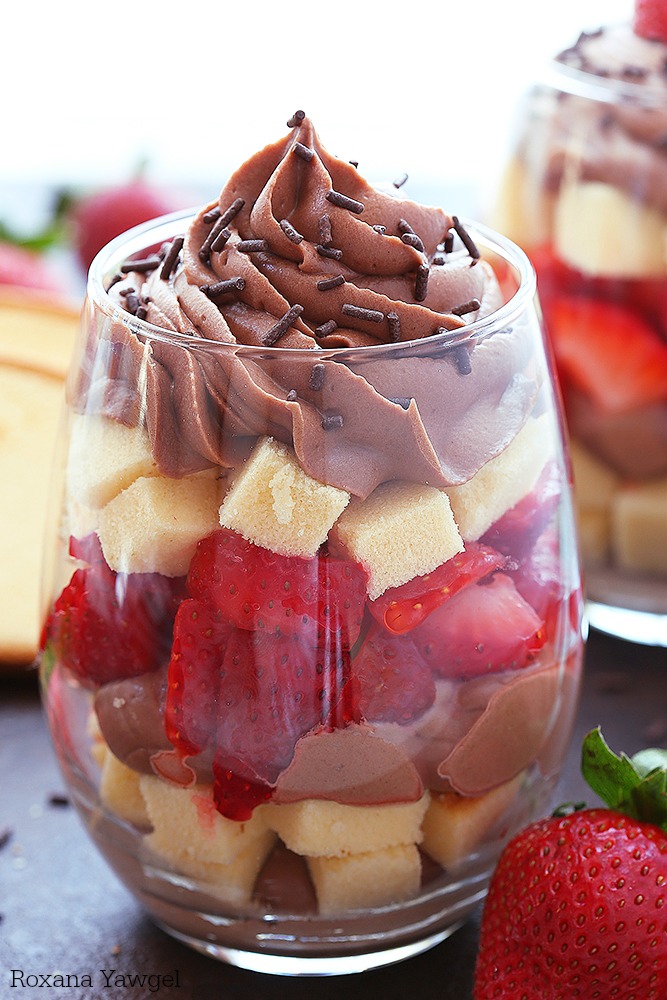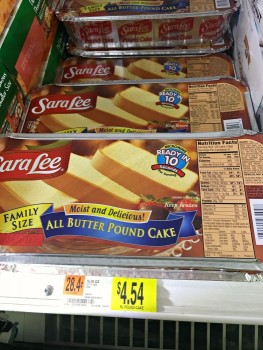 The secret of my chocolate strawberry parfait is Sara Lee® all butter pound cake! I love its buttery delicious, taste and the rich flavor comes from using the finest butter and whole eggs in the recipe!
Another reason I love Sara Lee® All Butter Pound Cake is because I can rely on it year round. You'll always find it in the freezer section at your local Walmart. The cake tastes great on its own, but I prefer to top it with ice cream, fresh fruits, sauces or whipped toppings.
Did you know it takes only 10 seconds to thaw a slice in the microwave? The perfect sweet treat to serve to your family and friends!!
Tiffany and I enjoyed these chocolate strawberry parfaits a few days ago. She's enjoying more and more being in the kitchen with me I thought it's a good idea to have her make her own parfait. It's so easy to make, even a 6-year old can do it!
Let your little ones arrange the layers in the glass. Let them make their own parfait! Maybe they want more strawberries or more cake. Add sprinkles! Make it fun! Let the little one feel like they are in control!
I love when classic treats, like Sara Lee® All Butter Pound Cake bring family and friends together. Everyone has at least a recipe to dress up a slice of Sara Lee® All Butter Pound Cake! What's your favorite way to serve it to your friends and family?
Visit the Sara Lee® website for more pound cakes varieties!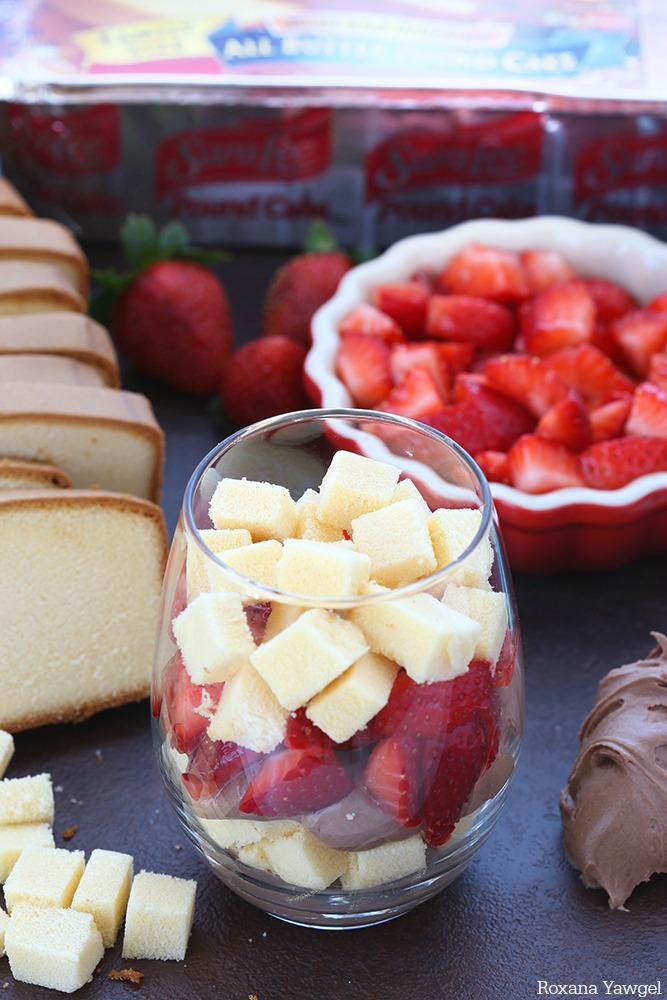 To make a chocolate strawberry parfait, in addition to diced pound cake, you'll also need rich chocolate filling and ripe juicy strawberries.
You can use store bought chocolate frosting but I prefer to make my own. It takes only a few minutes and only calls for a handful or ingredients: cream cheese, butter, powdered sugar, cocoa powder, a pinch of salt, few drops of vanilla extract and whole milk.
Are you ready to feel royal and relax with a chocolate strawberry parfait by your side?
A word of advice, don't make just one! Make one for each member of your family! They will love you forever!!
Visit the Sara Lee® website for more pound cakes varieties!
Craving more? Sign up for a trEATs affair email newsletter and get all the recipes sent right to your inbox!
Be sure to follow me on social media, so you never miss an update!
Facebook |  Pinterest   |    Instagram   |     Bloglovin'
Chocolate strawberry parfait recipe
---
Yields 1 parfait
Layers upon layers of buttery cake, rich chocolate filling and ripe strawberries make this chocolate parfait an irresistible treat! Perfect for last minute guests or as a quick after dinner dessert!
Ingredients
2 slices Sara Lee® All-Butter Pound Cake, diced
1/2 cup diced ripe strawberries
2/3 cup chocolate filling (recipe below)

Chocolate filling (makes 3 cups!!!!)

8 oz cream cheese, room temperature
1/2 cup butter, room temperature
3 cups powdered sugar
1/3 cup unsweetened cocoa powder
pinch of salt
1 teaspoon vanilla extract
~ 1 tablespoon whole milk or heavy cream
Instructions
Chocolate filling

In a mixing bowl add the cream cheese and the butter.
With the paddle attachment on, beat on low speed until creamy.
Gently, beat in the powder sugar, about 1/2 cup at a time mixing it in before adding more.
Once all the sugar is added, beat in the cocoa powder as well.
Stir in the salt, vanilla extract and a few drops of milk to reach your desired consistency. I prefer a lighter fluffier filling and add a generous tablespoon of heavy cream.
Beat until everything in mixed in.

Assemble the parfait.

Pipe a little chocolate filling on the bottom of a 15oz glass.
Top with half of the diced pound cake.
Pipe another layer of chocolate filling.
Arrange the strawberries on top of the chocolate filling.
Top with the remaining diced cake and finish with a little more chocolate filling.
Decorate with a fresh strawberry and chocolate sprinkles, if desired.
Notes
7.6.8
640
http://atreatsaffair.com/chocolate-strawberry-parfait-recipe/
Roxana Yawgel http://atreatsaffair.com/ All images and content are copyright protected. Please do not use my images without prior permission. If you want to republish this recipe, please re-write the recipe in your own words, or simply link back to this post for the recipe. Thank you.

This is a sponsored conversation written by me on behalf of Sara Lee®. The opinions and text are all mine.