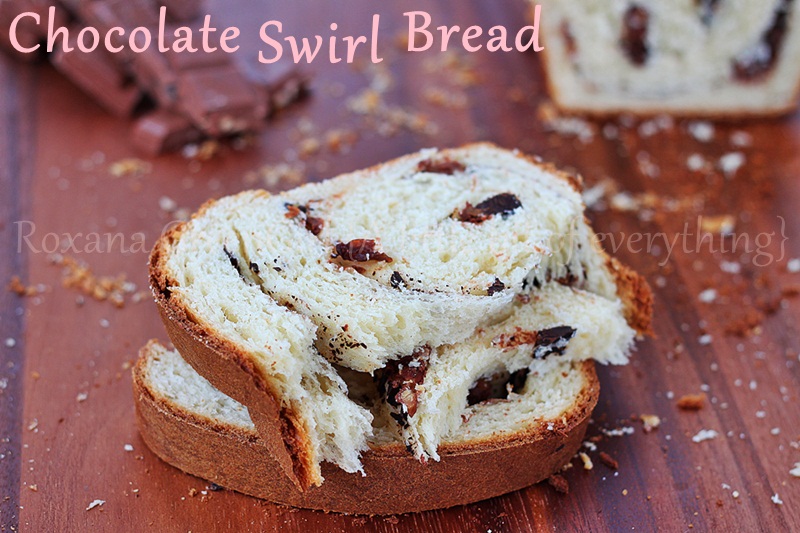 It's been more than 24 hours since I took this bread out of the oven. My kitchen still smells like vanilla, orange and chocolate. The smell reminds me of holidays and family gatherings.
This bread is probably one of the few traditional Romanian breads. It's usually made at Christmas and Easter and family events, like weddings or baptisms.
I remember our small kitchen, the orange or lemon rind mixed with sugar, candied peel, diced Turkish delight, finely chopped walnuts,  rum soaked raisins, poppy seeds mixed with egg whites, cocoa powder mixed with milk to form a spreadable paste, the warmth of the kitchen, the holiday smell, my mom's smile despite us running all over the place.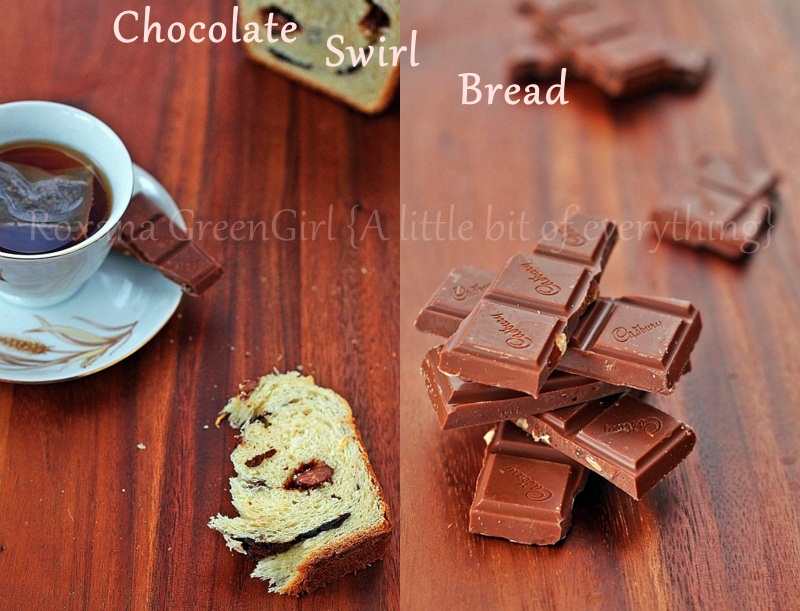 I've always been fascinated with this Romanian sweet bread. I loved everything about it. The smell, the soft crust, the yellowish color from the egg yolks.
I mentioned this bread in this post and since then I've been experimenting the ingredients to reduce the amount of egg yolks used.  There have been a lot of test-testing and now, after three months I'm so happy with the way it turned out using 2 eggs instead of 6 egg yolks. It's rich, sweet, buttery, soft and fluffy with an overwhelming smell.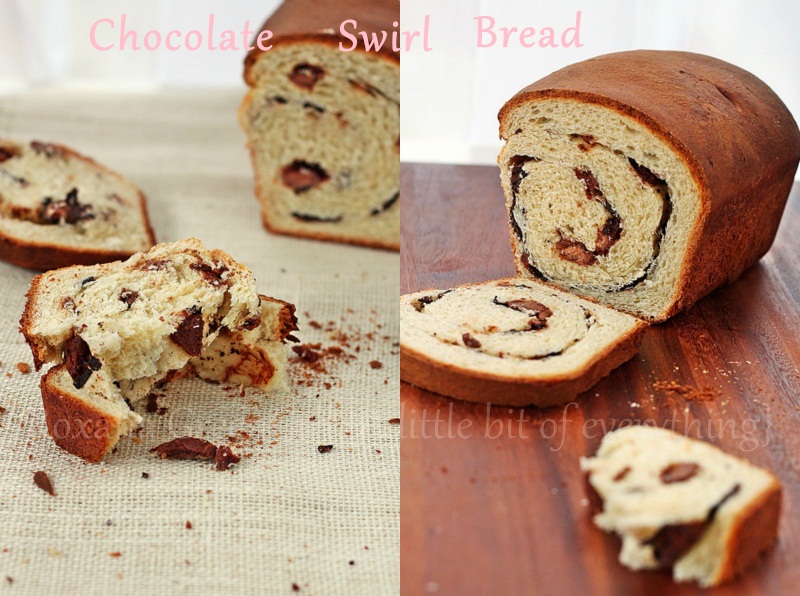 Usually this bread is filled with nuts, rum soaked raisin, poppy seeds or cinnamon but this time I made it using chocolate chunks.
Sometimes I think I have British roots. I love scones, I drink lots of tea, with milk, please, and I love Cadbury chocolate.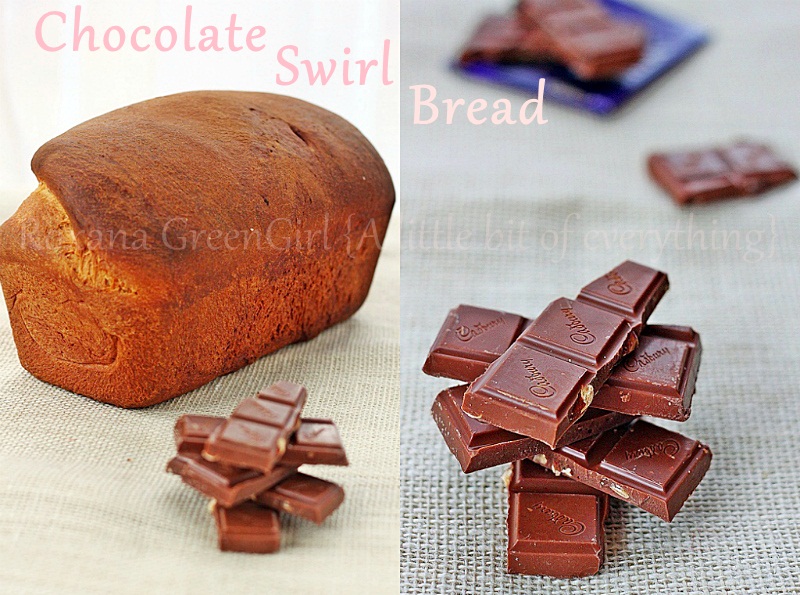 If you're not a Cadbury chocolate fan you can use any chocolate or a filling of your choice.
The recipe has went through lots of test-testing and I don't guarantee the results if you feel adventures and do some changes to the dough. You can play with the filling, but not with the dough.
Chocolate Swirl Bread
---
Yields 1 loaf
40 minPrep Time
1 hrCook Time
4 hrTotal Time
Ingredients
1/2 cup (60 grams) all purpose flour (sifted two times)
2 tsp dry yeast
1/2 cup (120 ml) lukewarm 1% milk
1/4 cup (50 grams) sugar
2 room temperature eggs lightly beaten
4 tbsp. (56 grams) melted but cooled butter
3/4 cup (170 grams) room temperature sour-cream (do not use light)
grated rind from 2-3 oranges
1 tsp salt
4 1/4 (510 grams) cup all purpose flour (sifted two times)
3 tbsp (45 ml) grapeseed or vegetable oil
For the filling I used 6-8oz Cadbury chocolate (fruit and nuts, roasted almonds and milk chocolate) plus about 1 tbsp of chocolate shavings left from the Chocolate Muffins
Instructions
In a mixing bowl add 1/2 cup flour, the yeast and the lukewarm milk. With a whisk or a wooden spoon mix well and leave at room temperature until the yeast is proofed .
With the dough hook on start mixing on the lowest speed, slowly adding the eggs, sour cream, melted butter, orange rind, sugar and salt. Slowly add the rest of the flour, 1/4 cup at a time. When the flour is incorporated the dough will start to clean itself from the sides of the bowl, but it's still going to be light sticky. Here's a picture I took after removing the dough from the bowl. The bowl is not perfectly clean.
Place the dough on a clean surface and start kneading by hand, pouring few drops of oil at a time on top of it. Knead by hand until all 3 tbsp of oil are incorporated and the dough is soft but not sticky. Kneading by hand should take anywhere from 15 to 25 minutes.
Place the dough into a clean oiled bowl, cover with plastic wrap and leave at room temperature until doubled in volume. (about 1 hour and 30 minutes)
When risen, take the dough out, place it on your work area and press it lightly with your fingers until you form a sort of rectangle ( 10 by 16-18 inches). Spread the chocolate chunks on top of it, roll and place the loaf into a bread pan (9X5 inch).
Cover again and leave to rise again. This time it should take about 50 minutes to an hour.
Heat the oven to 375F.
If you want you can brush the bread with egg wash just before baking for a darker and shinier crust. I left mine simple.
Bake the bread for 55 to 60 minutes.
Leave to cool for 15-20 minutes in the pan before removing it. Let it cool completely before slicing the bread.
7.6.8
322
https://atreatsaffair.com/chocolate-swirl-bread-recipe/
Roxana Yawgel http://atreatsaffair.com/ All images and content are copyright protected. Please do not use my images without prior permission. If you want to republish this recipe, please re-write the recipe in your own words, or simply link back to this post for the recipe. Thank you.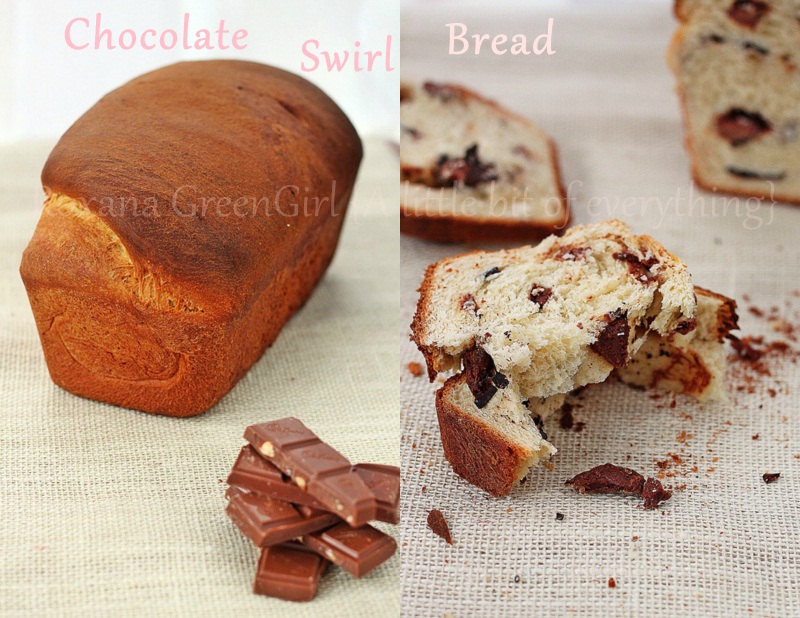 Sending love your way,
Roxana
Linking this recipe to Susan's collection of breads – Yeastspotting , to Lisa's Bread Baking Day #47   and Bread Baking Day #48 events and to Heather's Bake your own bread march round-up